What Were the 3D Printing Trends in 2021?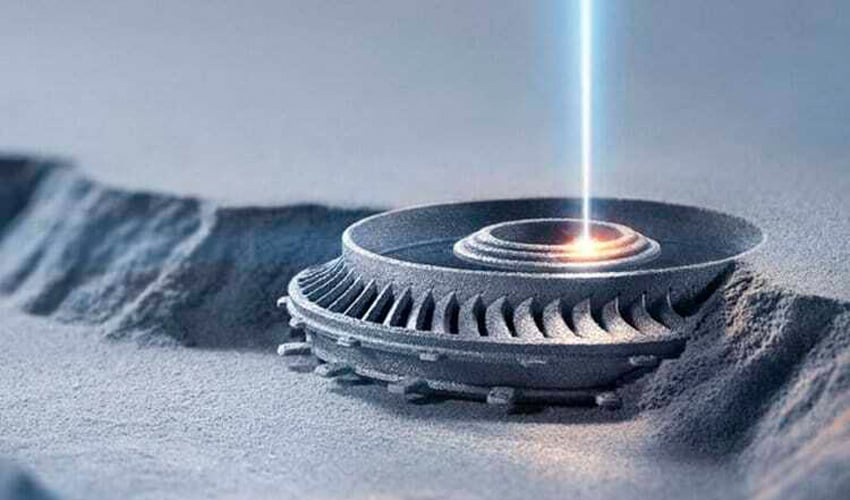 And with that, another year has passed. 2021 was certainly an interesting one in the world of additive manufacturing, not the least because we started to see the light at the end of the tunnel when it comes to the ongoing global pandemic. This year, events started to return with great success. At Formnext, there were 17,859 attendees from 75 nations as well as more than 600 exhibitors from 36 countries. However, coupled with this, we saw an astonishing number that continued to hold hybrid events like Formnext which held the Formnext Digital Days after the physical event. Meaning that though the option for physical events was there, digital events continued to be important, showing that they are probably here to stay. For 3Dnatives' own ADDITIV brand, we saw firsthand the continued demand for virtual events, despite a loosening on restrictions, in events like ADDITIV Aerospace which took place in March of this year. We also saw for the first time the true impact of COVID-19 on the industry. For example, in the Wohlers Report 2021, it was shown that though the industry still grew even over 2020, it was significantly lower than previous years, 7.5% compared to an average of 27.4% Furthermore, a survey on 3D printer shipment growth showed that while it has increased, especially for industrial 3D printers, sales are still lagging even in 2021 compared to 2019, though they have recovered from last year.
This is understandable as many of the verticals served by 3D printing were also affected by the pandemic. The aerospace sector and especially commercial aviation was understandably hard hit as air travel was shut down. This in turn had an impact on the metal additive manufacturing market which was harder hit than polymers. This year, as travel has resumed, these sectors have started to recover and so has metal additive manufacturing. Though as we will see it is starting to take a slightly different form. But what exactly were the 3D printing trends in 2021? And how is the additive manufacturing changing (or staying the same)? We decided to take a closer look at some of the trends that defined the industry in 2021, including a maturing business environment with consolidation and companies going public, more of a focus on sustainability, increasing FDM solutions for non-polymer materials and a growing market for 3D printing in construction.
A More Mature Business Environment for Additive Manufacturing
One evident trend throughout 2021 was the consolidation of 3D printing manufacturers as well as more companies going public. Corresponding with an increasing industrialization of the technologies, business was certainly booming in the additive manufacturing world this year. Possibly the most notable example is Desktop Metal who went from a start-up just a few years ago to one of the major players on the AM market today. Starting in February, they acquired leading DLP 3D printing technology company, EnvisionTEC, showing their determination to move into the polymer market as well as metals. They continued with acquisitions throughout the year, including Aerosint in July. This particular move showed their intention to move also into the multi-material market as Aerosint's powder bed fusion technology was developed to offer a multi-material process at a reasonable cost and with minimal material waste. They topped it off with a surprise announcement in August when they entered a definitive agreement to acquire their competitor, the leading binder jetting 3D printer manufacturer on the market, ExOne.
Though Desktop Metal was not the only company making moves. There were other major acquisitions over the course of the year, such as Protolabs acquiring 3D Hubs in a $280 million deal earlier in the year and Materialise acquiring Link3D in a $33.5 million deal in November. Moreover, we saw multiple companies announcing their intentions to go public, including VELO3D, Markforged, Xometry, Shapeways and Essentium among others. The culmination of this is an additive manufacturing market that seems more mature as it begins to move away from just start-ups into larger companies with more mass production.
The market is also being driven by investments, which according to reports are beginning to pay off. In Essentium's survey earlier in the year, CEO Blake Teipel noted the growth, stating, "Manufacturing companies have finally cracked the code of AM for full-scale production runs of hundreds of thousands of parts, and there will be no turning back. There is no longer any doubt whether AM investments deserve a central feature in the execution strategies of companies endeavouring to out-perform their peers." And in 2021, major investments were certainly on display. DyeMansion the manufacturer of post-processing solutions, raised $14 million for the production of finished parts while ICON raised $207 million in Series B funding and Fabric8Labs raised $19.3 million in Series A funding, among many other companies and start-ups. It will be interesting to see how the business environment continues to mature and grow in 2022, but we certainly expect great things after this productive year.
A Growing Trend Towards Sustainability in 3D Printing in 2021
3D printing also reflected much larger trends in the world in 2021. For instance, more than ever we are seeing companies and governments looking to move to more environmentally-friendly solutions as the climate crisis continues to be evident. NASA has noted that the last seven years have been the warmest on record and according to the United Nations Intergovernmental Panel on Climate Change (IPCC) within the next two decades temperatures are likely to rise 1.5 degrees celsius. AM has been one of the technologies on the forefront of the move thanks to its ability to limit material waste as compared to more traditional manufacturing methods. This year certainly, sustainability seemed to be on the minds of many in the AM community.
One way that we have seen the prominence of sustainability in AM this year is by the increased presence of the AMGTA. The AMGTA, or Additive Manufacturer Green Trade Association, is a global trade organization that was created to promote the environmental benefits of additive manufacturing. Already 38 companies, including Stratasys, ExOne, EOS, BASF, Siemens, 3D Systems, GE Additive, and more, belong to the organization. They were also at the forefront at Formnext this year as they spoke in a number of conferences to promote their message that in order for additive manufacturing to establish itself as a sustainable manufacturing method, there needs to be less talk and more concrete action. Notably, calling on companies to address weak points along the entire additive value chain to identify environmental weaknesses. Sherry Handle, Executive Director of the AMGTA, stated in our recent article on sustainability and additive manufacturing, "Our mission is now entering its third year and we now have a solid foundation on which to build. In 2023 and beyond, we plan to continue to invest in strategically rigorous research projects on sustainability in additive manufacturing and work with members to make AMGTA key to the industry by championing sustainability in the additive manufacturing industry."
 And change does seem to be coming. This year, there have been numerous advancements in materials to make them more sustainable. This has been done in a variety of ways. Some manufacturers have turned to making materials out of waste or other recycled materials as a way to making a more circular economy. For instance, Covestro launched a new PET 3D printing material made out of recycled post-consumer PET waste, Sindoh made a powder made entirely out of recycled materials and Recreus unveiled its 100% recycled TPU filament. There were also projects to design materials that were also more eco-friendly in and of themsleves. NonOilen from Fillamentum was designed to be the first 100% biodegradable filament for 3D printing, made entirely out of bio-based polymers. PolyTerra from Polymaker was a bit of a mix of both, combining organic minerals with PLA, thus significantly reducing the plastic content in the filament.
We also saw new research that highlighted the innovativeness of AM for sustainability projects. One such case is that a National Renewable Energy Laboratory worked to improve the recyclability of 3D printed wind turbine blades, thus moving more towards a circular economy while also investing in more environmentally friendly energy projects. Or in another case, Ford this year announced that they would be partnering with HP to print automotive parts using recycled 3D printing materials, this project was especially notable as it used recycled powder rather than filament. Debbie Mielewski, Ford technical fellow commented at the announcement that  "Many companies are finding great uses for 3D printing technologies, but, together with HP, we're the first to find a high-value application for waste powder that likely would have gone to landfill, transforming it into functional and durable auto parts." Additionally, Aectual made 3D printed plants from recycled plastic and in another project 3D printed beams made from recycled plastic were made to replace reinforced concrete, among even more projects.
The Launch of Extrusion Projects for Non-Polymer Parts
One of the other trends that we saw in 2021 was the continued democratization of 3D printing, notably when it comes to non-polymer materials. By this, we mean the increasing focus on extrusion projects (FDM) for materials like ceramics and metals. Metals and ceramics are both coveted materials in AM as they can be used for parts, including end-use, in many important sectors such as aerospace and medical. However, the machines that can print with these materials are often prohibitively expensive for many, and entry level options were limited. Now with the increase in desktop FDM printers that can print metals and ceramics, the technology is becoming more accessible as it is cheaper and often easier to use than the more complicated laser based machines.
And the AM market has heeded this call for metal filament printers. Of course, one of the biggest names in the sector is Desktop Metal, which has grown immensely this year as covered above. But they are not the only ones. This year we saw a number of companies releasing their own metal FDM solutions in a few different ways. First, well-known polymer FDM manufacturers including BCN3D, Ultimaker and Makerbot, released metal filaments for their printers, accompanied by specially adapted nozzles and other parts. These options will allow users to just add onto their existing polymer machines, reducing costs, while giving users a lower-cost option for 3D printing metal.
Furthermore, full solutions are also being released, with both Raise3D and 3DGence announcing that they will be launching FDM metal printers in 2022. Discussing their decision to launch the ELEMENT range, Sebastian Sczasny, 3DGence's CEO elaborated "In the past 2 years, Metal FFF technology has made significant progress as an affordable entry into metal part prototyping and production. The number of desktop systems that can print open market metal filaments has increased, and the current key industrial players are experiencing consistent growth despite the economic impact stemming from Covid-19." Ceramic 3D printers are also continuing to gain in popularity, including the options from Nanoe. Additionally, as metal and ceramic 3D printing continues to grow in populairty, it does seem that these FDM solutions may be a way to help further spread additive manufacturing into even more industries and factors. It is a lower cost, easier-to-use way to introduce the technologies especially to complete beginners to 3D printing. In the upcoming year, it will be interesting to see the reaction to these ceramic and metal extrusion solutions as well as to see if even more machines come to market.
Construction 3D Printing Was A Bigger Trend Than Ever in 2021
The idea of using 3D printing for construction is not a new one. What is new this year is how many different projects were finally realized. No longer a thought exercise, currently there are 3D printed houses on multiple continents including Europe and North America. Our 3D startup of the month from January, ICON, alone has announced numerous multi-home projects in Texas. Since their first printed house in March 2018, they now have designed no fewer than 20 buildings.
But it does not stop with ICON. 3D printing was also seen as a potential force for good as a way to address humanitarian concerns, notably those related to housing crises. Habitat for Humanity has started work on a 3D printed three-bedroom, two-bath single family home in Arizona to help with the housing crisis in the State. COBOD has also been used to print houses in India, Germany, Florida and more. Along with 14trees, their printer was also used for a school in Africa which is currently welcoming students. Beyond this, more and more companies are unveiling plans for 3D-printed communities, especially with low-cost housing. One example from March was Twente Additive Manufactring (TAM) and World Housing's plans for a 3D printed village in Canada which they hope would end homelessness in the community. Finally, WASP's TECLA project was finished this year, showing us a way forward for truly sustainable housing with their soil-printed dwellings.
Beyond these projects, this was the year that we truly saw 3D printed houses becoming commercial. In February, SQ4D put the first 3D printed house on the market for $299,999 in Long Island. There is also the first 3D printed house to be inaugurated in Germany which was also made using a BOD 2 printer. TAM's famed Fibonacci House has also officially become the first 3 printed house to be listed on Airbnb, making it open to travelers and 3D printing enthusiasts alike who would like to book a night in the unique home. In 2022, we expect to see the completion of even more 3D printed homes and even more innovative projects from the companies that are leading additive manufacturing in construction.
What do you think of our 3D printing trends in 2021? Do you have any predictions for trends in 2022? Let us know in a comment below or on our Linkedin, Facebook, and Twitter pages! Don't forget to sign up for our free weekly Newsletter here, the latest 3D printing news straight to your inbox! You can also find all our videos on our YouTube channel.
*Cover Photo Credits: Pro beam