3D Printing vs COVID-19: The Most Exceptional Initiatives of the Pandemic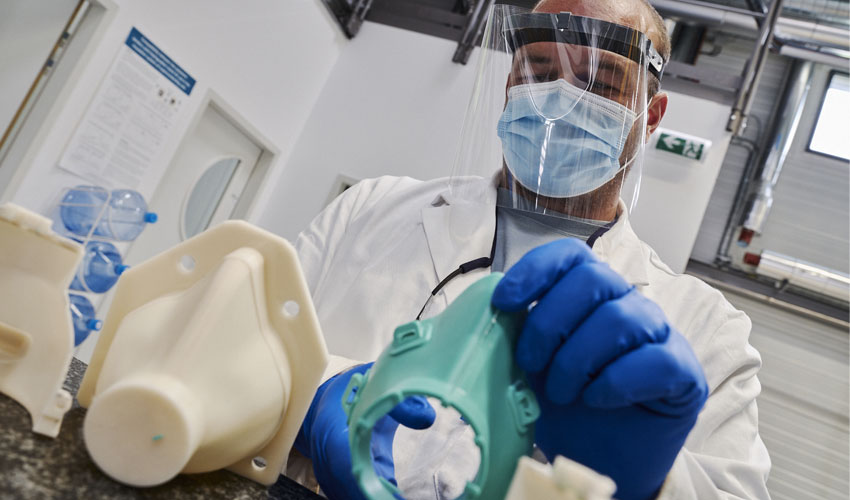 For years to come, 2020 will likely be remembered for the dramatic changes and loss of life that accompanied the pandemic. This year the 3D printing sector prevailed, first adapting, and shortly thereafter becoming a powerful force in the fight against COVID-19. From large industrial companies to small users of the maker community, people from across the sector joined the fight to bring the health crisis to an end. The applications of 3D printing technology proved profoundly important in this battle, and as this year draws to a close we wanted to look back at some of the most exceptional responses to the pandemic from the additive manufacturing industry. Here are some of the industry's most outstanding innovations, divided into applications for the medical sector and solutions to prevent contagion in society.
3D printing for hospitals and health centers
Isolation rooms made with concrete
The first application of 3D printing in the fight against the COVID-19 occurred in late February when the Winsun company created isolation rooms using concrete extrusion. The aim of this initiative was to isolate people who had symptoms or tested positive for coronavirus. In the absence of space in China's hospitals, additive manufacturing was the fastest way to reduce the spread of the virus in the country. The isolation rooms had an area of 10 meters squared and a height of 2.8 meters. Each isolation room was constructed in under two hours using a robotic arm mounted on rails installed around the construction site deposited successive layers of concrete ensuring structural stability.
3D printed respirator valves
When the coronavirus first reached Europe, Italy was one of the most affected countries. Many hospitals were overcrowded and lacked sanitary equipment needed to save the patients in the most severe condition. Upon learning that a hospital in Chiari had a shortage of ventilator valves, the Italian company Issinova, took the problem into their own hands. Realizing that 3D printing was the most efficient solution, Issinova began to additively manufacture the necessary amount of valves for the health centers that needed them. Later, the manufacturer Photocentric also launched mass production of respiratory valves for several countries. Thanks to their resin machines and their high manufacturing speed, they were able to develop more than 40,000 valves per week using 3D printing.
Swabs for coronavirus tests
At the beginning of April we received news that some companies had used additive manufacturing to produce swabs for PCR tests. These swabs can be used as an instrument to collect samples of nasal mucosa. Once the sample is collected, the swab is checked for the presence of the virus. The rapidity at which Covid-19 spread across the world resulted in a mass shortage of the swabs needed to perform these tests. Responding to this shortage the companies Carbon and Formlabs, began to manufacture around 150'000 nasal swabs a day using 3D resin printing. These swabs were essential to accelerating the detection of positive cases and thus hindering the spread of the virus.
Face shields for healthcare workers
One of the most important applications of 3D printing to combat COVID-19, was in the production of face shields. This application arose from a lack of personal protective equipment (EPIs) for those working in hospitals and health centers. Prusa, a manufacturer of home 3D printers, showed their support by designing an open source 3D model so that anyone who had a 3D printer could contribute. With this initiative, both professional companies and individuals in the maker community set to work to develop a large number of facial protectors in the shortest possible time.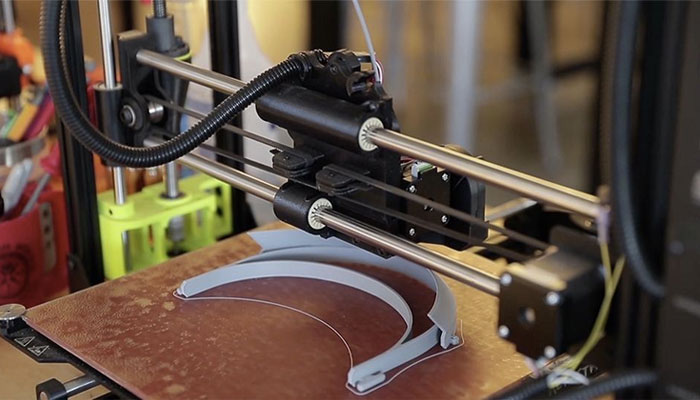 Emergency respirators
In mid-March, the first 3D printed respirator for hospitals was created in Spain. This project arose from the collaboration of a partnership between the Consorci de la Zona Franca (CZFB), HP, Leitat, SEAT, the Consorci Sanitari de Terrassa (CST) and the Taulí Hospital in Sabadell. The goal? Use 3D printing to support hospitals and intensive care units by creating respirators for severe COVID-19 patients. The prototype was quickly developed using the various project partners' 3D printers, meeting all the necessary requirements and functionalities. Together they were able to create up to 100 units a day and this model has already been used by other companies in the industry to help hospitals around the world.
Decathlon snorkeling masks for hospitals
Like the first valves created in Italy, Isinnova was behind this initiative. The idea was to transform Decathlon's snorkeling masks into emergency respirators for patients with coronavirus. What does this have to do with 3D printing? In order for the mask to function it needs a specific piece that connects it to the medical equipment of hospitals. The 3D models of that particular piece, called the Charlotte Valve, were quickly designed and soon hundreds were manufactured using FDM technology. The whole maker community joined this initiative, some people even donated their snorkeling masks to hospitals to be turned into respirators.
3D printing to stop the virus spreading
A custom soap ring
Washing hands regularly is a crucial step in preventing the spread of coronavirus. But what happens when you're away from home and you don't have access to a bath or soap? This 3D printed soap ring solves that problem. All you need to make one is a FDM 3D printer for simple thermoplastics, although virucidal copper plastic and a soap tablet are recommended. Depending on the 3D printer and the material used, the soap ring is an economical way to help contain the virus. In addition, it is impressively easy to use. Thanks to this ring you can wash your hands anywhere and at any time as long as you have access to a little water.
Additively manufactured copper surfaces
Copper parts are difficult to create using conventional methods, additive manufacturing offers a faster and more time and cost efficient alternative. You may wonder what this has to do with the pandemic. Copper has been shown to eradicate bacteria, fungi, and viruses from surfaces. With respect to COVID-19, laboratory tests have shown that copper-treated surfaces can remove 96% of the virus in two hours. The company SPEE3D modified its printers to be able to cover existing metal parts with copper. A remarkable initiative to prevent the spread of coronavirus!
The air purifying AMS mini device
The AMS mini is a nylon device, 3D printed using HP Multi Jet Fusion technology that is able to sterilize the air. The AMS mini integrates a cyclic, labyrinth-like system, through which the air is sterilized. To do this, the air inside the device is exposed to ultraviolet light which eradicates any viruses or bacteria. According to the manufacturer, the device eradicates about 95% of bacteria and viruses in the environment, including COVID-19 aerosols. Since the shape of the device is critical to its functionality, additive manufacturing was used to create complex structures.
A necklace to stop you from touching your face
One of the most important things you need to do during this pandemic is avoid putting your hands on your face if you have touched public surfaces. Often this happens unconsciously and avoiding it is one of the best ways to slow the spread of coronavirus. For this reason, several NASA researchers developed PULSE, a 3D printed necklace that integrates a vibratory motor and an infrared sensor that vibrates when you put your hands near your face. All you need is an FDM printer, PLA and some parts that can be found in any electronics store. PULSE is an open source model that you can download at any time.
Fibers that detect leaks in masks
Masks are now the new normal and are a crucial step in preventing the spread of coronavirus. But not all masks are the same and some have flaws that affect their functionality. As such a research team created 3D printed sensory fibers that detect leaks. Similar to an electric cable, the fibers consist of a silver core surrounded by a polymer cover. When applied to a mask they are able to detect defects when you generate movement in the cells by breathing. Due to the simplicity of use as well as the ease and affordability of manufacturing the sensors, they are suitable for domestic use, meaning that everyone can make sure their masks are functioning correctly.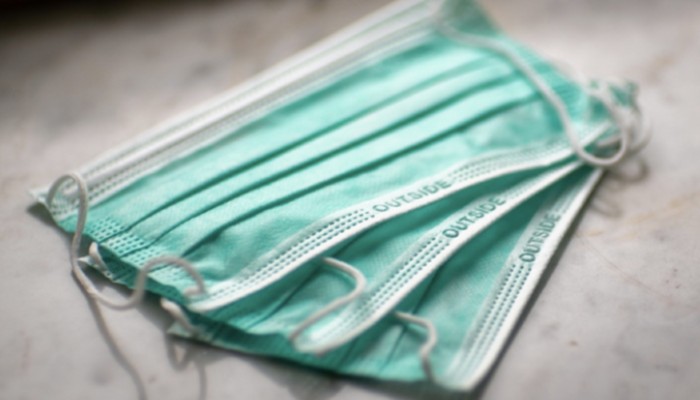 Contactless door openers
Door knobs play an immense role in transmitting the virus, as they are touched by several people on a daily basis. To reduce the potential risk of infection, Materialise has thought of a way to avoid direct contact with doorknobs. In just 24 hours, they developed, tested and validated an additively manufactured door opener. The opener is attached to a handlebar allowing you to open a door, without touching it. A variety of door opener models are available for FDM, SLS and MJF technologies, and can be adapted to each setting. Materialise has published the 3D models for free on its website in the hope that many people around the world will manufacture them and thus contain the spread of coronavirus.
Nanovia's virucidal filament
3D filament manufacturer Nanovia has developed a new range of thermoplastics, NANOVIA XV. These materials comply with ISO 21702, antimicrobial surface-proof. This means that the filament reduces or completely prevents infectivity of the virus. According to the manufacturer, the NANOVIA XV series eliminates 98.9% of viruses within two hours of contact and 99.9% within four hours. As PLA remains one of the easiest thermoplastics to print, the company expects that its filament can be used to quickly and easily design everyday objects that come into contact with several people and could have promising applications in the medical sector.
What do you think about 3D printing applications in the fight against COVID-19? Let us know in a comment below or on our Facebook and Twitter pages! Sign up for our free weekly Newsletter here, the latest 3D printing news straight to your inbox!