3Dnatives: The first digital media dedicated to 3D printing
3Dnatives was launched in early 2013 by Marc Pfohl and Alexandre Martel, with the goal of bringing the wonders of 3D printing to the masses. Today, 3Dnatives is the largest international online media platform on 3D printing and its applications. With its in-depth analysis of the market, 3Dnatives gets over 1 million unique visitors per month and is currently available in English, French, Spanish, and German. 3Dnatives works with key Additive Manufacturing market players and offers a variety of services such as a 3D printing price comparison engine, B2B consulting and B2B brand content, event management and much more!
3Dnatives offers many tools for our users such as our 3D printer Comparator, featuring an array of professional and personal 3D printers; Our Business Directory that includes more than 200 companies, manufacturers, and resellers; and our Job and Event Board, that features all the latest jobs and events surrounding additive manufacturing and 3D printing. By bringing these tools together into one place, we are able to give our users and visitors a unique experience that truly makes our website one of a kind.
A team of passionate authors and experts in 3D Printing
Alexandre Martel:
Since 2012, Alexandre has been giving talks on 3D Printing at major events including TEDx, 3D Printshow, 3D Print Lyon, and AddFab. Alexandre graduated with a degree in Applied Mathematics and is specialized in web marketing and innovation following experiences in leading digital companies.
Mélanie Renard:
Specialized in Marketing and Communications, Mélanie is passionate by writing about hot topics such as 3D printing and new technologies. As a curious person, she is always on the look out for creative ideas to catch the audience's attention. In addition, she loves all things digital and the interactions on social networks.
Lucia Contreras Howard: 
Audiovisual communicator and designer. Lucía is specialized in multimedia communication and management of creative teams. Motivated by new challenges in the marketing fields. She is always looking out for the latest innovations in the 3D printing industry.

Filippos Voulpiotis:
As a 3D printing enthusiast, Filippos is constantly in the search of the new technological breakthroughs. He is passionate about learning all the news and communicating them to 3Dnatives' audience in the most efficient way.

Pascal Poeck:
A team leader in the field of collaborative platforms, his passion in 3D printing and his membership in the "Maker" movement has led him to become a speaker, mentor, author, and trainer. In addition to 3Dnatives, I have founded Bulb Zone with my four partners. Located in Strassen, Luxembourg, Bulb Zone is the 1st shop that specializes in 3D printing and electronics for makers as well as professionals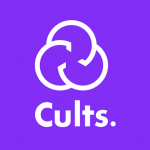 Hugo and Pierre: 
This duo are the founders of Cults, the leading French site for 3D files dedicated to 3D printing. Find our favorites and a selection of the best designers present on Cults. Discover aesthetic and astute designs in the world of home, fashion, art, toys, gadgets!