How Important is Sustainability in Additive Manufacturing?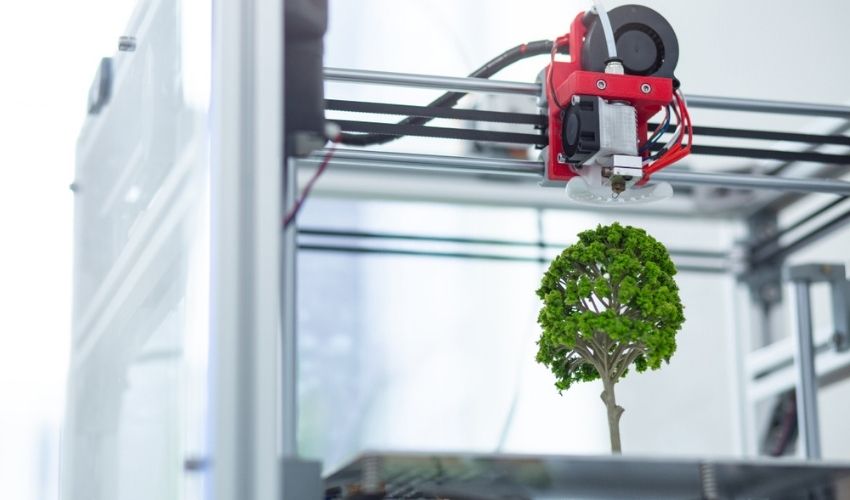 During Formnext 2021, the four-day international trade fair for additive manufacturing, we saw new and optimized machines, innovative materials, software packages and post-processing solutions and applications. In recent years, it has become clear to many manufacturers, but especially to users, which technologies and materials will continue to dominate the market in the future. Instead of numerous new innovations, the focus is now on product optimization as well as optimization of the AM supply chain. Furthermore, in addition to the goal of creating more effective machines for series production and automating production processes, both of which are helping to solidify AM's presence in Industry 4.0, sustainability is also becoming a main focus in the development of additive manufacturing. But what specific demands does the market place on companies? And how are they facing up to current and future challenges? We were out and about at Formnext and were able to talk to some of the exhibitors about this and find out more about the aspirations of the different players in AM.
As a process in itself, additive manufacturing already represents a more sustainable means of production. This is particularly evident in the fact that 3D printing eliminates the use of excess material and thus unnecessary waste virtually from the outset. The ability to use generative design also plays an important role in terms of part optimization and is one of the main advantages of 3D printing compared to traditional manufacturing methods. In addition, a 3D printer enables on-demand manufacturing. This not only saves time, but also eliminates the need for long transport routes and storage areas, consequently reducing CO2 footprints.
Of course, however, 3D printing itself also has an impact on the environment. The German Federal Environment Agency has published a trend report to assess the environmental impact of 3D printing, in which the direct and indirect effects are examined. The report specifically points out the high energy requirements as well as the indoor pollutants produced. The mining of raw materials for material requirements also has an impact on the environment. However, the Federal Environment Agency sees potential here in the implementation of new recycling concepts. Printed parts could, for example, be recycled further down the line as filament.
AMGTA aims to raise awareness of benefits of additive manufacturing in sustainability
The founding of the non-profit organization AMGTA (Additive Manufacturing Green Trade Association) in 2019 showed that major players in additive manufacturing were interested in making a statement in the name of sustainability. The NGO aims to raise industrial as well as public awareness of 3D printing as a sustainable alternative to conventional manufacturing methods. The AMGTA currently has 35 companies from 11 countries among its members, with Stratasys and ExOne among its founding members. At Formnext, members of AMGTA spoke in panel discussions about the industry's future aspirations, explaining what matters the most at the moment. The key messages are as follows: if additive manufacturing wants to establish itself as a sustainable manufacturing method, promises are not enough. The entire industry must now let numbers speak for themselves. Therefore, particular attention should be paid to life-cycle assessment (LCA). Weak points can only be identified if the environmental impacts along the entire additive value chain are recorded. The collection of this data is necessary to make additive manufacturing comparable with other (traditional) processes in terms of sustainability. When an overall ecological picture is available, it will be possible to truly balance sustainability needs. Today, many studies compare important aspects such as energy and material consumption, but neglect the fact that certain CO2 emissions, which are caused by long transport routes, for example, do not even occur when 3D printing is used.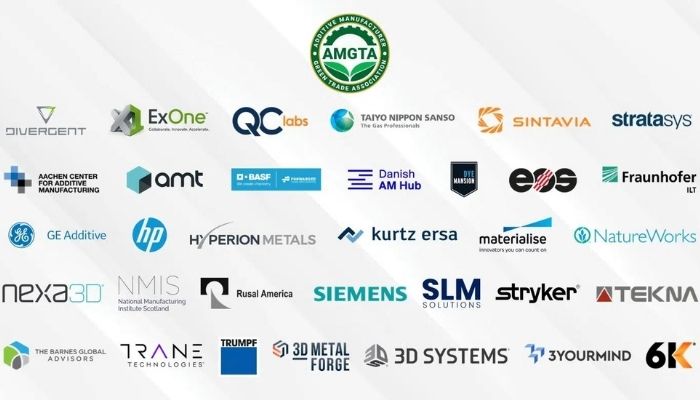 Sherry Handel, Executive Director of AMGTA noted, "Our mission is now entering its third year and we now have a solid foundation on which to build. In 2023 and beyond, we plan to continue to invest in strategically rigorous research projects on sustainability in additive manufacturing and work with members to make AMGTA key to the industry by championing sustainability in the additive manufacturing industry."
Sustainability in focus at Formnext
At Formnext, we also noticed that many exhibitors were focused on sustainability, a fact that was evident in many booths. We frequently encountered the idea of "sustainability" during our tour through the aisles of the hall. For example, with the Green Wall at Stratasys, the new brand identity of Arkema or targeted statements on banners and brochures. When we asked exhibitors, we also founded that in addition to their own efforts, they are increasingly collaborating with other companies in the industry to reduce the environmental impact of technology along the entire value chain.
This includes, for example, the development of innovative materials with a higher recyclability rate, the compatibility of these with manufacturers' equipment, the optimization of equipment in terms of energy consumption and the creation of the necessary infrastructure for better recycling. However, it is also emphasized by the companies that additive manufacturing as an industry faces potential global failure in this aspect. Since globally there isno appropriate infrastructure in place for companies to be able to act more sustainability. We therefore conclude that the will to improve the eco-balance on the part of manufacturers is there. The task now is to unite these forces to prove that additive manufacturing is also a step ahead of other processes in terms of sustainability.
What the companies themselves say
"We started up a new production line for polyamide 12 this year, also for PA12 powder. In this production line, we have tried from the beginning to make the entire production more efficient. This includes lower water consumption, more efficient energy consumption, and less raw material usage with the same or even better output. This production line overhaul has enabled us to reduce our annual carbon footprint by 15,000 tons." Janusz Berger, Head of Market Communications at Evonik

"At EOS, we have developed a holistic strategy for responsible production in terms of sustainability. This focuses on reducing CO2 emissions, eliminating waste in AM production, and environmentally friendly products and services. Our main goal today is to create transparency. For this, data must also be collected to determine where the weak points and where the strengths are in the AM lifecycle." Björn Hannappel, Head of Sustainability at EOS

"The analysis of components as part of the LCA is becoming increasingly important for us. We are also devoting ourselves to this as part of the EU's Clean Sky project. We are trying to address the energy issue through new materials and new processes, for example, this includes investigating hydrogen as a resource in manufacturing, as well as finding compatible geometries and materials." Andreas Vogelpoth Fraunhofer ILT

"We need numbers, because we don't want to just greenwash here. But most importantly, we need to act now." Rosa Coblens, VP Sustainability Public Relations & Global Internal Communications at Stratasys

"More and more employees are also thinking about the issue of sustainability. Some applicants ask me in job interviews what our company policy and strategy is on this topic." Eric Bono, VP Sales & Development at 6K Additive

"We are incredibly concerned with the circular economy. That is, what can we do to make plastics easier to separate and to more easily and effectively recycle afterwards. In general, however, 3D printing is exerting a major influence on the sustainability strategies of manufacturing companies. This includes focusing on lightweight parts to material savings, to shortening logistics routes. In all these areas, 3D printing creates significant added value." Sascha Petereit, Sales Manager AM at ARBURG
What are your thoughts on sustainability in additive manufacturing? Let us know in a comment below or on our Linkedin, Facebook, and Twitter pages! Don't forget to sign up for our free weekly Newsletter here, the latest 3D printing news straight to your inbox! You can also find all our videos on our YouTube channel.