PolyTerra PLA, the Environmentally Friendly 3D Printing Filament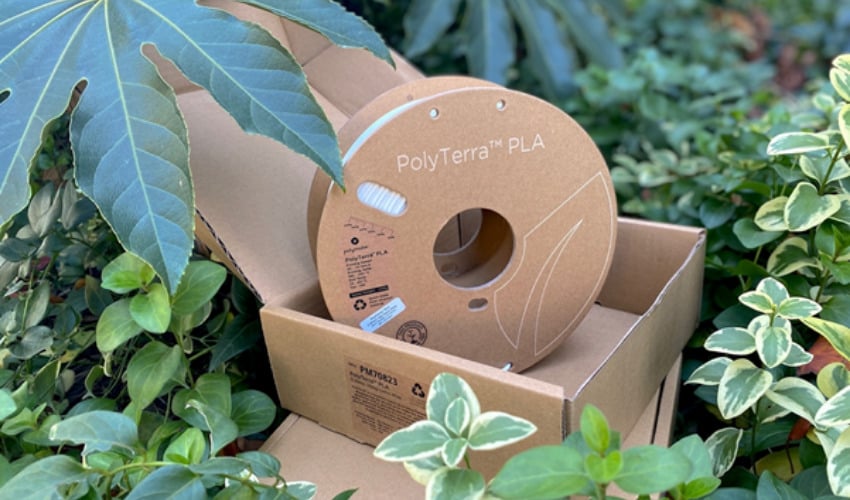 Though additive manufacturing has been posited as a solution to the negative environmental impacts created through traditional manufacturing, experts tell us that there are still many ways in which AM itself needs to become more eco-friendly. One of these is through materials that are more sustainable as plastic is one of the most commonly used materials in the AM industry. Polymaker, the international maker of 3D printing materials, might have a solution for that. Recently, the company introduced a new 3D printing filament, PolyTerra PLA, which the company hopes will lead the next generation of environmentally friendly filaments. 
PolyTerra was created by combining organic minerals with PLA, thus significantly reducing the plastic content in the filament. According to Polymaker, PolyTerra prints exactly like traditional PLA, good news for PLA enthusiasts, since they will not have to change any print settings. Plus, apparently the overhang and bridging capabilities can even surpass PLA. Comparing it to their other PLA products, the company notes that the mechanical properties of the material offer a wide range of potential applications, with material tougher than regular PLA but with good stiffness. The material can be printed using a wide printing temperature range of 190-230°C and can plug and play on any extrusion-based 3D printers. The surface finish of 3D printed parts is uniquely matte which hides the layer lines, even when printing with large layer heights and is available in four pastel colors alongside ten regular colors, all inspired by nature. 
Polyterra Environmental Impact
PolyTerra™ PLA has been created to be as eco-friendly as possible for a plastic filament. Not only has it been created in a way that reducing plastic content, but it is wound on a recycled cardboard spool with recycled labels and outer packaging. All unnecessary paper has been removed as well to cut down on waste. The company also pledges that in order to offset the carbon created to make and ship a spool of the material, they will plant one tree for every spool sold. These trees will be local to the place of purchase in partnership with One Tree Planted, an environmental tree planting charity that plants trees in countries around the world for one dollar. Trees that have reached maturity can suck in 22kg (48.5lbs) of carbon dioxide each year, more than sufficient to offset the 4kg (8.8lbs) required to create a spool of PolyTerra. 
Though certainly, more needs to be done to reduce plastic consumption and to address the current ecological crisis, materials like PolyTerra are certainly a step in the right direction. We expect that in the coming years, there will be even more innovations in the field of AM materials to make sustainable alternatives. With these, AM will be able to truly claim itself as the eco-friendly alternative to traditional manufacturing. You can learn more about the material on Polymaker's website HERE.
What do you think of this new environmentally friendly plastic filament? Let us know in a comment below or on our Facebook, Twitter and LinkedIn pages! Sign up for our free weekly Newsletter here, the latest 3D printing news straight to your inbox!
*Thumbnail photo credits: Polymaker