Featured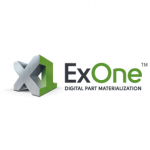 The ExOne Company (ExOne) was founded in 2005 as a spin-off of Extrude Hone Corporation, a global supplier and developer of precision nontraditional machining processes and automated systems for more than 40 years. Three-dimensional printing and laser micromachining became the core technologies for The ExOne Company, which currently supplies services, systems and solutions for manufacturing in the digital age, including three-dimensional printing in sand, metal and glass, and laser micromachining. The company now has bases in Europe, the United States and Asia.
ExOne industrial 3D printers are designed to manage more complicated designs, develop complex parts and serve diverse applications. With the purchase of a sand or metal industrial 3D printer, our customers have the full partnership and support of our skilled technicians and consultants. Using Binder Jetting technology, an additive manufacturing process, to selectively join a binding agent with industrial-grade powder particles, ExOne 3D printers create a custom finished product from a 3D CAD file using metal, sand, or ceramic materials.
ExOne's 3D printing technology is capable of handling complexity beyond what is possible with traditional manufacturing technology approaches. Plus, design modifications can be made on the 3D CAD file in seconds and reprinted without complicated and expensive changes. With a high print speed and endless part geometry, ExOne is your optimal choice for printing cost-effective, customized parts using industrial-grade materials.