Formnext 2021: A More Mature Exhibition Focused on Industrialization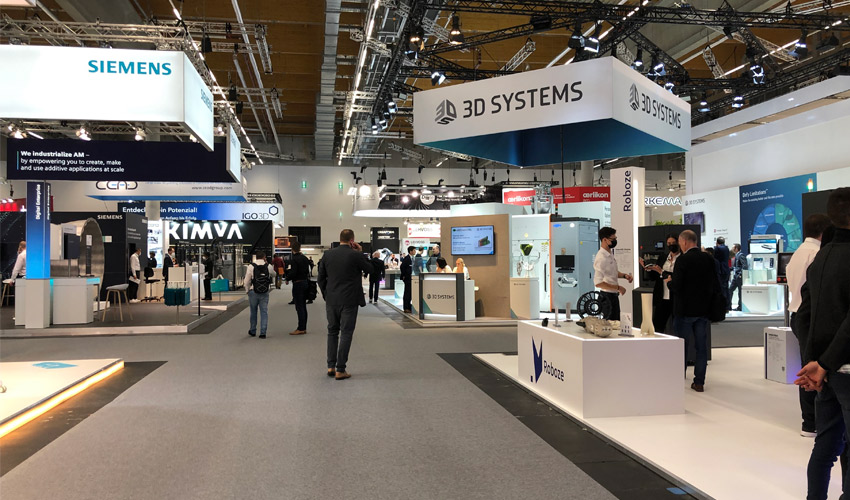 Formnext 2021 closed its doors last Friday after 4 days of meetings and exchanges. This edition brought together 600 exhibitors from 35 different countries, spread over 3 halls of the Frankfurt Messe, along with about 17.8k visitors from 76 countries. It is time to take stock of the international additive manufacturing trade fair, which this year especially put a premium on "sustainability," a concept which though traditionally connected to the environment also integrates social and economic issues. We also saw more and more impressive machines, some of them capable of combining additive and subtractive manufacturing solutions, but also post-processing solutions facilitating process automation. Finally, materials for additive manufacturing are developing with the aim to have a complete offer for all users. The objective is clear: additive manufacturing is becoming more industrialized and integrated into production processes.
This edition was inevitably special and many doubts still hovered a few days before the start of the show. With many asking will visitors even be there and what will the restrictions be?  In the end, even with fewer exhibitors, Formnext 2021 was a great success. Though there may have been fewer visitors as compared to 2019, those who were there were more mature, that is to say many exhibitors considered that they were more interested in the actual implementation of AM. Most of them came with a project in mind, a specific application and specific needs. When talking to the exhibitors, all of them told us that they had never had so many appointments planned. This is very good news for the market, which is just beginning to truly structure itself in a more in-depth manner.
Janusz Berger, Head of Market Communication at Evonik, noted, "We can draw a very good conclusion from Formnext. We were expecting far fewer visitors, so we are very satisfied. However, it was clear that Asia is missing, both among visitors and exhibitors. So we were certainly missing a third of the fair's visitors."
XXL machines at Formnext 2021
This year, many large-format machines could be seen in the aisles of the show. The trend is to manufacture large parts, whether with polymers, composites or metals. Some machines combined several manufacturing techniques such as 3D printing, milling or machining. For example, the Italian manufacturer CMS presented its large format machine capable of extruding standard and technical thermoplastics, with an interchangeable head in only 30 seconds to offer milling capabilities. The Fraunhofer Institute also exhibited a robotic arm, as did the company Yizumi. In fact, most of the trade show visitors we interviewed were surprised by the size of the 3D printers on display.
Beyond large-format additive manufacturing, the trend is toward industrialization of processes. Erik Erickson, Dental Business Manager EMEA at Stratasys explained, "What has really changed is that after just talking about moving into industrial applications in 2019, it's now really happening. Everyone here has moved into industry and none of the larger players are talking about rapid prototyping anymore. Even in the Dental Sector, we are focused more on end-use parts."
In the halls of Formnext 2021, one could see more and more machines aiming to automate processes, whether in terms of design, manufacturing or post-processing. The goal is to make all of these steps easier for the user and move toward a repeatable process that is suitable for all industries. Timm Woszidlo, Application & Technology Support Manager at INTAMSYS, identified three trends this year: "Software, automation, speed: this is the feedback we get from our customers. They are very satisfied with our technology, they now want to speed up and automate the production process. That's why the trend is also moving towards software, a trend we've been seeing for several years now."
Materials for additive manufacturing
In 2019, Formnext exhibitors were numerous in presenting their metal 3D printing solutions. This year, metal processes have become more democratized and more and more players are developing powders adapted to 3D technologies, be it powder bed fusion or binder jetting. Adeline Riou, Global Sales Manager – Metal Powders at Aubert & Duval, told us, "Initially, additive manufacturing users were working with the same design methods and materials as conventional manufacturing processes. Then they started to explore the possibilities in terms of design, but they stayed with the same material. Now we are at a stage where we are combining new materials with new design techniques. Manufacturers are imagining applications that were totally unexploited and they can design parts with much more extreme conditions of use. We are at the beginning of a revolution: we are accessing a new generation of materials to develop the applications of tomorrow."
Of course, this observation does not stop with metals. In polymers, developments are more numerous, faster and allow the creation of new applications. The players in additive manufacturing are creating materials with mechanical, thermal and chemical properties that are close to those of known injection materials. Sascha Petereit, Sales Manager Additive Manufacturing at Arburg, further commented, "The diversity of materials is very important for our industry. I also sense a revival in terms of plastics. In recent years, metal has been very present. Now we are again seeing more innovations in plastics, in processes as well as in materials. One reason for this is that the range of possibilities has expanded."
Sustainability & additive manufacturing
Finally, one of the major trends at Formnext 2021 is undoubtedly the issue of sustainability. This is a dimension that is increasingly present in our world today, and which has even more resonance in the 3D printing market. We won't go back over the advantages of 3D technologies in terms of material consumption, carbon footprint, and recycling; it's clear that this issue has been taken on board by the majority of market players. Just look at the number of conferences organized around this theme.
In fact, Björn Hannappel, Head of Sustainability at EOS, explained: "The next step is to be transparent about what we do in terms of sustainability. We can't just say we have a more environmentally friendly approach. We now have to prove it and show what we are doing." The key message is to work together, sustainability is definitely a lever for growth.
*Cover Photo Credits: 3Dnatives
What do you think of the trend's at Formnext 2021? Did you enjoy the 3D Daily Show #4? Let us know in a comment below or on our Linkedin, Facebook, and Twitter pages! Don't forget to sign up for our free weekly Newsletter here, the latest 3D printing news straight to your inbox! You can also find all our videos on our YouTube channel.