The First 3D-Printed School Has Opened its Doors in Malawi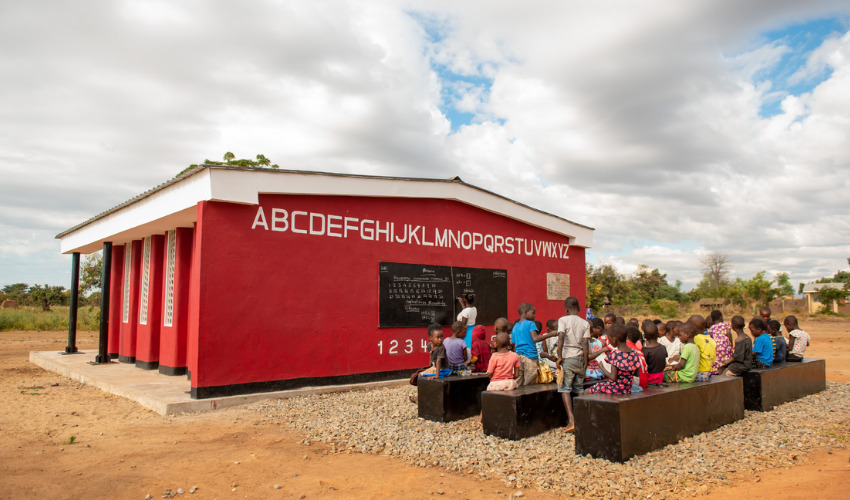 Class is in session at the world's first 3D-printed school. Located in Malawi, the school was built by 14Trees, a joint venture between Holcim and the UK's CDC Group, using a BOD2 printer from Danish 3D construction robot printer company COBOD. The innovative application of 3D printing technology resulted in reduced cost, time, and materials traditionally expended when building schools and housing. Furthermore, the build also had an environmental footprint that was more than 50% less than traditional build methods. "I am very impressed by the new building – its durability and design provide the space and facilities that students did not have before. This school will attract more students, and those learners that had left will return to education," says Juliana Kuphanga Chikandila, Primary Education Advisor, representing the Director of Education, Youth, and Sports in Malawi.
In alignment with the United Nations' Sustainable Development Goals, which address the global challenges humanity faces, including poverty, inequality, climate change, and environmental degradation, the school was built with the goal of accelerating the provision of affordable housing and schools across the continent of Africa. Ultimately, this 3D-printed school highlights the potential for the application of 3D printing for education infrastructure globally. The new technology also brings about opportunities for local people to be trained as 3D machine operators and specialists, as well as the creation of highly skilled jobs.
3D Printing in Construction
There are quite a few varieties of 3D printers used in the construction of buildings, such as polar machines, gantry-mounted printers, and mobile robots. These machines have the capacity to extrude concrete that can be used to build various structures — from houses to bridges, in varying complexities. Furthermore, 3D printers enable construction access to areas that are challenging for the deployment of equipment and personnel, or areas in conflict. The school building in Malawi, measuring a total of 56 m2, and was built using a BOD2 model 4-4-2 from COBOD, which capable of printing concrete structures up to 10 meters in length and width, and 3 meters in height. The BOD2 printer by COBOD used to build this school was also used to build the first 3D-printed concrete wind turbine tower for GE, as well as several 3D printed buildings in the US, India and across Europe.
According to UNICEF's estimation, in Malawi, there is a shortage of 36,000 classrooms, which would take 70 years to build using traditional build methods. However, 14Trees estimates that this infrastructure gap could be bridged in as little as ten years utilizing 3D printing. "Now that we've proven the concept in Malawi, we look forward to scaling up this technology across the broader region, with projects already in the pipeline in Kenya and Zimbabwe," says Miljan Gutovic, Region Head of Europe, Middle East, and Africa at Holcim Group. Learn more about this 3D-printed school HERE.
What do you think of the first 3D-printed school and the BOD2 printer by COBOD? Let us know in a comment below or on our Facebook and Twitter pages. Don't forget to sign up for our free weekly newsletter, with all the latest news in 3D printing delivered straight to your inbox!
Cover Photo Credit: Bennie Khanyizira/COBOD