3DGence Premieres Series of Metal FFF 3D Printers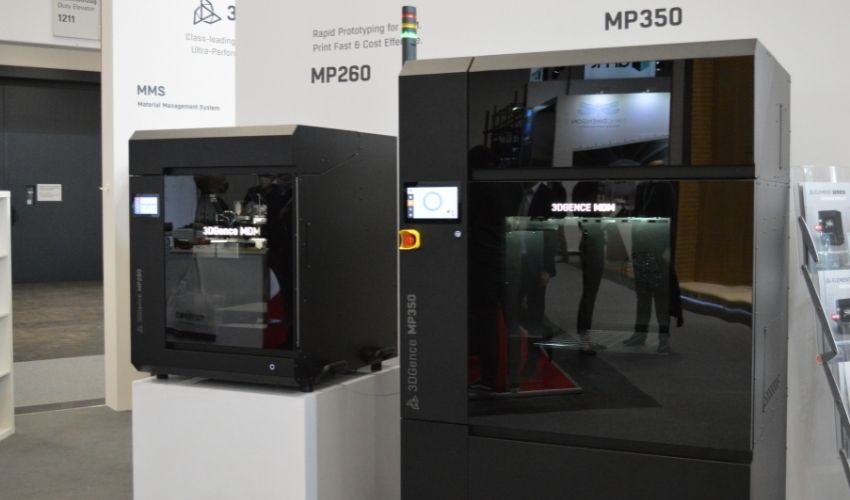 Despite the continued dominance of polymers in additive manufacturing, metal 3D printing has also increased significantly in recent years with a faster growth rate than many other AM product segments. This is especially the case when it comes to desktop and compact 3D printing solutions. These printers allow metal AM to become more accessible as it is much more cost-effective to print thanks to the use of FFF technologies. Now, another company is entering the market. Leading European 3D printer manufacturer, 3DGence, announced at Formnext this year that they are launching a new range of metal 3D printers, the ELEMENT Series. The series was on display at Formnext and will launch with both ultra-compact and compact industrial printers – the MP260 and MP350 – in Q1 2022.
As desktop and compact metal 3D printers gain in popularity, it seemed like a natural step for 3DGence to move into the metal AM segment. Ron Faruqui, CEO Americas of 3DGence, noted, "Our goal is to bring reliable, progressive, industrial grade Metal FFF technology to our industrial customer base that is accessible without compromising expected quality. As the recent focus has been in our high-temperature thermoplastic printers for sequential, robust printing in high performance materials like ULTEM™ and the PAEK range, we are now making the natural extension to high-performance non-polymer materials." Indeed, the demand is there, and due to 3DGence's previous experience with FFF technologies designed for notoriously difficult to print high-temperature polymers for end-use and metal replacement applications, it is well prepared for entry.
About the new ELEMENT Series from 3DGence
3DGence's ELEMENT series will launch with two 3D printers. The first, the MP260, is a compact machine that the company designed to be a cost-effective rapid prototyping printer for companies using MIM (metal injection molding). The ELEMENT MP260 will be compatible with two materials, including 316L Stainless Steel, a popular metal material. For advanced users seeking a wider range of materials, another version will be available, the MP260X, compatible with most sinterable filament materials that are used in MIM technology. This is possible thanks to a proprietary extrusion system with material detection, and a specifically designed material feeding technology.
Meanwhile, the MP350 is a mid-sized metal industrial printer comprised of a full system including a debinder and sintering station. It has an 80% larger volume than the MP260, as well as higher throughput, ultra-fast print speed, and advanced safety features. Not to mention, it will be compatible with a wider range of materials in which there will be some key material announcements at the time of product release, according to the company.
Sebastian Sczasny, Technology Portfolio Director, MS Galleon / Group CEO, 3DGence concluded, "In the past 2 years, Metal FFF technology has made significant progress as an affordable entry into metal part prototyping and production. The number of desktop systems that can print open market metal filaments has increased, and the current key industrial players are experiencing consistent growth despite the economic impact stemming from Covid-19. 3DGence is now entering the Metal FFF segment with middle and compact sized Metal FFF 3D Printers to provide a solid, reliable option in the entry and middle priced segments – providing industrial grade quality at scalable pricing with our ELEMENT Series MDM printers." You can find out more information about the ELEMENT series HERE.
What do you think of the new ELEMENT range from 3DGence? Let us know in a comment below or on our Linkedin, Facebook, and Twitter pages! Don't forget to sign up for our free weekly Newsletter here, the latest 3D printing news straight to your inbox! You can also find all our videos on our YouTube channel.
*Cover Photo Credits: 3Dnatives