The Best Online 3D Printing Service Providers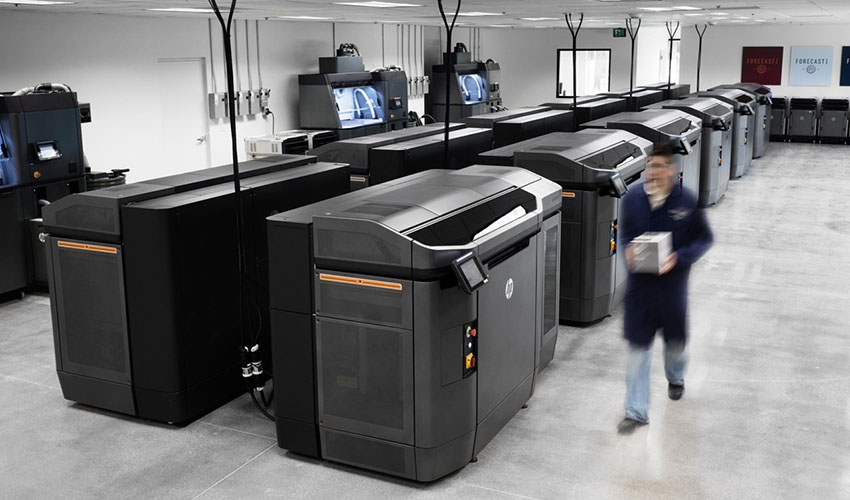 The use of additive manufacturing does not always mean owning a 3D printer. Today, there are many 3D printing service providers that offer their expertise in 3D printing technologies for the creation of any part: from functional prototypes, end-use parts to small series production. Indeed, it's not always easy to figure out how to optimize a 3D model, which technology or material to choose, and how to arrive at your desired outcome. 3Dnatives has put together an alphabetical overview of various online 3D printing services that will meet your needs. Don't hesitate to contact one of these 3D printing services directly for more information! 
3D Systems On Demand
3D Systems On Demand delivers the technologies, processes, tools and expertise to quickly translate your designs into manufactured parts. They offer rapid prototyping, functional prototyping, fully realistic appearance models, and low-volume manufacturing using a full range of proven capabilities. This includes additive manufacturing, cast urethane, CNC machining, injection molding, metal-die casting, sheet metal fabrication, and expert finishing. Customers rely on our engineers to help speed time-to-market, access the widest range of processes and materials across their facilities worldwide.

> 3D Systems On Demand: 333 Three D Systems Circle, Rock Hill, SC 29730
[email protected] | +1 877-994-2303
3ERP
3E Rapid Prototyping (3ERP), based in China, specializes in providing rapid prototyping, low-volume production and surface finishing services for a wide-range of industries including automotive, medical, aerospace, and consumer products. Their portfolio of technologies includes 3D printing, CNC machining, Injection Molding, Vacuum Casting, etc. The manufacturing service claims that their services can deliver 1 to 1000+ metal or plastic parts globally as fast as ten days.
Parts:
Aerospace prototyping, automotive prototyping, medical device prototyping, consumer product prototyping and robotic prototyping.
Technologies:
CNC machining, rapid tooling, injection molding, vacuum casting, pressure die casting, sheet metal forming, aluminum forming, aluminum extrusion and 3D printing.

Aconity3D
Aconity3D is a complete system provider, besides machines, they also offer the production of 3D printed metal parts. The Aconity3D 'Jobshop' supports its customers during the design process to ensure increased component functionality whilst keeping manufacturing costs low. Aconity3D has many years of experience in sophisticated design, process development and post-processing. With access to all relevant AM technologies, prototypes are manufactured and ready for use under one roof, on request. For the processing of metallic materials using additive manufacturing, Aconity3D as a manufacturer also offers flexible system solutions that are tailor-made for customer-specific series applications. 

> AconityUS, Inc. : 1900 N Oregon St #310, El Paso, TX 79902
[email protected] | +1 915-219-9815
Fisher Unitech 
Fisher Unitech is one of the world's largest technology providers of 3D design software, 3D printers, 3D scanners, and surface finishing solutions. With their build part service, they are able to help others with their product development and additive manufacturing needs (whether complementing in-house printing or as a service bureau). They use FDM, PolyJet, metal 3D printing, embedded electronic, and tooling & molding services to accommodate a wide range of applications including aerospace, concept models, medical manufacturing, rapid production, functional prototyping, and more.  

> Fisher Unitech: 404 East 10 Mile Road, Suite #150, Pleasant Ridge, MI 48069
[email protected]fisherunitech.com | +1 888-441-9696
FORECAST 3D
FORECAST 3D was founded in 1994 by brothers Corey and Donovan Weber, in a small garage with a single machine. Today, with over 45 industrial 3D printers in-house and three facilities, FORECAST 3D services companies of all sizes across all industries. Offering a diverse range of additive manufacturing technologies – with HP's Multi Jet Fusion (MJF), FDM (Fused Deposition Modeling), DMLS (Direct Metal Laser Sintering), SLA (Stereolithography), PolyJet, as well as Urethane Casting and CNC Machining services – FORECAST 3D emphasizes their focus on the customer and the quality of parts delivered. Passionate about informing the world that they can use 3D printing for production, FORECAST 3D is where American Craftsmanship meets Digital Manufacturing.

> FORECAST 3D: 2221 Rutherford Rd, Carlsbad, CA 92008
[email protected] | +1 800-549-5414
i.materialise
i.materialise is an online 3D printing platform offering every maker, designer, consumer and entrepreneur access to a professional service and premium 3D printed consumer parts. Part of the Materialise group, it offers a user-friendly gateway to the group's large-scale 3D printing capacity and its world-class 3D printing software tools. On this online 3D printing service you can upload your 3D model, choose from 100+ different finishes and materials, select the size of your print, receive a price quote instantly and let them take care of printing and shipping of your products.

> i.materialise: 44650 Helm Court, Plymouth, MI 48170
[email protected] |+1 734-259-6445
Shapeways
Unlike desktop printers or makerspaces, the Shapeways platform offers services from its own factories and global supply chain network. Printing in over 50 materials and finishes, Shapeways provides 3D printing manufacturing solutions to businesses of all sizes across a multitude of industries. Businesses in medical, robotics, drones, education, consumer products, to name a few, have all benefited from direct access to the most innovative technology and industrial-quality materials.

> Shapeways: 44 W 28th St, Fl 12, New York, NY 10001
Stratasys Direct Manufacturing 
Stratasys has been around for three decades. Their Stratasys Direct Manufacturing service is able to provide engineering and manufacturing expertise across a range of additive and conventional technologies. As pioneers in 3D printing, they have developed processes and materials that optimize and enhance what can be achieved in manufacturing. They have eight manufacturing locations and one of the largest capacities in North America to ensure every customers' project is a success. They serve tens of thousands of customers at all stages of product development to make it easier for businesses to bring quality products to market faster.

> Stratasys Direct Manufacturing : 28309 Ave Crocker, Valencia, CA 91355
[email protected] | +1 888-311-1017
Vision Miner
Vision Miner offers a wide-range of 3D printing equipment, including functional, industrial and affordable solutions. On top of this, the company works with the solutions and materials it sells, therefore it has acquired a high level of expertise in high-temperature 3D printing and engineering-grade thermoplastics such as PEEK, PEI, PPSU, and Carbon Fiber composites. The company is also a 3D printing service provider, able to help you in your rapid prototyping, part production or research & development projects by leveraging its cutting-edge knowledge in high-performance polymer 3D printing technologies.

         >  Vision Miner: 18218 E McDurmott St. Irvine, CA 92614
[email protected] | +1 833 774 6863
Xometry 
Xometry uses the latest additive manufacturing processes to build functional prototypes and end-use parts in more than 50 different metals and plastics. They have over 2,500 manufacturing partners specializing in Carbon DLS, Direct Metal Laser Sintering (DMLS), Fused Deposition Modeling (FDM), HP MultiJet Fusion, PolyJet 3D, and Stereolithography (SLA). Xometry offers instant pricing on their website (below) or directly in Autodesk Inventor or SOLIDWORKS with their CAD add-ins. 

> Xometry: 7940 Cessna Avenue, Gaithersburg, MD 20879
[email protected]xometry.com | +1 240-252-1138
*This listing is not exhaustive, as there are always new companies emerging in this market, however this is a good start if you are looking to have your 3D printing needs met in the US! 
*Cover Image Credits: Forecast 3D
Was this helpful? Let us know in a comment below or on our Facebook and Twitter pages if the listing above was useful! Don't forget to sign up for our free weekly Newsletter, with all the latest news in 3D printing delivered straight to your inbox!