The 11 Best 3D Printed House Companies – 3D Printing Entire Buildings
Posted On February 12, 2018
---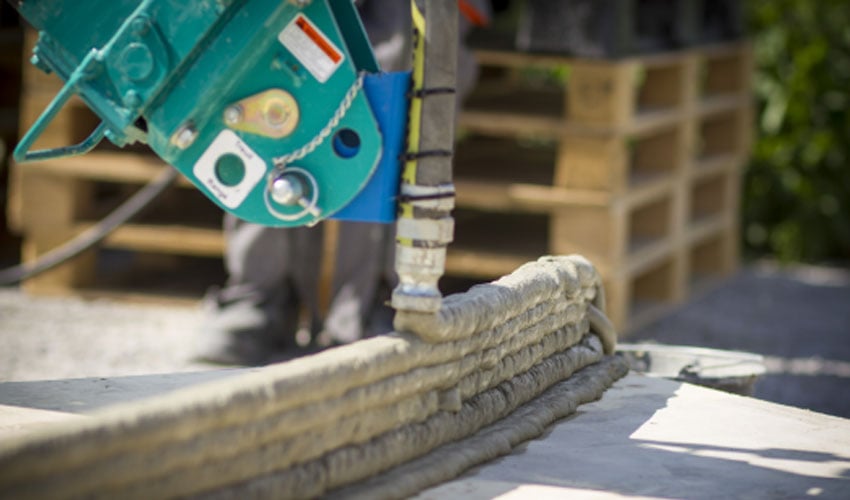 While the 3D printing of houses is becoming a reality with a booming construction market, we wanted to focus on the manufacturers of 3D printers that make this possible. Desktop 3D printers are diverse, whether they are polar machines, delta printers, or robotic arms. Capable today of extruding concrete, they make it possible to build different structures of varying complexity, from houses to bridges to skyscrapers. Therefore, we made this list of 11 3D printing companies who are creating full buildings from concrete and other materials.
1. Apis Cor
Apis Cor is a Russian company that has developed a 3D printer capable of building a house in just 24 hours. The machine is 4.5 metres long, 1.5 metres high and wide, and can be easily transported by crane. It is a polar 3D printer that extrudes concrete on a 132m² printing surface, rather than a printer installed on a gantry and rails. Moreover, the printer can be set up on-site within 30 minutes! Apis Cor have since developed their own software for the printer, along with a control program to facilitate construction work.
2. BatiPrint
BatiPrint is the result of a team of researchers from the University of Nantes who developed a new 3D printing technology for house construction. This allowed them to 3D print the first social housing in Nantes. They have since collaborated with LS2N, a specialist robotics lab, to develop a 4 metre long robot that deposits 3 layers of materials at once. This material includes two layers of expansive foam, and one third concrete. In addition, the robot is portable, and can be operated directly on-site. The printer is capable of building walls 7 metres high!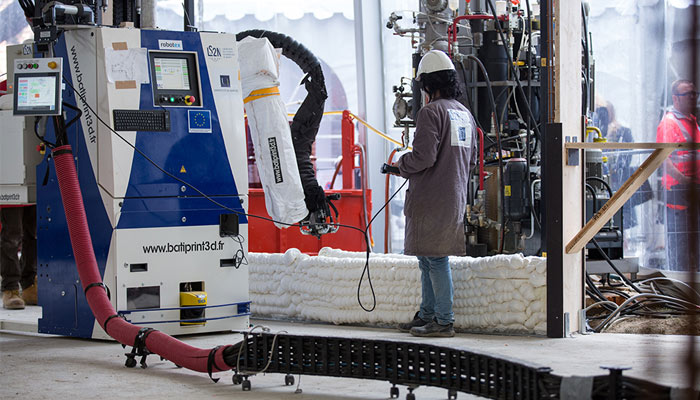 3. WASP
Italian manufacturer WASP has developed a concrete 3D printer which is the largest currently on the market. The 12 metre tall and 7 metre wide 3D printer has adjustable arms up to 6 metres long. The printer, called the BigDelta, aims to respond to the housing crisis by building cheaper homes, especially for developing countries. The long-term goal of the project is for the BigDelta to be able to extrude straw and earth, so homes can be built using naturally sourced materials. For now however, the machine can move up to 200kg, though 40-50kg is recommended.
4.
KamerMaker (Ultimaker & DUS Architects)
DUS Artichtects are a Dutch architecture studio that started making 3D printed houses in 2012. They developed the KamerMaker, a huge 3D printer made in conjuction with desktop 3D printer manufacturer Ultimaker. Together, they developed the FDM 3D printer with very large printing dimensions: 2 x 2 x 3.5 m!
The aim of this project is to help construct houses from recycled materials sourced locally. This saves transport costs, material costs, and obviously, manufacturing costs. So far, DUS Architects have completed a few projects such as their project of the Casad del Canal, and a cabin in Amsterdam.
5. WinSun
WinSun gave us a lot to talk about back in 2014 when they created the first 3D printed house. They use a machine based on FDM technology and uses the same layer-by-layer process with cement, sand, and fibres. These materials give sufficient strength to the walls. They develop walls for houses in their factory before moving them on-site, with their 32 x 10 x 6.6 m size 3D printer.
In addition to their first project in Shanghai, they developed the first 3D printed offices in Dubai back in 2016, and have collaborated with Elon Musk to develop Hyperloop tunnels. These are expected to become the fastest transport in the world. They were also recently in the news for 3D printing a number of concrete bus stops in China.
6. Cazza Construction
This Silicon Valley-based company have been chosen to develop the first 3D printed skyscraper in Dubai! More extraordinarily, their CEO, Chris Kelsey, is just 20 years old! At the end of 2017, Cazza presented their first 3D printing robot, the Cazza X1. This machine can lift 90kg, and has a maximum range of 3.9-4.7 metres depending on its extension. This machine will be priced at $480,000, with a more advanced machine, the Cazza X1 Core, priced at $620,000.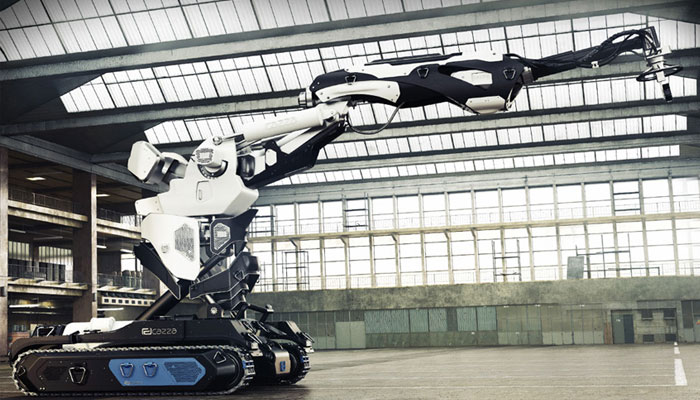 7. Constructions-3D
Constructions-3D is a French company, and a collaboration project between Machines-3D and Belgian architect Gaël Collaro. This project aims to build customisable homes from recyclable materials that are sourced locally. They use a "concrete crane" based on fused deposition modeling technologies, extruding concrete layer-by-layer to create structures. This allows for the construction of buildings and other structures in just hours, opening up many possibilities in the construction sector. Moreover, complex geometric shapes can be created which cannot be created using traditional manufacturing methods.
8. Contour Crafting
Contour Crafting is a 3D printing building technology company developed by Behrokh Khoshnevis at the University of Southern California. Inspired by the potential to create homes quickly to rebuild cities struck by natural disasters, Khoshnevis embarked to revolutionise house construction. The company uses a crane operated by a computer with 3D printing to build whole structures quickly without human interference. Contour Crafting use a 'quick-setting, concrete-like material' which is deposited layer-by-layer until the build is finished. Technical parts like plumbing and wires can be added as the layers are being built.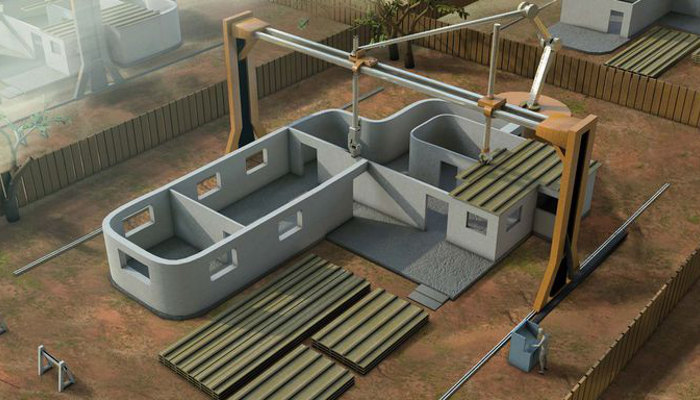 9. CyBe Construction
CyBe Construction is a company from the Netherlands with the mission to revolutionise concrete 3D printing with applications to home construction. They produce 2 concrete 3D printers, the CyBe RC 3Dp, The CyBe R 3Dp, as well as their MORTAR material. These large, industrial 3D printers require two operators to oversee production, but the printer can print large structures in just 20 minutes due to its fast 200mm/s printing speed.
10. D-Shape
D-Shape is a large, industrial 3D printer that can create large structures. Using binder jetting technologies with a material which mixes sand, seawater, and a binding agent of magnesium, the D-Shape can make large structures out of this stone-like material. This process was created by Italian Enrico Dini in 2006, known as 'the man who prints buildings.' The current version of the D-Shape fits roughly inside a 6m x 6m frame. The printhead then has 300 nozzles spaced 20mm apart to print the stone solution.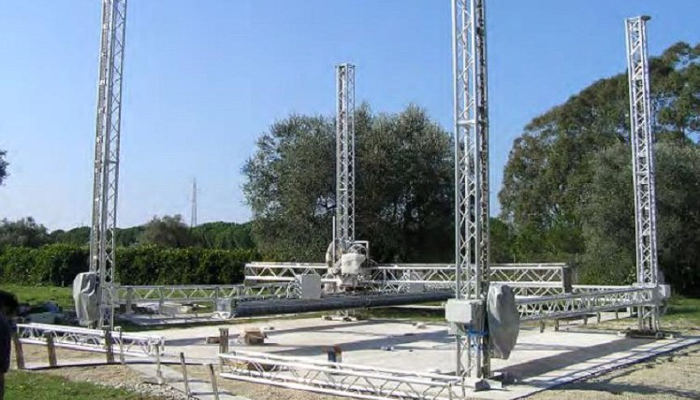 11. XtreeE
XTreeE was started up in late 2015 with the aim to pioneer industrial scale additive manufacturing with concrete, and build houses and other structures. The project was originally a university project and gravitated into being a full-fledged company making gains in the 3D printing concrete industry. XtreeE use a printing process with their concrete material which they say is most similar to fused deposition modelling techniques. They've already created a variety of interesting pieces with complex architectures, such as a 4 metre tall pillar.
What do you think of these 3D printed house companies? Let us know in a comment below or on our Facebook and Twitter pages! Sign up for our free weekly Newsletter, all the latest news in 3D printing straight to your inbox!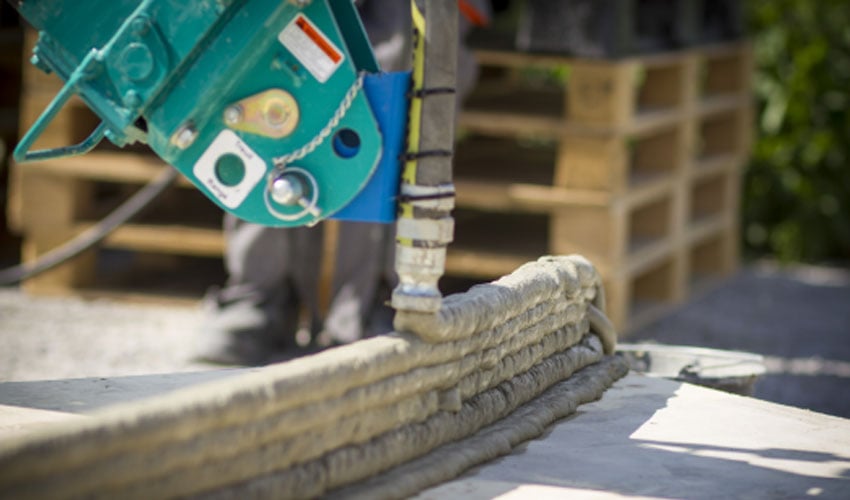 ---
You may also like