The Manufacturers of 3D Printed Houses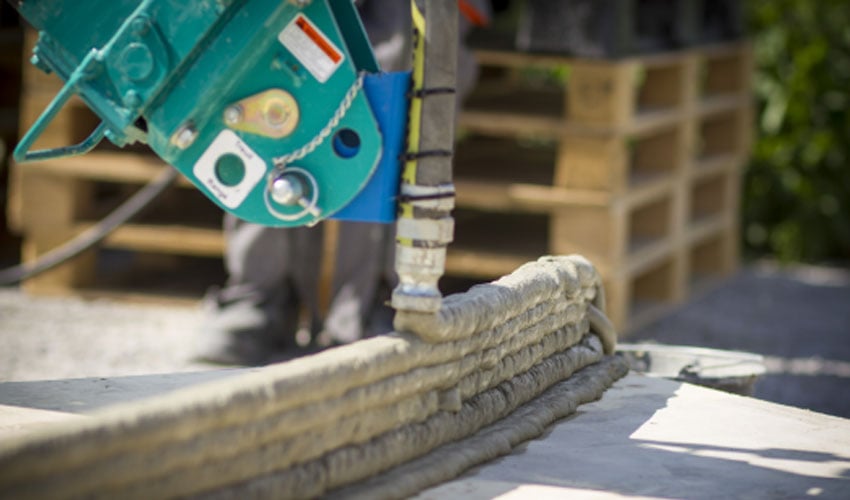 As home 3D printing becomes a reality with the booming construction market, we wanted to focus on the manufacturers of 3D printers that make this great innovation possible. There are many different types of construction 3D printers, from polar machines to gantry-mounted printers to mobile robots. Today, they are capable of extruding concrete that enable the construction of various structures of varying degrees of complexity, from houses to bridges and offices. In the following listing, we take a look at the main manufacturers of 3D printed houses on the market!
12 Manufacturers of 3D Printed Houses on the Market
1. Apis Cor
Apis Cor is a Russian company that has developed a 3D printer that could build a house in just 24 hours, and in extreme weather conditions. Their machine is 4.5 meters long, 1.5 meters high and wide and can be easily transported on a mobile crane. It is a polar 3D printer that extrudes concrete on a printing surface of 132m2, as opposed to 3D printers installed on a gantry and rails. According to the manufacturer, it be set up on site in 30 minutes only. The company has developed its own software and control program to facilitate the construction work. Also, as we saw earlier, the company has created the largest 3D printed building that is located in Dubai. The building is 640 m2, reaching a height of almost 10 meters, and took a total of 17 days to print. 
2. BatiPrint
A team of researchers from the University of Nantes has developed a 3D printing technology, BatiPrint 3D, which allowed the construction of the first social housing in Nantes. It has partnered with LS2N, a laboratory specialised in the development of robotics, to create a 4-metre long robot that deposits 3 layers of materials in succession: two layers of expanding foam and one third of concrete. This industrial robot is polyarticulated and mobile, allowing it to operate directly on site. It is capable of building 7-meter walls!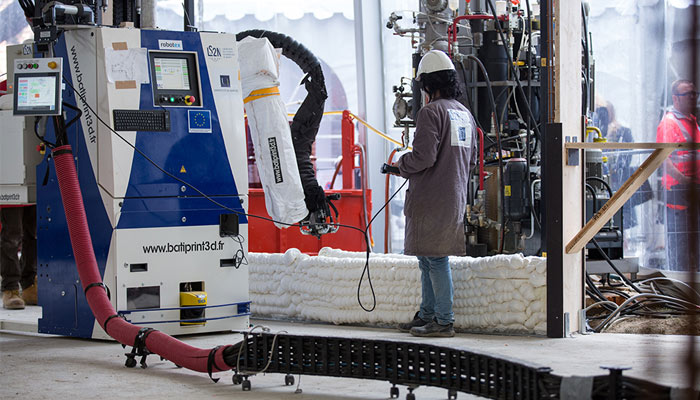 3. Be More 3D
The Spanish company Be More 3D was founded in the entrepreneurial environment of the Universidad Politécnica de Valencia. Its team is made up of four young people determined to work for the improvement and implementation of 3D printing technologies in the construction sector. The startup specializes concrete additive manufacturing, a material that has represented a great advance in this industry. In fact, Be More 3D was the first Spanish company to create a 3D printer of this type. This technology has allowed them to develop multiple projects, such as the construction of 32m2 homes in Africa.

4. WASP
Italian manufacturer WASP has developed a concrete 3D printer which is one of the largest currently on the market. The 12 metre tall and 7 metre wide 3D printer has adjustable arms up to 6 metres long. Called the BigDelta, this 3D printer aims to respond to the housing crisis by building cheaper homes, especially for developing countries. The long-term goal of the project is for the BigDelta to be able to extrude straw and earth, so homes can be built using naturally sourced materials. For now however, the machine can move up to 200kg, though 40-50kg is recommended. Gaia is the most recent project from WASP, this house is an eco-sustainable house, built with the brand's 3D printer, the Crane WASP.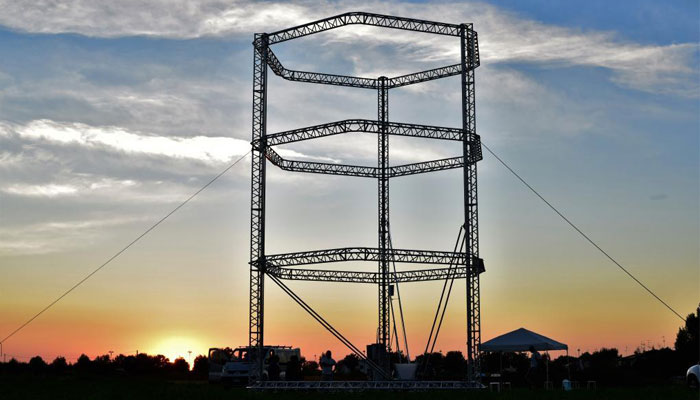 5. ICON
The Vulcan II is the first construction 3D printer marketed by ICON. It is specifically designed to produce stronger, more affordable buildings with more design freedom, expanding printing capacity to approximately 600 square meters. In 2018, ICON was the first company in the United States to obtain a building permit and create a 3D printed house. The house in Austin was a proof of concept that brought the team, investors and clients together to move forward into the future. In this way, their mission is to make decent, affordable housing available for everyone to live in.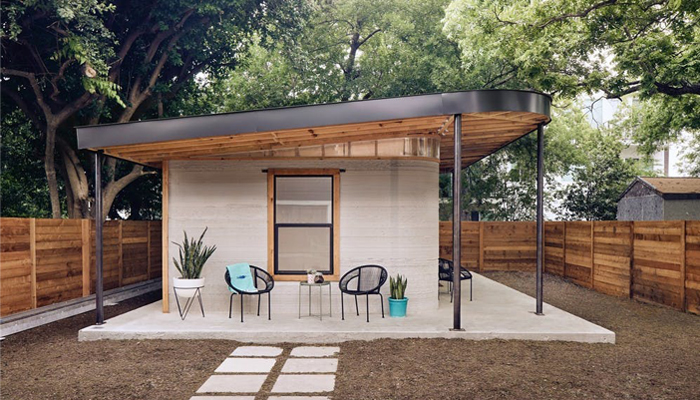 6. Winsun
This Chinese company made a lot of headlines in 2014 when it unveiled its first 3D printed houses. To build these houses, they use a machine based on FDM technology that places layer by layer a mixture of cement, sand and fibers, which gives enough resistance to the walls they develop in their factory. The printing volume of their machine is 32m long, 10m wide and 6.6m high. In addition to their first project in Shanghai, in 2016 they developed the first 3D printed offices in Dubai and began collaborating with Elon Musk on the development of the Hyperloop tunnels, which they hope will be the fastest transport in the world. The company's latest and most recent project was the construction of facilities to stop the outbreak of the coronavirus in Xianning.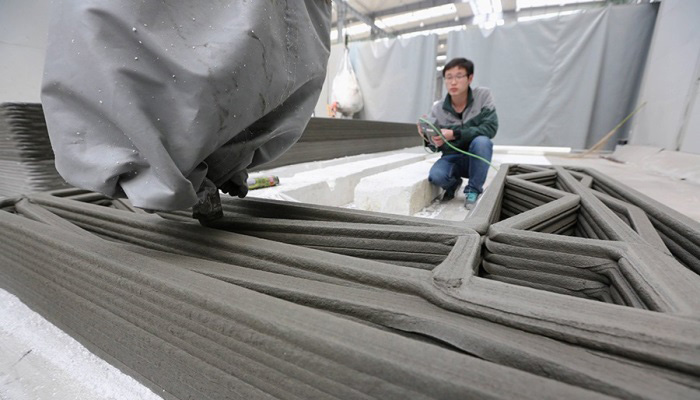 7. Constructions 3D
Construction 3D is a provider of 3D printers for the construction industry. It is a French project initiated by the company Machines-3D and the Belgian architect Gaël Collaro. The proposal of this project is to build customizable houses from recyclable materials or from materials derived from the location the houses are built. For their development they use a kind of "concrete crane" based on FDM technologies. Their machine allows the printing of the layers of material in hours only, and also allows to create geometric forms unimaginable before the arrival of these technologies.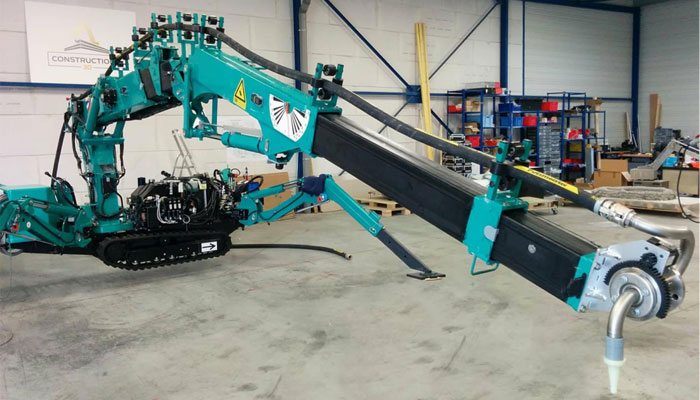 8. COBOD
The Danish-based company COBOD began its activities in 2017 with the construction of the first 3D printed building in Copenhagen. The company's first 3D printer was called BOD (Building On Demand) and with it they started working all over Europe, which allowed them to learn and improve the features of their machine. In this way they later developed the second generation of the 3D printer, the BOD2. The growth of the company continues and today the BOD2 is distributed worldwide – the company sold one of its 3D printers to Saudi Arabia for example. COBOD's technology currently enables the printing of three-storey buildings with more than 300 m2 each.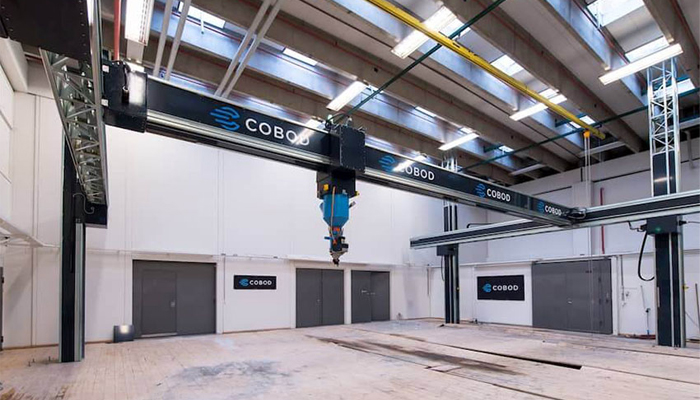 9. Contour Crafting
Contour Crafting has developed a concrete 3D printing process, created by Behrokh Khoshnevis at the University of South Carolina. He developed a machine installed on rails around the floor of the building that serves as a gantry and directs the robotic arm. It slides back and forth to extrude the concrete, which is then flattened by pallets attached to the nozzle. Behrokh is one of the first to develop a 3D printing method that could work with concrete, opening the door to more opportunities. With this technology, Contour Crafting can significantly reduce the cost of commercial construction, as well as eliminating material waste during the manufacturing process. Contour Crafting projects include, for example, 3D printing of a 610 square meter house in less than 24 hours.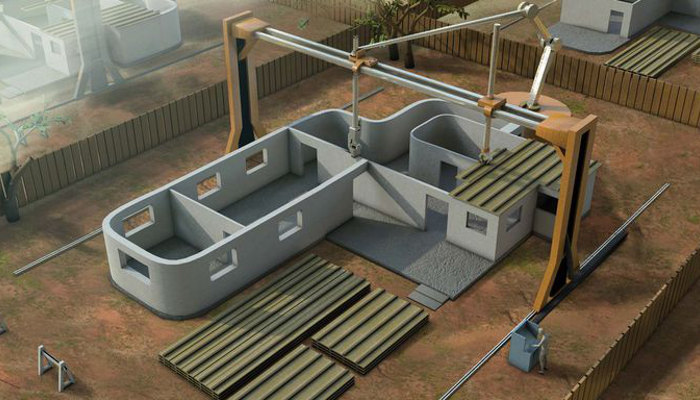 10. Cybe Construction
CyBe Construction is a Dutch company that has launched two concrete 3D printers, Cybe RC 3Dp and Cybe R 3Dp. It has also developed a patented material, based on a concrete mix. Both machines with 6 axes could print at a speed of 200 mm/second, allowing to manufacture concrete structures quickly. Among the latest works of the company we find the so-called "Meet House", a big project where CyBe Construction was a technological partner to build the 3D house in the SRTI Park. Cybe's technology is considered one of the most innovative and reliable ways to build an integrated residential unit through the use of low-cost digital machinery.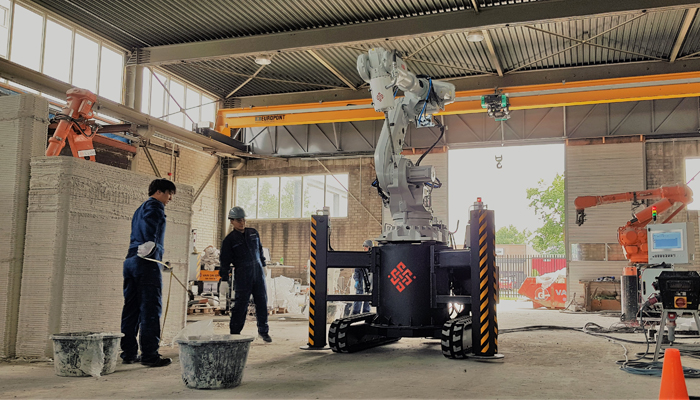 11. XtreeE
XTreeE is a French company created in 2015 that relies on 3D printing to create complex concrete structures. It works with ABB branded robots and develops its own software in-house. In addition, it seeks to create more mobile machines to overcome certain manufacturing constraints. The startup explains that its machine is based on a technology close to that of molten material deposition. Recently he has embarked on the Viliaprint project, which consists in the creation of 5 3D printed houses in Reims by manufacturing concrete walls. Thanks to XtreeE's 3D printing technologies, it has been possible to design hollow walls to be able to integrate pipes and insulating material.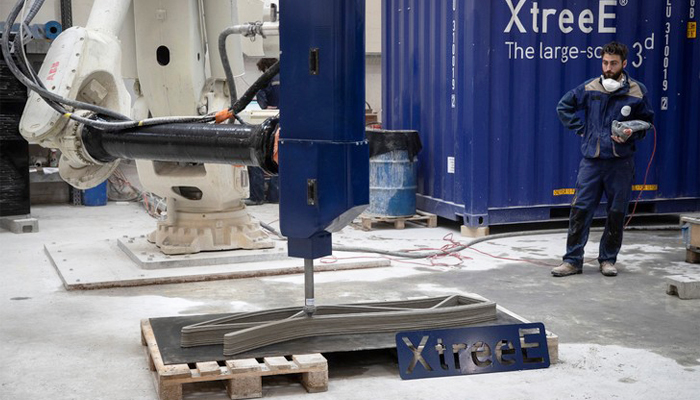 12. SQ4D
The American company SQ4D specializes in the design and construction of installations created using 3D printing. The XXL machines have a robot arm located in a gantry that surrounds the printing area, additively manufacturing the structure by means of a concrete extrusion process. Among its most recent projects, we can highlight that of last January. SQ4D used S-Squared 3D printers to build a new 580 square meter building with a total printing time of 48 hours spread over 8 days. The company's main objective is to provide, through its additive manufacturing technologies, more accessible housing for people.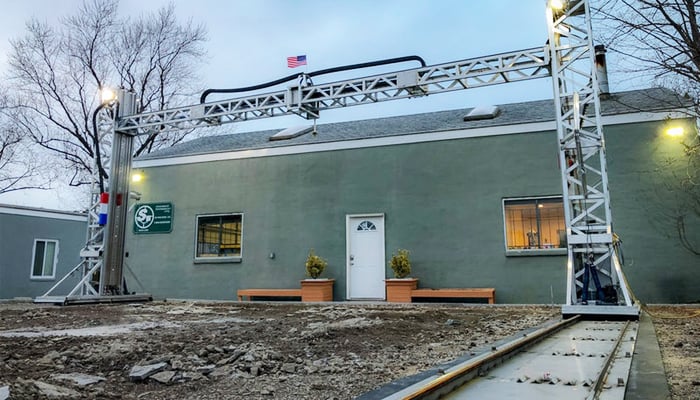 What do you think of these 3D printed house manufacturers? Let us know in a comment below or on our Facebook and Twitter pages! Sign up for our free weekly Newsletter, all the latest news in 3D printing straight to your inbox!