The Manufacturers of 3D Printed Houses
Published on October 20, 2022 by
Jamie D.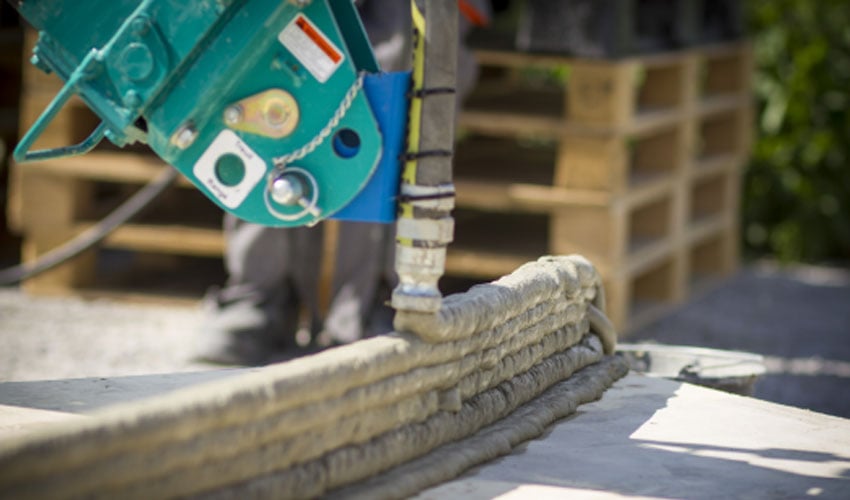 3D printing in construction has come more into focus than ever before. According to a report from Exactitude Consulting, the market is expected to grow from $503M in 2020 to about $6.5B in 2029. And as readers may know, there are numerous projects already out there, including homes which are being lived in. As such, we decided to shine a spotlight on the many manufacturers of construction 3D printers who are driving this booming sector. Currently, there are a number of different types of construction 3D printers, from polar machines to gantry-mounted printers to mobile robots. Today, they are capable of extruding concrete that enable the construction of various structures of varying degrees of complexity, from houses to bridges and offices. In the following alphabetical listing, we take a look at the main manufacturers of 3D printed houses on the market!
Apis Cor
Apis Cor is an American company from Melbourne that developed a 3D printer capable of building a house in just 24 hours, in extreme weather. As for current technology, Apis Cor has a printer nicknamed 'Frank'. This is an easy to handle mobile printer capable of creating buildings up to 3 floors. He does not require any additional assembly; he arrives at the site ready to work. 'Frank' has a younger 'brother' printer named Gary: he is in charge of ensuring a high quality of 3D printing material. But they also have a 'sister', 'Mary', who is in charge of 3D printing material supply. 'Mary' doesn't need bags of material, getting dirty mixing by hand, rain or snow, 'Mary' is always ready to work – just add water, connect her to 'Frank' and 'Gary' for teamwork and build!
BatiPrint
BatiPrint is a project that came from a team of researchers from the University of Nantes, where the startup is still based. One of the most important manufacturers of 3D printed houses, it aims to accelerate 4.0 construction by building and renovating using robotics and additive manufacturing. For its solutions, it partnered with LS2N, a laboratory specialised in the development of robotics, to create a 4-meter-long robot that deposits 3 layers of materials in succession: two layers of expanding foam and one third of concrete. This industrial robot is polyarticulated and mobile, allowing it to operate directly on site. It is capable of building 7-meter walls. Additionally, the company turns to recycled or biosourced materials to help increase sustainability in construction. For their projects, we can point notably to the creation of the first social housing in Nantes.
Black Buffalo 3D
Black Buffalo 3D is a US based manufacturer of 3D printers for construction. They use durable, hard-wearing cement-based ink with which they claim to make constructions stronger than a block wall. Their motivation is to solve the growing housing crisis and reduce the carbon footprint of construction, using technology that can print constructions up to 4 stories high in a matter of weeks and create cost savings of around 50%. Their NeXON™ gantry printer and range of raw materials promise to revolutionize construction for the benefit of the consumer.
COBOD
The Danish-based manufacturer of 3D printed houses, COBOD began its activities in 2017 with the construction of the first 3D printed building in Copenhagen. They are now present on every populated continent. The company's first 3D printer was called BOD (Building On Demand) and with it they started working all over Europe, which allowed them to learn and optimize their machine. In this way they later developed the second generation of the 3D printer, the BOD2.  They have recently released the COBOD configurator which offers a digital version of the BOD2 printer, with adjustable printheads and size. There is even a simulation of their buildings under construction. Recent projects from the company include the first 3D printed office extension in Austria and the construction of the first two-story home in the US.
Constructions 3D
Constructions 3D is a French project by the company Machines-3D in collaboration with the Belgian architect Gaël Collaro, the leaders in 3D printing with mortar. The purpose of this project is to build customizable houses from recyclable materials directly in the locality where you want to create the construction, so they have developed their own 3D printers of houses. They currently have 3 printers. The Maxiprinter is the turnkey solution: a concrete printer which solves several problems faced by the construction industry. The transport of the container, as well as the robustness of the machine derived from its hydraulic system. They also have the Miniprinter Pro with a printing volume of 1.2 x 1.2 x 1.2 m which has an automated pumping system with 3 available pump options. And finally the Miniprinter Edu: designed to respond to the need of education and research sectors looking to develop the construction skills of their students and teams in relation to 3D digital tools.  The video shows one of their projects in Bruay-sur-Escaut, at the Citadelle des Savoir-Faire.
Contour Crafting
To build the average home in the U.S., it takes between six and nine months. Now imagine what it would be like if a personalized house could be built in just one day. Contour Crafting has addressed this issue. Thanks to advanced robotics, they able to build custom homes in just a few hours. Whether for low-income people or to rebuild after disasters – and for just one-fifth of the traditional cost of building a house! As for the material used for the 3D printer by Contour Crafting, this uses a fast-setting, concrete-like material.
Cybe Construction
CyBe Construction is a Dutch company that had previously launched 2 3D concrete printers, Cybe RC 3Dp and Cybe R 3Dp. It has now launched a third Cybe G, a 3D printer of a four column, three beam configuration capable of printing anywhere within the set 3D zone. This printer is perfect for construction companies interested in building affordable housing. The gantry prints with a print head and nozzle controlled by ABB. But not only that, they have also developed a patented material, based on a concrete mix. Both machines with 6 axes could print at a speed of 200 mm/second, enabling concrete structures to be manufactured quickly. Cybe's technology is considered to be one of the most innovative and reliable ways to build a concrete unit.
ICON
ICON was formed in 2015. The Austin, Texas-based company is one of the largest construction providers using 3D printing, robotic solutions and software. Their numerous projects have included working together with homebuilder Lennar to build a community of 100 3D printed homes, and a collaboration with NASA to simulate conditions on Mars. Most recently, they have renewed a partnership with the US military, this time for a major project to build military barracks.  This diversified portfolio shows why ICON dominates the US market with their building solutions, as well as playing a key role in other countries.
Mighty Buildings
The next on our list of manufacturers of 3D printed houses is Oakland, California-based Mighty Buildings. This company is transforming the industry using robotics and materials innovation. They pay attention to two issues that are very present today: housing availability and the climate crisis. 80% of the production of their operations are automated, 60% of the materials are recycled and there is 99% less expense per house built with 3D printing. For the last 5 years they have been working towards achieving zero waste in the production process, designing system kits and a concrete formula that would reduce time, costs and emissions. Some of the projects already completed are in California a three bedroom, two and a half bath house, community pool, garage. Or another project in the Caribbean with four bedrooms, four and a half bathrooms. Dream homes that can be built thanks to 4.0 technology.
MudBots
American company MudBots is known for their ability to build homes from small 15′ x 15′ models to large 100′ x 100′ models using 3D printers. For the first time, MudBots introduced its line of 3D printers at the World of Concrete 2019 in Las Vegas, and since then, it has carried out all the projects in the field of house construction through 3D concrete printing around the world. This series includes Model E15-15H10, Model E25-25H10, Model E35-35H10, Model E50-50H10, Model E75-75H10 and Model E100-50H10 printers, each of which has different features and different construction times.
SQ4D
The American company SQ4D specializes in the design and construction of installations created using 3D printing. Their ARCS line of construction 3D printers consists of a robot arm located in a gantry that surrounds the printing area, creating the structure by means of a concrete extrusion process. Notably, they state that they hope to offer the world a more safe, affordable and sustainable successor to traditional building methods. And it has certainly been successful up to now. In fact, in February 2021, SQ4D were the first to put a 3D printed house on the market. This happened in Long Island, NY.
WASP
Since 2012, the Italian company WASP (World's Advanced Saving Project) has been one of the key manufacturers of 3D printed houses. They work based on the principles of the circular economy and sustainability. In 2021, they entered the market using their own multi-printer Crane WASP, producing houses in a very short time using 3D printers. Their 3D printer Crane WASP is the first modular as well as multi-stage 3D printer ever to appear on the market. It can be built in any shape in just a few days and has a printing area of 50 square meters per printer unit. This made it possible, for example, to carry out the TECLA project together with Mario Cucinella Architects, which represents a global habitat for sustainable living.
XtreeE
XTreeE is a French manufacturer of 3D printed houses, created in 2015, which creates complex concrete structures. It works with ABB branded robots and develops its own software in-house. In addition, it seeks to create more mobile machines to overcome certain manufacturing constraints. The startup explains that its machine is based on a technology close to that of molten material deposition. One of its most well-known projects is the delivery in Reims of the five first fully-certified 3D printed houses in France. Thanks to XtreeE's 3D printing technologies, it was possible to design hollow walls to be able to integrate pipes and insulating material.
What do you think of these 3D printed house manufacturers? Let us know in a comment below or on our Facebook and Twitter pages! Sign up for our free weekly Newsletter, all the latest news in 3D printing straight to your inbox!