For the first time, a 3D printed house is listed on Airbnb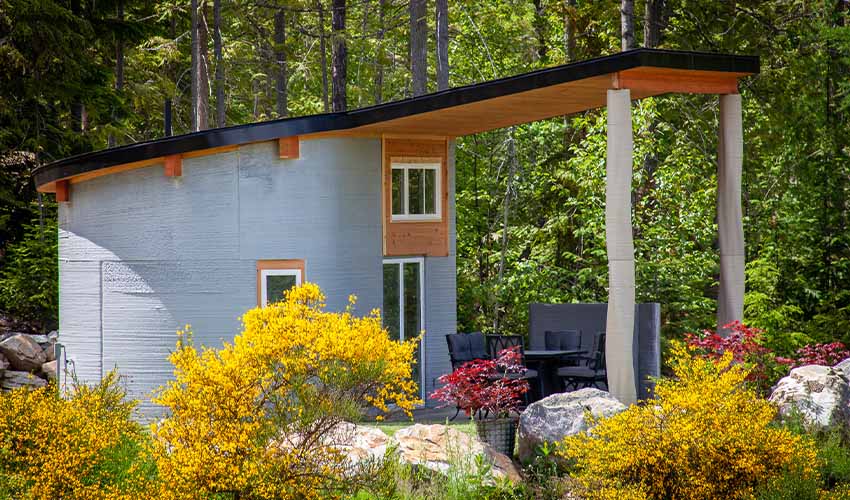 For several years now, Airbnb has been one of the preferred choices for tourists when they go on vacation. The platform, which allows individuals to rent out their apartment or house, has been so successful that it is now considered a digital giant, on par with Netflix and Uber. The platform is also known for its niche and exotic home rentals; from treehouses to boathouses and everything in between. Now, for the first time, a 3D printed house is being rented out on Airbnb. Known as the 'Finobacci House', the home is located in Canada and is able to accommodate up to 4 people. In partnership with World House, the 3D printing service Twente Additive Manufacturing (TAM) designed and 3D printed the building.
As you may be aware, the Finobacci House takes its name from the famous mathematical sequence in which each term represents the sum of the two preceding terms. As it relates to this building, the house takes the shape of a spiral, much like logarithmic spirals found in nature. With an area of ​​28 square meters on the ground, the home has a furnished kitchen, living room, mezzanine, and a bathroom. Located in British Columbia, a Canadian province, the house is in the heart of the countryside and offers its tenants the possibility of discovering the Canadian landscapes, mountains, forests, and beaches.
Construction of the Finobacci House
In total, it took the Dutch printing service an impressive 11 days to print the Finobacci House, which consists of 20 elements 3D printed from Laticrète material. As for the two spiraling columns on the patio, each measuring 4.5 meters, TAM used two materials from Baumit. At the moment, the printing department has not disclosed the machine used to build the house. However, the company has explained that 3D concrete printing has enabled it to construct affordable housing, with complex geometry, while using a minimum of materials.
Furthermore, in partnership with the World House Organization, Twente Additive Manufacturing aims to 3D print affordable homes for people having difficulty finding housing. With its ability to create homes quickly and inexpensively, additive manufacturing has the potential to become a key tool in responding to the housing crisis, which impacts nations globally.
What do you think of wente Additive Manufacturing's 3D printed Finobacci House? Let us know in a comment below or on our Facebook and Twitter pages. Don't forget to sign up for our free weekly newsletter, with all the latest news in 3D printing delivered straight to your inbox!
Cover Photo Credit: Twente Additive Manufacturing