Choosing a 3D Printer: A Closer Look at 5 Models on the Market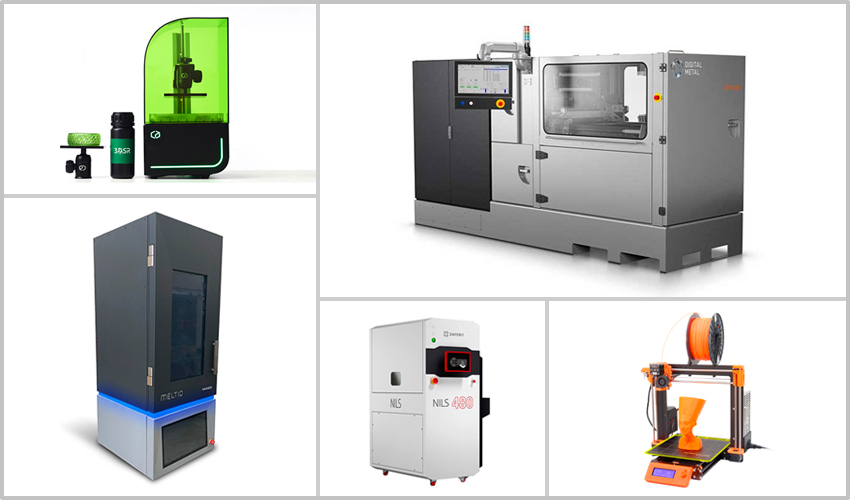 The additive manufacturing market has grown rapidly in recent years, with more 3D printers being sold and used around the world. In fact, according to a report from Grand View Research, while 2.2 million 3D printers were shipped in 2021, these shipments are expected to reach 21.5 million units by 2030. As such, we have also seen an increase in the number of 3D printers available. From FDM to SLS to DED and more, there are a variety of machines depending on the process you are looking for. However, it can be difficult to know which 3D printer to choose. To help you discover what's available on the market, we're featuring 5 machines every month, currently available in our comparator that lists hundreds of models, ranging from desktop and RepRap/kit printers to professional and industrial printers. Take a look at the selection below and see which are the most popular 3D printers on the market today!
Prusa I3 MK3S 3D Printer From Prusa
This FDM 3D printer not includes automatic leveling, but is also one of the most popular desktop 3D printers available on the market, especially due to its ease of assembly and modification. In 2019, the Prusa I3 MK3S was even named "Editors Choice" by DIGITAL FABRICATION Guide in the 'Desktop 3D Printer' sector and received an award. As for the printing volume, the user has a size of 250 x 210 x 220 mm as well as a magnetic heating plate, which means that it is particularly easy to replace. Also, you should know that with this 3D printer it is possible to print with up to five different materials at the same time. This is thanks to the MULTI-MATERIAL UPGRADE 2.0 ADDON update.
Bean HR From Kudo3D
The Bean HR 3D printer from Kudo3D has a distinction that is particularly fitting to its name. According to the manufacturer, the resin 3D printer could be considered the smallest desktop resin 3D printer in the World with a build volume of just 6.8 x 12 x 16 cm and the printer dimensions coming in at only a bit larger at 20 x 20 x 40 cm. The printer is CE, FCC and PSE certified for microfabrications and as such could be particularly useful for applications like jewelry or figurines especially considering the maximum Z resolution is 10 µm while the XY pixel size is 31 µm. The printer can print at about 10mm/h for a 30 µm thickness and the resins are cured via a 4K mono LCD screen.
NILS 480 From Sinterit
Polish manufacturer Sinterit specializes in the production of SLS 3D printers. In addition to their compact line of 3D printers, which include the Lisa , Lisa X and Lisa PRO, the manufacturer has also launched an industrial printer called the NILS 480. The latter has a print volume of 200 x 200 x 330 mm, which allows for the ability to manufacture larger parts. The SLS 3D printer is compatible with standard polymers such as PLA, TPU and PET. In terms of dimensions, the machine measures 1,285 x 1,250 x 1,840 mm and has a weight of 300 kg. Moreover, it is equipped with the Galvo laser system, which means that most 3D printing jobs can be completed in less than 24 hours. Sinterit's SLS 3D printer offers a total of 32 parameters that can be adjusted to the needs of your personal application in terms of printing characteristics. Thus, users can enjoy the best quality and customization based on the material used and the design of the part. Other options available on the machine include a monitoring camera to check the status of the print as well as a touch screen to manage the manufacturing process. Finally, the NILS 480 connects via Ethernet or USB cable, SD card and Wi-Fi, and is compatible with stl, obj, 3mf and 3ds files.
DM P2500 Metal 3D Printer from Digital Metal
Digital Metal, which was recently acquired by Markforged, is responsible for the DM P2500, a productive and efficient metal 3D printer with a building volume of 250 x 217 x 70/186 mm. The printer relies on Digital Metal's proprietary technology, using high-precision binder jetting on metal powder bed. As well as being fast and cost-effective, it is a sustainable choice: almost all of the unused metal powder is recycled, creating little waste. The printer allows components to be stacked as less than 1mm is needed in space between them, eliminating the need for sometimes costly and bulky supports. The printer also offers the user the option for serial and high volume production as it has high accuracy and repeatability from one component to the next. Therefore, you can be certain that a group of the same components printed by the DM P2500 will be as close to identical as possible. Furthermore, the printer operates at room temperature which eliminates the need to wait for heating and cooling cycles. Another feature which simplifies the process is the lack of need for a protective atmosphere and ease to clean. In terms of post-processing, the surface quality is excellent, averaging Ra 6 μm, reducing the need for post-process treatments. Overall, the printer is a solid choice for metal 3D printing needs.
M450 3D Printer from Meltio
Meltio is a Spanish company, more specifically from Linares (Jaén) that was formed in 2019 by a joint venture between Additec and Sicnova. They presented the M450 at Formnext 2019 for the first time. This 3D printer uses the 3E Metal Deposition technology developed by Meltio, this one allows to mix the printing of wire parts, metal powder or both techniques in the printing of the same part. It is a professional printer with a printing volume of 150 x 200 x 450 mm (13.50 cm3). It is compatible with a wide variety of metals such as stainless steels, soft steels, titanium alloys… It has a nozzle that does not need to be changed, 3 heads and 6 integrated lasers. You will be able to know in real time the process of 3D metal printing and make the modifications you think necessary by controlling the process. The prints made with this printer achieve a density of 100%.
Which 3D printer would you choose? Let us know in a comment below or on our LinkedIn, Facebook, and Twitter pages! Don't forget to sign up for our free weekly Newsletter here, the latest 3D printing news straight to your inbox! You can also find all our videos on our YouTube channel.