Choosing a 3D Printer: A Closer Look at 5 Models on the Market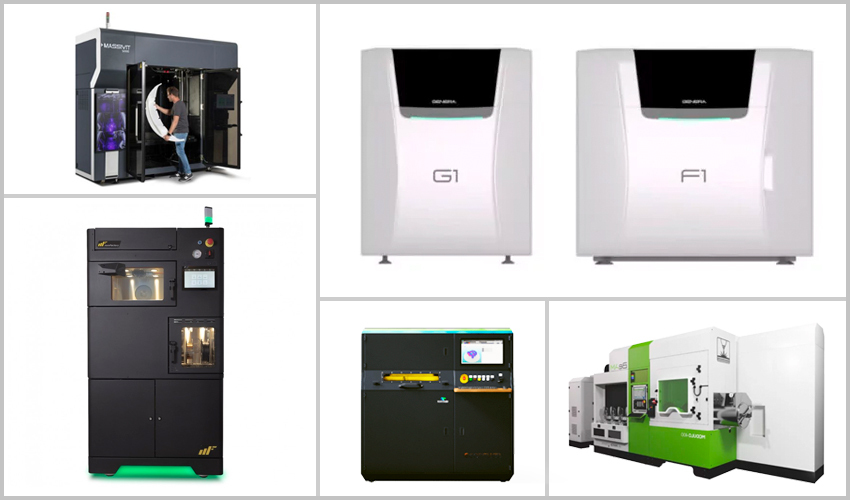 The additive manufacturing industry has experienced rapid growth in recent years, with projections indicating that the 3D printer market will more than double in the next decade. According to a report by Grand View Research, the number of shipped 3D printers reached 2.2 million in 2021 and is expected to reach 21.5 million by 2030. Consequently, the market now offers an increased variety of 3D printers. From FDM to SLS to DED and more, there are numerous options available for each 3D printing technology. However, this wide selection can make it challenging to make the right choice. To assist you in navigating the market, we feature five printers each month in our comprehensive comparison, which encompasses hundreds of 3D printers, including desktop, RepRap/kit, professional, and industrial models. Check out the selection below to discover the current popular choices in 3D printers!
Aconity3D – AconityMICRO
The AconityMICRO is a 3D printer manufactured by the German company Aconity3D. It is a compact, non-configurable system designed for a single application: MICRO L-PBF technology. The system offers a small spot size of ~40 µm and has the ability to distribute extremely fine powders in layers less than 10 µm thick thanks to Aconity3D's revolutionary vibratory powder deposition technology. One of its key strengths includes the ability to fully extract both powder cylinders and the printing table, which allows end users to make very fast material changes and start the process quickly. The AconitySTUDIO control software allows remote access to the machine via WebSocket, full import/export of jobs and complete control of all process parameters. Finally, the machine's compact design, low power consumption and low price complete the list of features of this professional L-PBF machine.
AddUp – Modulo 400
The AddUp Group is a 3D printer manufacturer for PBF solutions and industrial DED machines with locations in France, Germany and the United States. Currently, the manufacturer offers the FormUp series with two PBF systems and two DED solutions, the Magic 800 and Modulo 400, the latter of which is aimed at the needs of industrial production. With a working volume of 650 x 400 x 400 mm and equipped with a 24Vx nozzle for the production of large components and a 10Vx nozzle for the production of smaller and more precise parts, the Modulo 400 is suitable for all manufacturing needs. According to the manufacturer, changing the nozzle takes just a few seconds without interrupting the production process. The printer is also equipped with an inerting device, which means it can also be used for processing reactive powders such as titanium. The Modulo 400 solution is already used in a wide range of industries, including aerospace, automotive and medical industries, among others.
GENERA – G1/F1
The G1/F1 from the Vienna-based company GENERA is the desktop version of their in-house GENERA workflow. The design is based on the company's own shuttle technology, which is optimized for a completely clean and secure process. The G1/F1 system is one of the manufacturer's latest developments and was created in collaboration with a big name in the industry: Stratasys. The system uses 4K DLP technology and combines the G1 printing system with the F1 post-processing system, in which post-processing is done automatically after printing. In the G1 system, the material is automatically dispensed and the integrated recoater ensures that the print results are of consistent quality when mixing the resin in the tray. Objects up to a maximum size of 134mm x 76mm x 150 mm can be printed. An additional activated carbon filter helps trap some of the less pleasant odors of the printing process.
Massivit – Massivit 5000
Known for supplying high-speed 3D printers for large parts and for patenting their own GDP and CIM technologies, comes the Massivit 5000 series. The Massivit 5000 base printer has a maximum precision of 800 micrometers, while the Massivit 5000-MAX offers a precision of 500 micrometers. The 3D printers in the Massivit 5000 range are industrial printers using Gel Dispensing Printing (GDP) technology which consists of depositing a gel on the printing plate, which is immediately polymerized. With a print volume of 1450 x 1110 x 1800 mm, the Massivit 5000 range is designed for printing large, complex parts which according to the manufacturer is 30 times faster than other existing technologies.
The Massivit 5000 range prints lightweight composite parts with minimal waste. The printers feature two print heads, each capable of handling a different material, automated file preparation, and compatible with a wide range of Massivit-manufactured materials designed to meet specific industrial requirements such as fire resistance, impact resistance or transparency. The Massivit 5000 range can be used to print tools and finished parts, as well as functional prototypes for a variety of industries including previous examples from the automotive, communication, marine and rail industries.
miniFactory – Ultra 2
The Ultra 2 from Finnish manufacturer miniFactory is an industrial-grade FDM extrusion 3D printer. Able to get started straight out of the box with its plug-and-play capability, it is also quick to get underway, as the printing chamber can heat up to 220°C in under half an hour. With a material drying chamber complete with humidity control in addition to a build volume of 330 x 180 x 180mm, it is a great solution for producing high-grade prints. With high-end, accurate servos and compatibility with advanced polymer materials like PEEK, PEKK, ULTEM, PPSU and more, the possibilities are endless. Speaking of materials, the Ultra 2 features an open material system, meaning it can use different materials without the need for specific licenses or product brands. The printer also has an integrated annealing system on board that allows for customization and enhancement of objects made from PEEK & PEKK. But that is not the only smart system in the machine, the smart heating system can run at 250°C, while a smart onboard maintenance system can provide automatic diagnostic reports.
Which 3D printer would you choose? Let us know in a comment below or on our LinkedIn, Facebook, and Twitter pages! Don't forget to sign up for our free weekly Newsletter here, the latest 3D printing news straight to your inbox! You can also find all our videos on our YouTube channel.