Choosing a 3D Printer: A Closer Look at 5 Models on the Market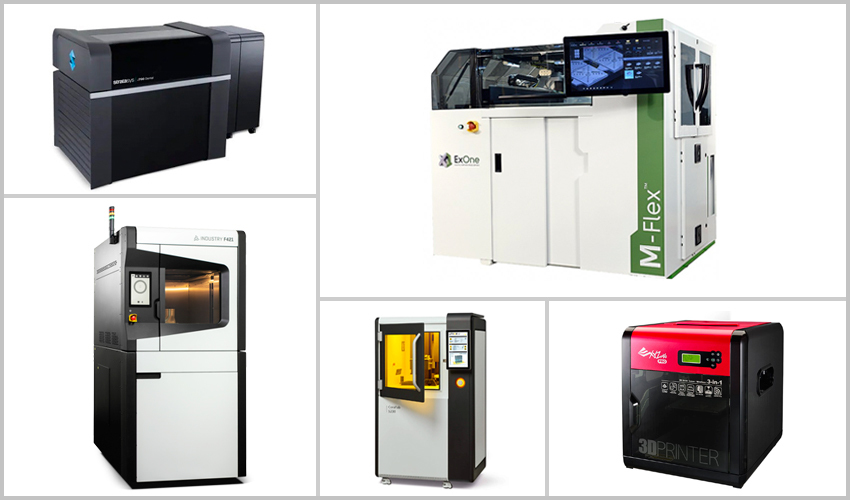 The additive manufacturing market has grown rapidly in recent years, with more 3D printers being sold and used around the world. In fact, according to a report from Grand View Research, while 2.2 million 3D printers were shipped in 2021, these shipments are expected to reach 21.5 million units by 2030. As such, we have also seen an increase in the number of 3D printers available. From FDM to SLS to DED and more, there are a variety of machines depending on the process you are looking for. However, it can be difficult to know which 3D printer to choose. To help you discover what's available on the market, we're featuring 5 machines every month, currently available in our comparator that lists hundreds of models, ranging from desktop and RepRap/kit printers to professional and industrial printers. Take a look at the selection below and see which are the most popular 3D printers on the market today!
Da Vinci 1.0 Pro 3D Printer
The Da Vinci 1.0 Pro is a desktop FDM/FFF printer from XYZPrinting, which was founded in 2013 and is a major manufacturer of 3D printing solutions worldwide.  The printer is part of the Pro series; it appears to no longer be available on the manufacturer website, but some second-hand editions are available from resellers. The Da Vinci 1.0 Pro comes with a number of features including a heated build plate, allowing the user to print with ABS and PETG. To further the user options, it is possible to use third-party filaments; if you want to print something unique, you can even use wood as a material. The Da Vinci 1.0 Pro has a layer thickness of 20 microns and a manufacturing volume of 200 x 200 x 200 mm, making it ideal for small, detailed parts. The 20 – 400 microns of layer resolution ensure that finished parts are high quality and finely featured.
 In particular, the Da Vinci 1.0 is set apart from other printers by its laser engraving option on paper, cardboard, leather, wood and plastic: the user simply must swap out the print head for a laser module and make use of XYZ's laser software.
Industry F421
The INDUSTRY F421 from the European company 3DGence is an FDM 3D printer which stands out in particular for its ability to process high-performance polymers such as PEEK, PEKK or ULTEM. This is made possible by the three different modules and the modular print head system. With a print volume of 380 x 380 x 420 mm, the industrial 3D printer has a print speed of 400 mm/s, making it particularly suitable for rapid prototyping of large parts. The machine can also be used for other applications, such as the production of finished or spare parts. In addition, the INDUSTRY F421 offers a safe process flow, as the built-in filter system provides high filtration efficiency, which is able to retain macro dust, nano dust (VOC, UFP), solvent vapors, harmful gases and foreign particles, according to the manufacturer. Furthermore, the professional 3D printer is equipped with a heated pressure chamber that can reach up to 180 °C and a pressure plate that can reach the same temperature.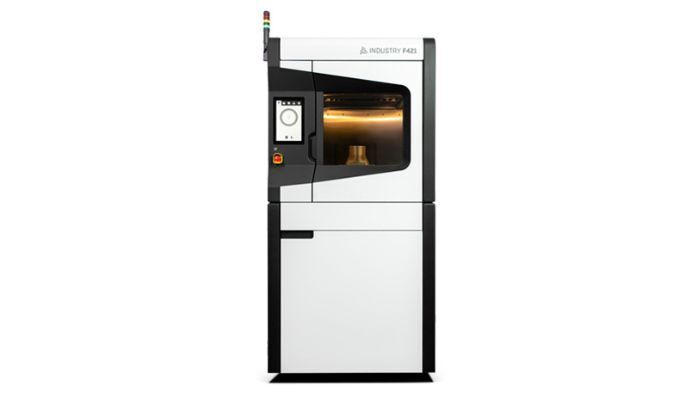 CeraFab System S230 – Lithoz
Lithoz is an Austrian manufacturer of 3D printers and materials focused on ceramics. The company operates in many sectors such as aerospace or medical, including dental. With their CeraFab System S230 industrial 3D printer, Lithoz is able to manufacture parts measuring 192 x 120 x 320 mm. The machine uses SLA which uses the principle of photopolymerization to design a 3D model. Regarding the dimensions of the 3D printer, it measures 1050 x 850 x 1780 mm for a weight of 400 kg. In terms of features, the CeraFab System S230 has a closed enclosure and an integrated camera to monitor the progress of printing. It is compatible with ceramic materials and photopolymers. Moreover, the thickness of the layers is minimum 20 microns. Finally, the CeraFab System S230 from Lithoz is capable of producing 150 layers per hour.
The M-Flex® 3D Printer From ExOne
ExOne's M-Flex® 3D printer is the ideal solution for those looking to get started in metal 3D printing. The M-Flex has an intuitive, easy-to-use design and offers print speeds 10 times faster than its predecessor. Its maximum print volume is 400 × 250 × 250 mm. The ExOne® Binder Jetting process is cost-effective and enables the creation of functional parts with superior wear characteristics. In addition, this 3D printing process does not require support structures, which increases process efficiency and reduces production time. It also excels in its ability to produce complex geometries, which offers greater design freedom and enables machine customization according to the customer's specific material requirements. This means that the M-Flex can be adapted to print with different types of metal, which increases its versatility and makes it even more attractive, efficient and flexible for those looking for a complete 3D printing solution.
Stratasys J700 Dental
The Stratasys J700 Dental is one of the polyjet offerings from the well-known 3D printer manufacturer that is dedicated specifically to the dental sector. The printer is the first to be optimized for high-volume production of clear aligners according to Stratasys' website. The professional solution has a max volume of 490 x 390 x 200 mm (19.3 x 15.35 x 7.9 in) allowing for mass production with a build resolution of 100µm. Moreover, the J700 Dental 3D printer also has a simplified workflow thanks to a fully integrated system and model accuracy and a capacity for 400 clear aligners with 24/7 production per day for quicker delivery and lower costs. In terms of materials, it is compatible with Stratasys' VeroDent MED670 and VeroDentPlus (MMED690) along with the gel-like breakaway support material SUP705.
Which 3D printer would you choose? Let us know in a comment below or on our LinkedIn, Facebook, and Twitter pages! Don't forget to sign up for our free weekly Newsletter here, the latest 3D printing news straight to your inbox! You can also find all our videos on our YouTube channel.