What is the Takeaway from ADDITIV Aerospace?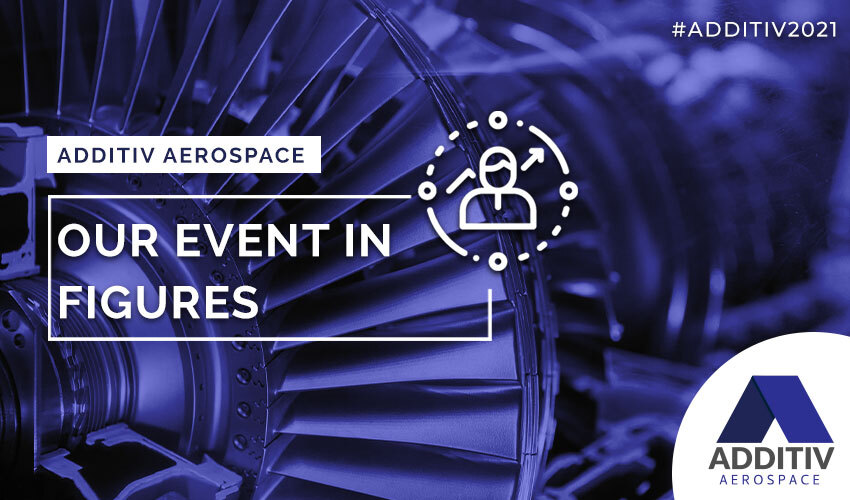 ADDITIV Aerospace came to a close on March 18th, 2021 at 6PM EDT. With 1534 registrants from 71 countries, 40 virtual booths and 21 speakers, it is clear that there is clear potential for growth for additive manufacturing in the Aerospace sector. It also shows the importance of virtual events both during these precarious times but moving forward into the future. ADDITIV has already put on several successful virtual events in Spanish, French and English in the past year and the results show that despite tumultuous times, people across industries still want to meet and learn together. We have highlighted some figures from ADDITIV Aerospace to give you some insights on the behind the scenes from the day of the event!
ADDITIV Aerospace in a few figures
If you were able to attend the event on the 18th, then you know that ADDITIV Aerospace consisted of five panel discussions, three workshops and five networking sessions with 40 exhibiting companies. People attended from all around the world, with registrants coming from 71 countries in total including the US, UK, Canada, India, and more.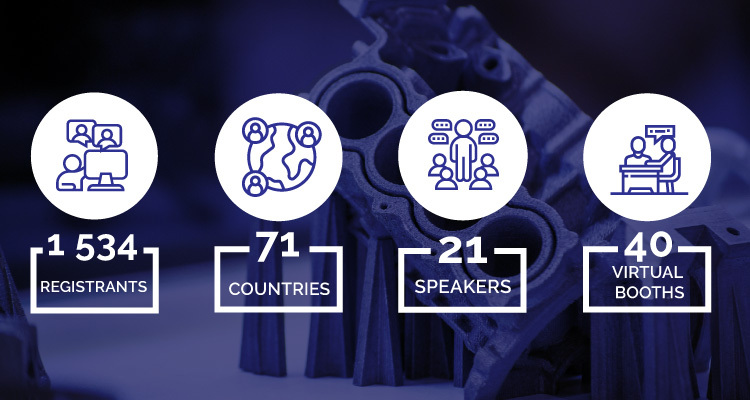 ADDITIV Aerospace strove to truly replicate the experience of in-person conferences, or even in some cases surpassing it. To that end, the day was split into a variety of different workshops, panel discussions and networking sessions. During the workshops, attendees were able to see how leading AM companies, Materialise, SPEE3D and Intamsys, are adapting to the aerospace sector. They covered topics like scaling AM for mass production of Aerospace parts, the benefits of using AM high performance polymers for applications in the field and how "supersonic" speed 3D production of metal parts  in copper and aluminium alloys is disrupting the supply chain. During the networking sessions as well, all participants could visit the virtual booths of 40 exhibitors working in the field of AM in Aerospace. These booths were set up like in traditional trade shows, with different exhibitors on each floors and each booth showing presentations and giving information to any visitors who stopped by.
The quality of the panel discussions was especially noted by attendees, with 92.3% responding that they enjoyed the panel discussion format of a conversation between panelists and a Q&A session at the end. The panel discussions covered topics ranging from aviation, to material development, challenges to AM implementation in the sector, certifications and safety all the way to space exploration. We had speakers from a variety of major companies in both aerospace and AM including the European Space Agency, ArianeGroup, NASA, Rolls Royce, Airbus, the NASA Jet Propulsion Laboratory, Eaton Aerospace and more.
How was network connectivity throughout the event?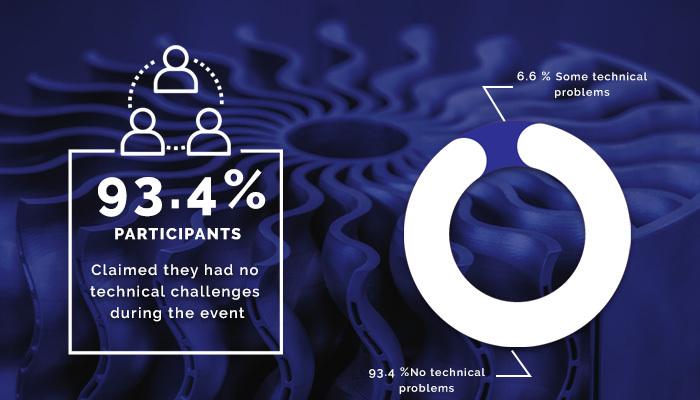 One of the most interesting statistics from the event is that 93.4% of attendees claimed that they had no technical challenges during the event. This is significant as it truly shows that virtual events can offer the same, if not a better, experience than in-person events. For attendees, they are able to interact and network with their peers without the constraint and expense of travel all while being sure that they will not encounter technical difficulties. Additionally, the freedom of virtual events is that attendees could attend whichever workshops, networking sessions or panel discussions they liked, coming back at convenient times.
Overall, the event showed the importance of not just virtual events but of the role of AM in the field of Aerospace. We would also like to take the time to thank our sponsors of this edition of ADDITIV, Formlabs, Materialise, Intamsys and SPEE3D. Also our partners Women in 3D printing, the American Institute of Aeronautics and Astronautics (AIAA) and the National Institute for Aviation Research (NIAR). These partners and sponsors truly helped to make this event possible. If you missed the event or if you just want to watch some of the panels again, the videos of the five panel discussions and the three workshops can be found on our Youtube channel along with other video content from 3Dnatives.
What did you think of ADDITIV Aerospace? Let us know in a comment below or on our
Linkedin
,
Facebook
 and 
Twitter
 pages! Sign up for our free weekly 
Newsletter here
, the latest 3D printing news straight to your inbox! You can also find all our videos on our
YouTube
channel.