A Closer Look at 3D Printing Materials: Plastics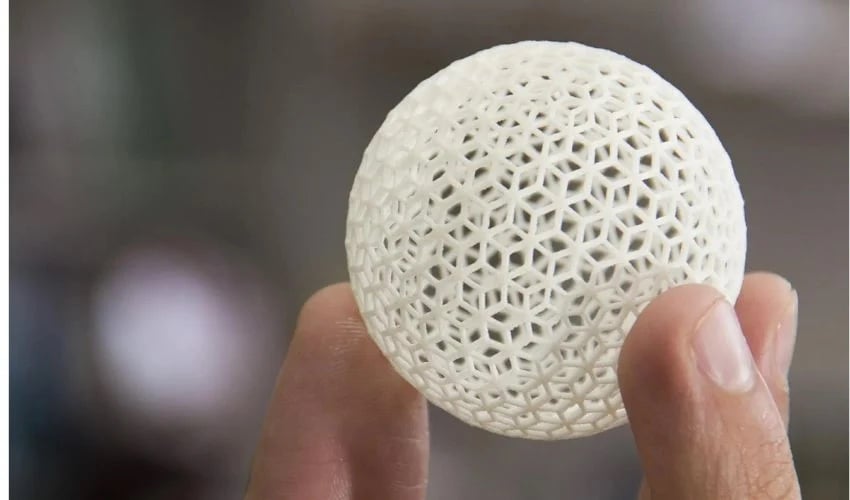 A plastic is a material made from synthetic or semi-synthetic compounds that is malleable (capable of changing its shape). Most plastics on the market are entirely synthetic and are commonly derived from petroleum chemicals. However, given the growing concern for the environment, plastics made from renewable materials such as polylactic acid (PLA) are also increasing popular. Furthermore, due to their low cost, ease of manufacture, versatility, and water resistance, plastics are used in a wide variety of products and sectors, including 3D printing.
In the following guide, we will take a look at the most common 3D printing plastics. As you may know, the most popular and affordable 3D printing process, FDM, produces parts through the extrusion of plastic filaments. However, the precision on FDM machines is not the same as other AM processes such as SLS or SLA. Plastics are often used with this technology to create prototypes. Therefore, for industrial and end-use parts, manufacturers might decide to opt for SLS (using plastic powders) or SLA (using plastic resins) technologies that offer more accuracy and part quality. Two other technologies that can print with plastics are Material Jetting and Multi Jet Fusion.
What plastics can be used in additive manufacturing? In filament or powder form, the plastic should melt to form the object you are printing layer by layer. In resin form, it should solidify to form the object. Each plastic will require different 3D printing parameters during the building process, and will give parts varying properties. In the following guide, we give an overview of different plastic materials that can be used in 3D printing.
ABS
Acrylonitrile butadiene styrene, or ABS for short, is the most commonly used plastic in industry. It is the flagship material of Lego bricks and is also widely used in car body, household appliances and many roofing applications. ABS belongs to the thermoplastic family and has a polybutadiene-based elastomer base, which make it more flexible and impact resistant. ABS is mainly used in fused layer technology (FDM) and is therefore available for most desktop 3D printers. ABS is also available in resin form, making it suitable for SLA or material jetting processes.
The material has a printing temperature between 230°C and 160°C and can tolerate very low (-20°C) and very high (80°C) temperatures. In addition to its high strength, this material offers a polished surface, is reusable and can be welded by chemical processes (with acetone). However, it is not biodegradable and shrinks in contact with air, so the build platform must be heated during printing. Moreover, it is recommended to use a 3D printer with a closed chamber to limit the particle emissions that can be released during printing. More information can be found in our guide to ABS.
PLA
Polylactic acid or PLA is biodegradable, unlike ABS, because it is made from renewable raw materials (corn starch). One of the most important properties is the low shrinkage in 3D printing, which is why no heated build plate is needed during printing. The printing temperature should not be too high and should be between 190°C and 230°C.
PLA is difficult to handle due to its high cooling and curing speed. It can also be damaged and discolored upon contact with water. However, this generally translucent material is used by most FDM 3D printers and is available in a variety of colors. For more information, see our guide to PLA.
ASA
Technically known as acrylonitrile styrene acrylate, this material has similar properties to ABS, but better resistance to UV rays. Nevertheless, some complications can occur during printing, which is why it is recommended to use a hot plate. The printing parameters are very similar to those of ABS – in the case of ASA, care must be taken to use 3D printers with closed enclosures or to print outdoors due to styrene emissions. Parts that have been printed with ASA are stable and very durable. For a more detailed description about ASA, please refer to our guide.
PET
Polyethylene terephthalate, better known as PET, is mainly found in disposable plastic bottles. It is an ideal filament for objects intended for food contact. It is semi-rigid and has good resistance. To achieve the best printing results, it is necessary to reach temperatures of 75°C to 90°C. Mostly marketed as translucent filament, it comes in different varieties such as PETG, PETE and PETT. It is also a filament that does not release odor during printing and is 100% recyclable.
PETG
PETG, or glycolized polyester, is a thermoplastic widely used in the additive manufacturing market that combines both the simplicity of PLA 3D printing and the resilience of ABS. It is an amorphous plastic that is 100% recyclable. It has the same chemical composition as polyethylene terephthalate, better known as PET, to which glycol has been added to reduce its brittleness and thus its fragility. Learn more about PETG in our guide.
Polycarbonate (PC)
Polycarbonate (PC) is a very resistant material developed for technical applications. This material is able to withstand high temperatures up to 150°C without deformation. Polycarbonate absorbs moisture from the air, which can affect performance and compressive strength. Therefore, it should be stored in airtight boxes. PC is particularly valued in the additive manufacturing world for its strength and transparency. It has a much lower density than glass, which makes it particularly interesting for designing optically visible parts, protective screens or decorative objects. For detailed information on PC, please refer to our guide.
High-Performance Plastics (PEEK, PEKK, ULTEM)
The progressive development of 3D printing technologies has led to extensive research into new printing materials and prompted the development of a whole range of high-performance filaments. These have mechanically similar properties to metals. There are several types of high-performance plastics for 3D printing such as PEEK, PEKK or ULTEM. These belong to the polyaryletherketones (PAEK) and polyetherimides (PEI) families. Among other things, the named plastics are characterized by their very high mechanical and thermal resistance, while being significantly lighter than metals. These properties make them very attractive in the aerospace, automotive and medical sectors.
Due to various properties, high-performance polymers can be printed with a number of FDM printers available on the market. However, the 3D printer must have a hot plate capable of reaching at least 230°C, as well as extrusion at 350°C and a closed chamber. Today, about 65% of these materials are manufactured using FDM technology, but they are also available in powder form compatible with SLS. Learn more in our guides on PEEK and PEKK.
Polypropylene (PP)
Polypropylene is another plastic widely used in the automotive sector, textile industry and in the manufacture of hundreds of everyday items. PP is known for its wear resistance, its ability to absorb shock, and its relative hardness and flexibility. However, the material's drawbacks include its low resistance to low temperatures and its sensitivity to UV rays, which can cause the material to expand. For a more detailed summary of the material, click here.
Composites
Composites are extremely advantageous when it comes to producing lightweight yet strong parts. The fibers add strength to a part without contributing additional weight, which is why we refer to composites as fiber-reinforced materials. There are two types of reinforcements: Short fiber or continuous fiber. In the first case, these involve chopped fibers, consisting of segments less than one millimeter long, which are are mixed into conventional plastics for 3D printing to increase the stiffness and, to a lesser extent, the strength of parts. Chopped fibers can be blended with thermoplastics such as nylon, ABS or PLA. Alternatively, the fibers can be added to the thermoplastics to create a stronger part. The main fiber used in 3D printing is carbon fiber, but there are other fibers such as fiberglass or Kevlar. With continuous fiber, the fibers are unbroken. For more information, see our guide.
Hybrid Materials
There are different types of materials that mix a base, like PLA, with a powder that gives them a different color or surface. These are basically filaments that are usually 70% PLA and 30% hybrid material. In today's market we find filaments made of bamboo, cork, wood and more. The presence of these materials gives the filament a more organic final structure. Also, there are machines that use FDM technology as a base to extrude metal. For example, the companies Colorfabb or BASF offer 3D metal filament. This gives 3D printed objects a different color depending on the metal chosen: copper, bronze, silver and many other colors.
Soluble Materials
Soluble materials are materials that are printed with the intention of being dissolved at a future stage of the manufacturing process. The two most common soluble filament materials are HIPS (High Impact Polystyrene) and PVA (Polyvinyl Acetate). HIPS has similar properties to ABS and can be dissolved with limonene, while PVA can be dissolved with water (up to 70 °C). There are also BVOH filaments that are becoming increasingly popular, especially in dual-extruder printers. This is because the material is soluble in water and, according to experts, has an even higher solubility than PVA.
Flexible Materials
Flexible plastic filaments are also increasingly popular on the 3D printing market. Consisting of materials like TPE or TPU, these materials, the benefits of these filaments is that they are capable of making malleable parts. In general, these plastics have the same printing properties as PLA though with different degrees of stiffness. It is recommended to check the compatibility of the material with the extruder to avoid clogging the nozzle.
Polyamide (PA)
Objects made from polyamide are usually produced from a fine, white, granular powder using SLS technology. However, there are some variants of the material which are also available in filaments for fused deposition modeling (FDM). Due to its good biocompatibility, polyamides can be used to make parts that come into contact with food (except for foods that contain alcohol).
Polyamides are made up of semi-crystalline structures and have a good balance of chemical and mechanical properties, offering good stability, stiffness, flexibility and impact resistance. These advantages mean that the material has many cross-industry applications and offers a high level of detail. Due to its high quality, polyamides are used in the manufacture of gears, parts for aerospace, automotive, robotics, medical prosthetics and injection molds.
Alumide
Alumide objects are produced by the SLS process from a combination of polyamides and aluminum powder. The material has a slightly porous surface and a granular appearance with great strength and good temperature resistance (up to 172 °C). However, when using Alumide, some post-processing is required, such as grinding, coating or milling. Alumide is used for complex models, design pieces or for small series production of functional models that require high stiffness and an appearance similar to aluminum. There are few geometric limits to this technique.
Which plastics have you already used for 3D printing? Let us know in a comment below or on our LinkedIn, Facebook, and Twitter pages! Don't forget to sign up for our free weekly Newsletter here, the latest 3D printing news straight to your inbox! You can also find all our videos on our YouTube channel.