Bluesint PA12, the New 100% Recyclable Polymer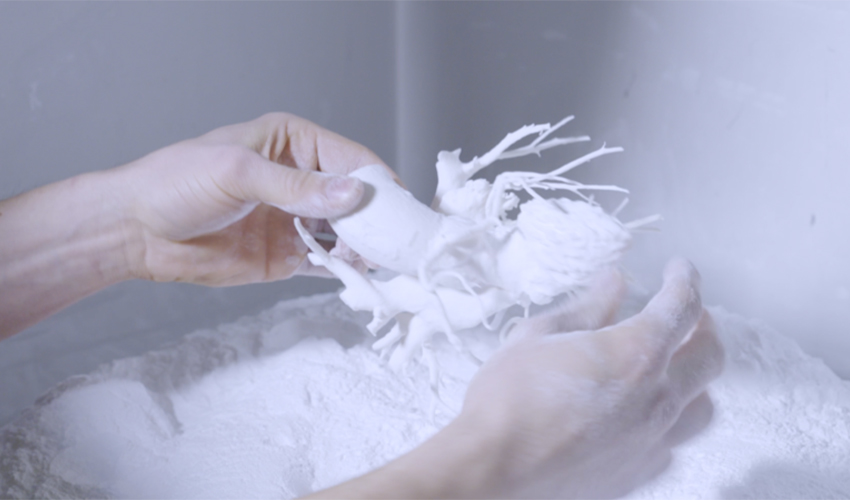 As it's March 18, we are celebrating World Recycling Day. To day is meant to raise global awareness of issues related to recycling. As such we are taking this opportunity to talk about the latest machine from Sindoh, a South Korean manufacturer of 3D printers. The company recently introduced the Sindoh S100, the first SLS 3D printer capable of using Materialise's Bluesint PA12 material. Unveiled during the month of November 2020, Bluesint PA12 is a material for printing with 100% recycled powder. An innovation in favor of ecology, which addresses the problems associated with the reuse of plastic and which therefore drastically reduces the waste produced during 3D printing processes.
As you can see, this new polymer offers new ecological perspectives to the additive manufacturing sector. In any case, this is the will of Materialise and its CEO Fried Vancraen, who hope to be able to move towards a "greener" production with its latest material. " Bluesint PA12 represents a major step towards making 3D printing more sustainable. The introduction of the Sindoh S100 printer, the first to support Bluesint PA12, will help us empower our customers to make a choice for sustainability." explains the president of the Belgian company. And Materialise isn't the only company that wants to make 3D printing more environmentally friendly. Indeed, this 100% recyclable polymer echoes Polymaker's latest filament, the Polyterra . However, at present, only the Sindoh 100 is capable of supporting the Bluesint PA12. 
The characteristics of the Sindoh 100
With five machines ordered from the Korean manufacturer, Materialise is the first company to acquire the Sindoh 100. The machine boasts a print volume of 510 x 510 x 500 mm, and two lasers, one for sintering a new layer, and the other to keep the previous layer at a certain temperature. When it comes to materials, the 3D printer isn't limited to Bluesint PA12. With a potential processing temperature of up to 200 ℃, the Sindoh 100 is capable of processing a wide range of materials, such as Evonik's PA12, BASF's Ultrasint PA11, TPU and PP.
Sindoh President Suk-Hyung Woo adds,  "Sindoh S100 has both performance and economic values through its large build volume and an unparalleled powder recycling rate." Before concluding: "This new product also demonstrates the excellent synergy of Materialise Software and the 60 years of hardware manufacturing experience of Sindoh. Combining the latest technologies of both companies, it enables significant reduction in production cost as well as excellent printing performance." 
What do you think of Materialise's Bluesint PA12 material? Let us know in a comment below or on our Facebook, Twitter and LinkedIn pages! Sign up for our free weekly Newsletter here, the latest 3D printing news straight to your inbox!