What to Expect at IMTS 2022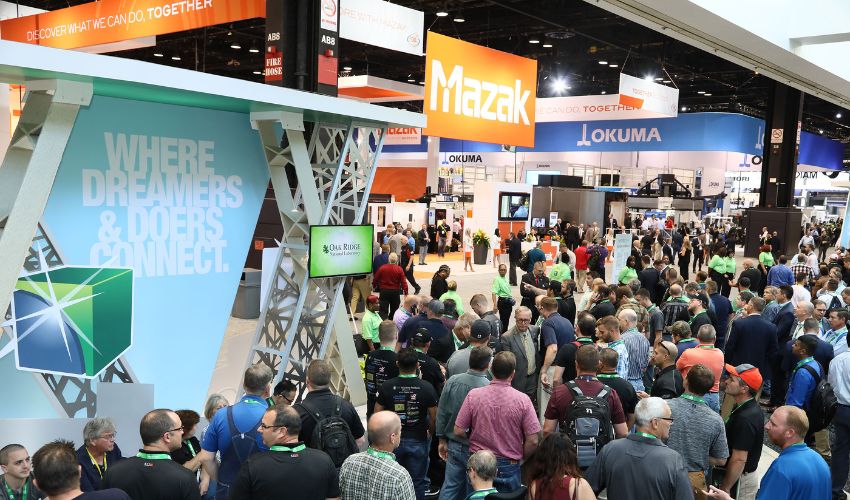 This week, people from around the world are flocking to Chicago for the 33rd edition of the International Manufacturing Technology Show (IMTS), the largest and longest-running industry trade show in the Western Hemisphere. IMTS 2022 is already underway, taking place from Monday, September 12th through Saturday, September 17th at McCormick Place. As the show is bi-annual (taking place just once every two years), this also marks the first time it will take place since COVID-19, as it was cancelled in 2020.  And it is clear that the excitement is at an all time high, shown by the fact that there have been 75,425 registrants. Additive manufacturing in particular is in the spotlight as companies aim to highlight how 3D printing can be used as an additional manufacturing tool thanks to the technologies' increased maturity and industrialization. Indeed, twice as many 3D printer manufacturers are exhibiting at the show in contrast to the last pre-pandemic event, with 83 represented according to Forbes. As such, we wanted to give the attendees a sneak peek at some of the most exciting 3D printing news from the event and what users can expect to see this year at IMTS 2022.
SolidCAM Turns Towards Additive Manufacturing
You have almost certainly heard of SolidCAM, a a leader in CAM software for CNC machining. However, recently, the company also announced that it would also be turning towards additive manufacturing, expanding a global partnership with Desktop Metal. The fruits of this, namely how Desktop Metal's AM 2.0 technology complements SolidCAM's software and machining solutions, will be on display at IMTS 2022.
Essentially, thanks to this partnership with Desktop Metal, SolidCAM is a sales partner, selling the metal AM systems in Germany, the United States, the United Kingdom, Israel and India. Moreover, the two hope to offer a full end-to-end solution, combining 3D printing and CNC machining to make metal components for a variety of applications including in small series, prototyping and large batch production. At their booth, it will be possible to see live CNC machining as well as the Studio System and the Shop System from Desktop Metal. If you are interested in learning more, be sure to head to booth 134502 at IMTS.
HP Launches its Metal 3D Printer
Exciting news that is coming from IMTS is that HP will finally be launching its metal 3D printer, the HP Metal Jet S100. They will be announcing at the show the commercial availability of the long-awaited machine. Though HP is most well-known for it's Multi Jet Fusion technology which is compatible with polymers, this metal solution has been in the works since 2018, with delays to production due to the pandemic. The solution will use HP's Metal Jet technology, similar to binder jetting, and is expected to help users, such as Schneider Electric, to mass produce high-quality 3D printed metal parts. Anyone interested in the technology will be able to see it in HP's booth at the show along with production applications. Additionally HP's Global Head of 3D Metals Go-to-Market will give a keynote address at IMTS' Additive Manufacturing Conference on September 15th.
Formnext 2025 on the Stage at IMTS 2022
It may be a little odd to talk about another additive manufacturing trade show while one is going on, however that is one thing that attendees at IMTS 2022 can look forward to this year. Formnext, one of the premier additive manufacturing trade shows, announced last year that in April 2025 they will be launching a Formnext USA event. This will be done with AMT – The Association for Manufacturing Technology, the producer of IMTS 2022, and Gardner Business Media Inc (GBM). On September 15th, attendees interested in learning more about the event will be able to attend a press conference.
Xact Metal Reveals its Newest Printer
Another recent launch that will be shown at IMTS 2022 is Xact Metal's latest 3D printer. The new machine came just in time for Xact Metal's appearance at the show for the first time since 2018. The XM300G series is a mid-size printer with a build volume of 300 x 300 x 250mm for customers who either want to print larger parts or in larger quantities. The goal is to provide users with an affordable mid-size metal 3D printer, with the price starting at $200,000. Customers will be able to experience the new machine hands-on at the event, with experts on hand to answer any and all questions.
Learn More About 3D Printing in Space at IMTS 2022
Over the past couple of years it has become evident that additive manufacturing will be used in the further exploration of space. That's why it is one of the topics that will be highlighted this year at IMTS 2022. AMT's Emerging Technology Center (ETC) at IMTS will feature not just a scaled section of the 23′ tall Rosenberg Space Habitat, which IMTS claims is the world's tallest 3D printed polymer structure, but also will have live demonstrations of robotic 3D printing technology used to make it. The exhibition has been designed to explore how manufacturing technologies, notably 3D printing, can enable sustainable lunar lodging in the ongoing plans to colonize the moon.
Are you attending IMTS 2022? What are you most looking forward to at the event? Let us know in a comment below or on our LinkedIn, Facebook, and Twitter pages! Don't forget to sign up for our free weekly Newsletter here, the latest 3D printing news straight to your inbox! You can also find all our videos on our YouTube channel.
*Cover Photo Credits: IMTS