HP Metal Jet; HP's new metal 3D printing technology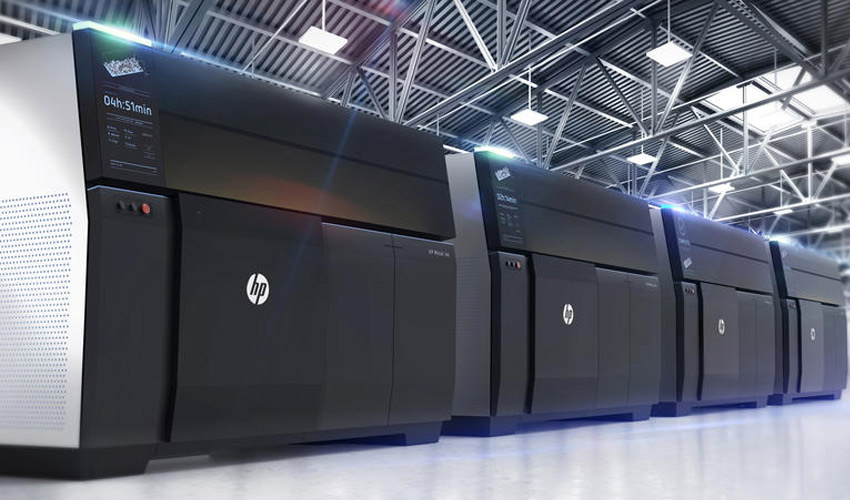 Earlier this year the American company HP announced; it will indeed embark on the field of metal additive manufacturing. An announcement confirmed at the IMTS Chicago show. The manufacturer, now one of the largest resellers of professional 3D printers on the market, has presented its HP Metal Jet technology and the deployment of a 3D metal printing service, Metal Jet Production Service, operational from 2019.
The new machine will be based on a powder binding technique inspired by MIM (Metal Injection Molding). HP announces that it should enable 50 times more serial production in terms of productivity compared to other metal powder bonding and sintering solutions. All while reducing costs by two.
Metal additive manufacturing is booming with 80% of the solutions sold last year, according to the Wohlers Reports 2018. Just look at the number of manufacturers who are launching this niche, with a common desire to lower prices, to make technology more accessible. HP is not an exception. The American manufacturer, behind the Multi Jet Fusion process, has introduced its metal machine which is expected to be available for sale from 2020 in some countries and from 2021 worldwide.
The HP Metal Jet solution
HP Metal Jet technology will rely on the projection of binder and a metal powder, solidified layer by layer. The binder is then directly removed in the 3D printer, while the sintering step must be performed in a suitable oven. The first HP metal machine should have a print volume of 430 x 320 x 200 mm. The process will produce stainless steel parts before turning to other metals such as titanium.
The HP Metal Jet machine is announced at a price below $399.000 and should be delivered to the first users in 2020 and to all from 2021. With this price, the US manufacturer is positioned in the niche of industrial machines type 3D Systems, EOS or Arcam. But, unlike Desktop Metal and Markforged startups that offer low-cost equipment.
"We are in the midst of a digital industrial revolution that is transforming the $12 trillion manufacturing industry. HP has helped lead this transformation by pioneering the 3D mass production of plastic parts and we are now doubling down with HP Metal Jet, a breakthrough metals 3D printing technology," said Dion Weisler, CEO and President, HP Inc. He continues "The implications are huge – the auto, industrial, and medical sectors alone produce billions of metal parts each year. HP's new Metal Jet 3D printing platform unlocks the speed, quality, and economics to enable our customers to completely rethink the way they design, manufacture, and deliver new solutions in the digital age."
Strategic partnerships for HP Metal Jet
In parallel with this launch, HP announces the signing of two strategic partnerships to begin the deployment of its metal additive manufacturing solution. They will work with GKN Powder Metallurgy. They will install the machines in its factories to manufacture functional metal parts for automotive and industry leaders such as Volkswagen and Wilo. The German automaker has also started production of 3D printed parts such as shift knobs and mirror holders. GKN Powder Metallurgy produces more than 3 billion components a year and hopes to print millions of parts by next year.
CEO Peter Oberparleiter explains: "HP's new Metal Jet technology enables us to expand our business by taking on new opportunities that were previously cost prohibitive." he continues "…By combining the forces of HP and GKN Powder Metallurgy, we will push the productivity and capability of our customers to unprecedented levels based on the economic and technical advantages of HP Metal Jet technology."
Finally, to serve the medical industry. HP has partnered with Parmatech to produce parts to customers such as OKAY Industries, Primo Medical Group and other industry specialists. The Californian company hopes to manufacture complex parts such as endoscopic surgical instruments.
A 3D metal printing service
The US manufacturer also took the opportunity to unveil the launch of its on-demand 3D printing service, Metal Jet Production Service. In the first quarter of 2019, HP customers will be able to download their 3D files to the platform and receive their 3D printed metal parts shortly thereafter. They will be designed by its two partners, GKN Powder Metallurgy and Parmatech. A sales strategy of machines associated with service delivery modeled on other giants of the sector such as 3D Systems, Stratasys or Prodways in France.
Learn more about the new HP Metal Jet technology here: 
What do you think of the HP Metal Jet technology? Let us know in a comment below or on our Facebook and Twitter pages! And remember to sign up for our free weekly Newsletter, to get all the latest news on progress, research and more entrepreneurs in 3D printing send straight to your inbox!