XYZprinting Cements its Commitment to Industrial Printing With Next-Generation SLS 3D Printer, MfgPro236 xS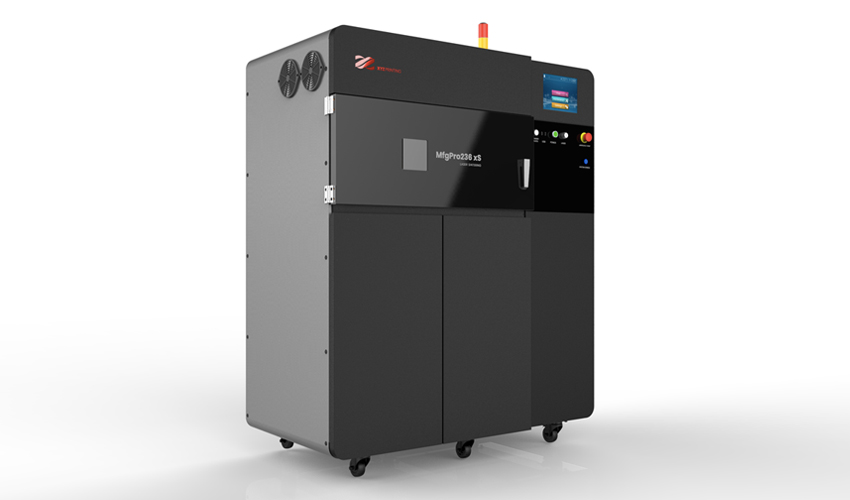 In 2019, Asian 3D printer manufacturer XYZprinting took a big leap into industrial additive manufacturing with the launch of different professional technologies, including Selective Laser Sintering (SLS). Two years after this launch and after an extremely positive reception of the machine, the company has decided to go a step further and reaffirm its goal to be a company that offers industrial technologies that allow repeatability as well as a wide range of high performance materials. To achieve all this, in September during Rapid TCT in Chicago, the Taiwan-based company presented its new MfgPro236 xS machine and is now launching it on the market during Formnext. It is also announcing its commitment to SLS technology by offering a wide range of materials thanks to the agreement signed with the chemical company BASF. With this new solution, the company seeks to consolidate its position in the field of SLS 3D printing, reaching more potential industrial users looking to meet the demanding needs of different applications, such as aerospace, automotive, manufacturing and engineering.
The collaboration agreement between XYZprinting and the Forward AM division of BASF chemistry, has allowed them to achieve the objectives especially with respect to the expansion of manufacturing materials. On this, Fernando Hernandez, Managing Director EMEA at XYZprinting, commented, "Our collaboration with BASF Forward AM is the essential link to enable more 3D printing solutions for different commercial applications. XYZprinting offers a wide range of technologies, and now, thanks to BASF Forward AM's unique range of advanced polymers, we are creating value at a much more competitive cost. We are confident that our innovative 3D printers combined with premium materials are taking this technology to the next level of excellence."
For his part, François Minec, Managing Director at BASF 3D Printing Solutions, expanded, "The strengthened collaboration between XYZprinting and BASF Forward AM will enable industrial users across various Additive Manufacturing technologies to benefit from our high-performance materials in combination with XYZprinting solutions – for prototyping or direct manufacturing." Among the advanced materials on display at the Chicago event were Ultrasint® PA6 MF, Ultrasint® PA11 Black, Ultracur3D® RG and Ultracur3D® ST.
What do we know about the MfgPro236 xS 3D printer?
With this latest release based on laser sintering, XYZprinting continues to strengthen its industrial grade solutions. The new MfgPro236 xS 3D printer, the big sister of the MfgPro230 xS, is the most powerful, cost-effective and complete multi-material SLS 3D printing solution developed by XYZprinting to date, and is backed by the partnership with BASF Forward AM. The machine has a maximum manufacturing volume of 230x230x250 mm (~9 x 9 x 9.8 in) and one of its outstanding properties of the machine is that it integrates an "open material" platform. This is a great competitive advantage for XYZprinting, as most industrial SLS solutions on the market are limited to working with proprietary materials in closed systems. The high temperature chamber allows the use of very specific and technical materials, such as the entire PA6 range, which together with the PA12, PA11, PA11-CF, PP and TPU family, makes it one of the most versatile SLS machines in its range.  This makes it ideal for on-demand manufacturers, research institutions and third-party material suppliers to be part of this ecosystem.
On the more technical side, the machine is equipped with a powerful 60 W CO2 laser, which is twice as powerful as competitive desktop SLS machines and allows a layer thickness of between 0.06 mm and 0.12 mm. Ultimately, these features allow for faster manufacturing speed, the ability to print with more materials and better quality finishes. The 3D printer includes all the necessary software, including Buildware and XYZware SLS slicer, and supports .stl, .3mf and XYZ formats (.3ws / .3wn). With a total weight of 360 kg (~794.7 lbs), the MfgPro236 xS also has an internal gas control system and a thermal field control with 4 independent heaters for higher performance, being able to reach 220°C (428°F) in its sintering chamber.
One step closer to industrial manufacturing
Both the launch of the MfgPro236 xS 3D printer and the collaboration with BASF Forward AM in the development of materials for SLS technology have enabled XYZprinting to strengthen its commitment to industrial 3D printing. With its new manufacturing solutions, the company competes with the big names in additive manufacturing, with nothing lacking in terms of manufacturing quality. To demonstrate its capabilities, XYZprinting will be exhibiting at the Formnext 2021 international trade fair in Frankfurt, so don't hesitate to visit its booth (12.1 – C51) to learn more about its new products and industrial solutions! You can also find more information HERE.
What do you think of XYZprinting and its commitment to industrial additive manufacturing solutions? Let us know in a comment below or on our Linkedin, Facebook, and Twitter pages! Don't forget to sign up for our free weekly Newsletter here, the latest 3D printing news straight to your inbox! You can also sign up for our dedicated, free Formnext newsletter here.
*Cover Photo Credits: XYZprinting