All you need to know about TPU for 3D printing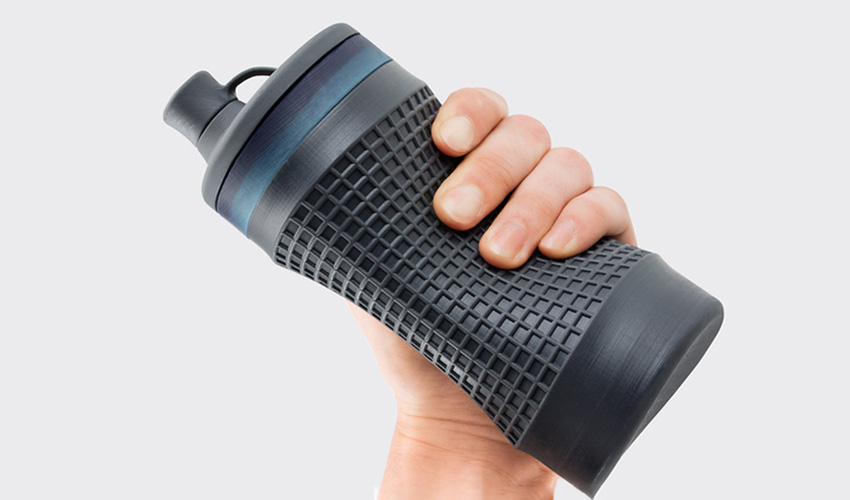 So-called thermoplastic polyurethane (TPU) is a type of elastomer that is characterised by its high flexibility and durability in processing, combining the properties of both thermoplastics and rubbers. In its chemical composition we find that its adaptability is due to the presence of alternate sequences of hard and soft segments, that is, by varying the proportion of these segments, the hardness and flexibility of the material also changes. This affects the transparency of the final parts, the softness to the touch, or the adhesion of the parts. In general we can say that TPU is a very varied polymer that provides a very interesting set of characteristics to the parts. In addition, this represents an opportunity for 3D printing of flexible models. But what should we consider when using TPU?
In the additive manufacturing industry, this material opens up a world of possibilities for different markets, such as footwear, in the creation of elastic soles, or the automotive industry, to create tires and shock absorbers. TPU is ideal for end use parts, functional prototypes, concept models and custom components. This type of material is widely used, for example, to produce mobile phone covers, as it protects the device from shocks and fractures. Let's now look at the outstanding properties of this flexible material.
Features of TPU in 3D printing
In terms of properties, we should know that these polymers have many advantages, such as high resistance to impact, wear, abrasion and cuts. In addition, they have a quite advanced layer adhesion that achieves an excellent mechanical homogeneity in the manufactured parts, making them isotropic. However, this type of material has certain limits that we must take into consideration. TPU does not adapt well to hot environments. This factor is remarkable because, despite having a wide working range, it cannot withstand high temperatures. In addition, printing settings should vary according to the technology used.
When printing parts with TPU, using FDM, we suggest applying a thin layer of glue to the print bed, which will facilitate the adhesion of the material. It is also recommended that the extrusion nozzle should reach a temperature between 210 ºC and 235 ºC to melt the filament (although it will depend on the manufacturer). These are general tips, however, the success of the TPU will be based on the configuration of each 3D printer and proper calibration; therefore, it is recommended to perform small tests with this material before starting more complex prints.
In terms of stereolithography manufacturing, TPU is not recommended for small, thin-walled models or those simulating high elongation materials. When configuring the model, it is recommended that the models have the final shape and be oriented close to the manufacturing platform, but no flatter than 20º. Thinner and higher parts will have greater difficulty printing, although additional supports can always be used to ensure an optimal result.
Which companies provide these materials?
In today's additive manufacturing market we can find large players offering TPU to create flexible parts. Ultimaker has a filament called TUP 95A, which is compatible with its Ultimaker S5, Ultimaker 3 and Ultimaker 2+ 3D printers. According to the company, the material supports up to 580% elongation at break; this filament is available in 4 different colors. Another company is Formlabs, which last year presented its so-called "Elastic Resin" for SLA technology. This resin has a Shore hardness of 50A, in addition to high elongation and energy return. The Shore relates to the hardness of the material used, or in other words how resistant a material is to indentation. Lower numbers indicate less resistance and softer materials. The elasticity and resistance of this material allows its use in multiple cycles. In addition, the technology allows to reduce costs and delivery times by printing directly on the soft parts.
There are also other companies dedicated to the development of these materials, such as Recreus, which offers a multitude of 3D printing filaments. In particular, its renowned FilaFlex filament arose from the need to innovate in 3D printing. Ignacio García, Recreus' CEO, stated: "The 3D printing technology itself was already innovative, and added to the flexibility of the material with which to create flexible pieces, such as shoes, it undoubtedly demonstrated the potential of additive manufacturing and FilaFlex". These are some of the leading companies, however, there are other players in the market that also offer TPU for 3D printing. We can see, for example, how HP also integrates this polymer in additive manufacturing in the following video:
Have you ever used TPU in 3D printing? Let us know in a comment below or on our Facebook and Twitter pages! Sign up for our free weekly Newsletter, all the latest news in 3D printing straight to your inbox!