All You Need to Know About Polypropylene (PP) for 3D Printing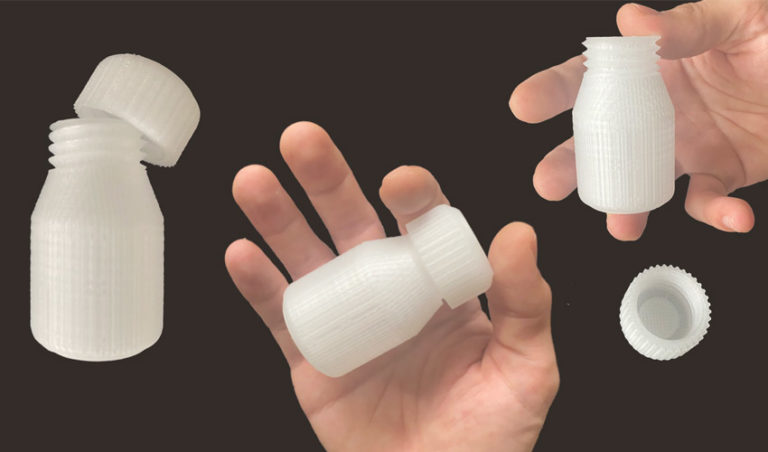 Today's additive manufacturing sector is characterized by a wide variety of materials, from plastics and metals to ceramics and concrete. If we look at the family of polymers, the diversity is great, with many thermoplastics that are more or less easy to print. Among them is polypropylene (PP), a semi-crystalline material belonging to the family of polyolefins, also known as polyalkenes. Widely used in the plastic injection industry, it has a number of interesting characteristics for industrialists such as lightness, resistance to chemicals, to fatigue, and good electrical insulation. On the 3D printing market, however, it remains quite rare. Difficult to print, it requires rigorous control in its heat treatment and particular attention to adhesion, whether on a plate or between layers.
Polypropylene is a semi-crystalline thermoplastic, i.e. it has an ordered molecular structure with very precise melting points, unlike amorphous materials which soften gradually as the temperature rises. This structure influences its crystallinity and orientation. Didier Fonta, Director of Operations at Pollen AM, explains: "Polypropylene has very clear melting points and will be very demanding in terms of its transformation. This is why temperature fluctuations have to be limited in order to regain homogeneous properties." Depending on the polymerization conditions (temperature, pressure and reagent concentrations) different grades of polypropylene can be obtained. There are currently 3 forms of polypropylene which depend on the arrangement of the methyl groups in relation to the plane of the main carbon chain.
The characteristics of Polypropylene
PP is one of the most widely used thermoplastics in the industrial sector, with global demand expected to reach 45 to 62 million tonnes by the end of the year. It is mainly found in the packaging industry (30% of the total market), in the manufacture of electrical products and equipment (13%), in the automotive industry (10%) and in household appliances (10%). Among its main benefits are its low price, low weight and low friction which makes its surface relatively slippery. In terms of characteristics, PP has good resistance to chemical products and is hydrophobic, making it an ideal material for the manufacture of containers for cleaning products, foods, etc. It also has very good fatigue resistance, which will allow it to retain its shape even after many torsions, which is why it is used to produce hinges. Finally, it has good impact resistance and excellent electrical insulation.
Polypropylene has some disadvantages, however: it is, for example, very difficult to glue – its surface is particularly inert, so special surface treatments are required. It is a highly flammable material, sensitive to UV and oxidation and has a high coefficient of thermal expansion, which limits its applications at high temperatures. However, Didier Fonta adds: "Despite its defects, polypropylene is an excellent material overall. It has a unique blend of qualities not found in any other material, making it an ideal choice for many projects."
PP in 3D printing
While polypropylene is widely used in the plastic injection industry, it is not used as much in additive manufacturing because it is not the easiest thermoplastic to print. As it is a semi-crystalline material, it is imperative to control the temperature throughout the process, as PP has very precise melting points (within five degrees). To optimize the process of transforming polypropylene into 3D printing, Pollen AM, in collaboration with the Total Group, has developed new extruders that allow PP to be processed more fairly and to obtain functional, high-quality parts.
The new extruders developed have new functionalities and are now customizable (alloys, surface treatment, shear/compression rates, etc.). Pollen AM has adapted the various components of the Pam extruders to allow better processing of semi-crystalline materials. The extruders developed, known as "Hight Shear" extruders, integrate several software, mechanical and electronic optimizations. New sheaths, augers and extrusion dies have been developed, adapted to the manufacturer's software and electronics to enable users of Pam technology to benefit from a solution that can be adapted to project and material requirements.
Polypropylene presents an important shrinkage, which can lead to the famous warping phenomenon, that is why it may be necessary to use a heated chamber to print it. It should be noted that the local radiant system developed by Pollen AM reduces this phenomenon and can also improve interlayer adhesion. Finally, it is a material that does not adhere to all surfaces: it will therefore be necessary to place a substrate on the printing plate. Pollen AM, among others, has developed PP films to be placed directly on the build plate to improve the adhesion of the printed part to the plate. These films are a very good alternative to adhesive sheets or Crystal type tape.
PP is also available in composite form, e.g. in glass fibre; increasing its mechanical strength, in calcium carbonate to improve its fire behaviour, etc.
The average observed price of PP in granular form ranges on average between €1.20 and €1.70 excl. VAT per kilogram. In comparison, the price of this material in filament format oscillates between 30 and 50 € HT per 500 grams, a price that climbs when it comes to loaded PP. The Pam technology thus allows its users a real control of the costs as well as the use of PP grades already qualified for their applications.
Didier Fonta concludes: "Once you control its temperature and adhesion, PP gives way to a large number of applications. At Pollen, we have combined this material with TPE and printed demonstrators for one of our customers. The adhesion between the materials is really good, resulting in parts with very interesting functionalities and properties." You can find more information on the official Pollen website HERE.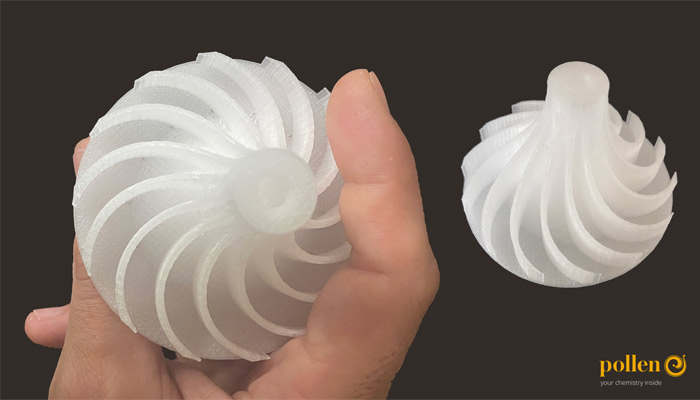 Have you ever used Polypropylene in additive manufacturing? Let us know in a comment below or on our Facebook and Twitter pages. Don't forget to sign up for our free weekly newsletter, with all the latest news in 3D printing delivered straight to your inbox!