The different SLS 3D printers on the market
Published on August 20, 2020 by
Niru K.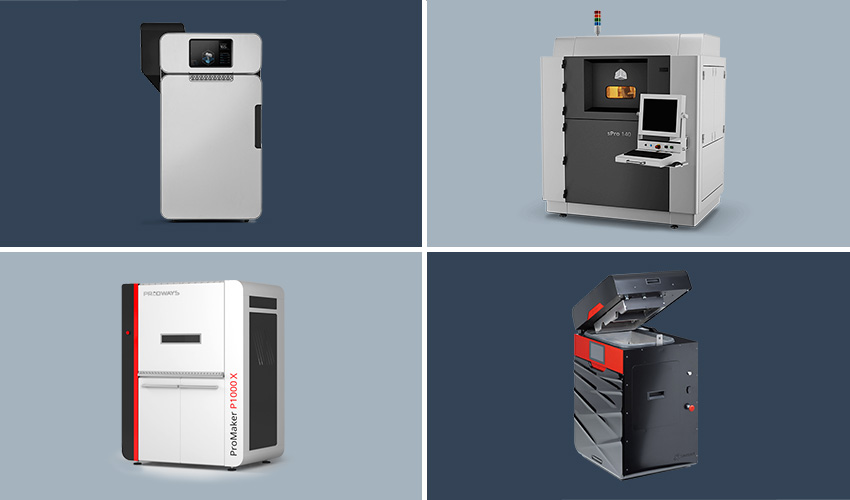 Selective laser sintering technology , better known under the acronym SLS, is based on the layer-by-layer melting of a plastic powder using a laser. Several processes based on this technology have been developed over the years to satisfy the needs of the industry. Today, this process is compatible with a wide range of engineering thermoplastics, including nylon. It is a technology used in many industries, whether automotive, medical, or aerospace because it offers better properties to parts than FDM technology, such as higher mechanical strength for example. What are the main SLS 3D printers on the market? Who are the manufacturers of these machines? We have prepared a list of 13 SLS 3D printers, both desktop and industrial machines, to show you what is available on the market today. The printers are ranked in alphabetical order.
Office SLS 3D printers
Fuse 1 from Formlabs
Formlabs, founded in the United States in 2011, develops professional 3D printers at affordable prices. The company became known for its stereolithography solutions, but since 2017 it also offers printers with SLS technology, as is the case with the Fuse 1. This machine is capable of printing firm and flexible nylon parts (PA12 and PA11) with a minimum layer thickness of 0.1 mm and a maximum print volume of 165 x 165 x 320 mm. With a relatively low price, it offers its customers the opportunity to manufacture and produce prototypes within their own company.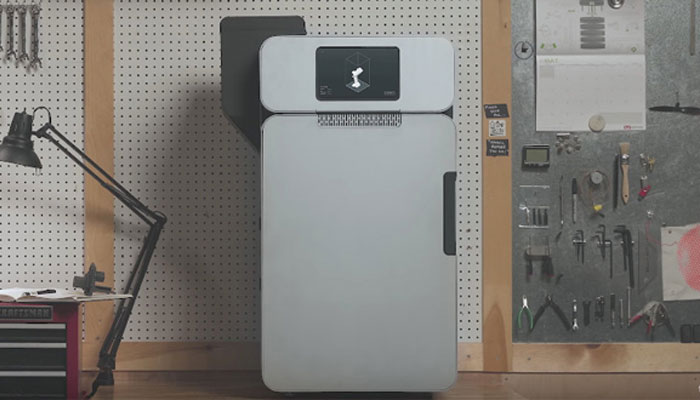 KIT from Sintratec
Sintratec is the leading manufacturer of 3D printers in Switzerland and has specialized in the development and production of SLS 3D printers. The range includes compact laser sintering systems that process high performance polymers. This includes the Sintratec KIT, which has been on the market since 2015. KIT offers an ideal introduction to the field of additive manufacturing. It prints parts with the materials PA12 and TPE. The maximum printing volume is 110 x 110 x 110 mm and the minimum layer thickness is 0.1 mm. In addition, anyone who already has experience with SLS printing might be interested in the all-in-one solution, Sintratec S2.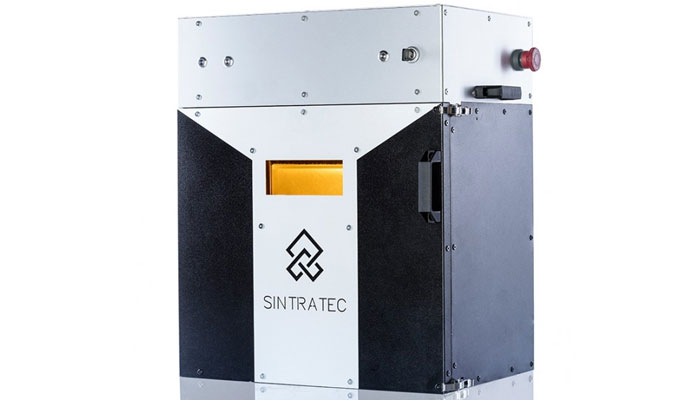 Lisa from Sinterit
Sinterit is a company founded in Poland in 2014, which has specialized in the development of 3D SLS printers. In 2015, the company introduced the first desktop solution with SLS technology. Called Lisa, this machine is capable of printing parts with a wide range of powders, ranging from PA (nylon/polyamide) groups to TPE (thermoplastic polyurethane), with a minimum layer thickness of 0.075 mm. When printing with Flexa/TPE, the maximum printing volume is 110 x 150 x 150 mm and when printing with PA it is 90 x 130 x 130 mm. If Lisa does not seem to be advanced enough for your projects, then you might want to choose Lisa Pro, as it  will allow you to print with more material types to create larger prototypes and final parts.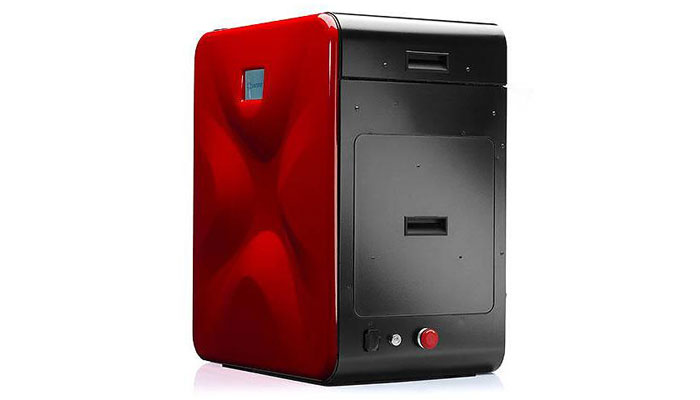 Red Rock 3D from Red Rock
The Russian manufacturer, Red Rock developed a desktop SLS 3D printer specifically for functional prototyping and conducting pilot studies. It offers a build volume of 180 x 180 x 180 mm and a printing speed of 20 cubic cm per hour. At the moment, this machine is compatible with black powder PA12, but other materials are coming soon. Additionally, it provides an open powder recycling bunker and quick release front panel.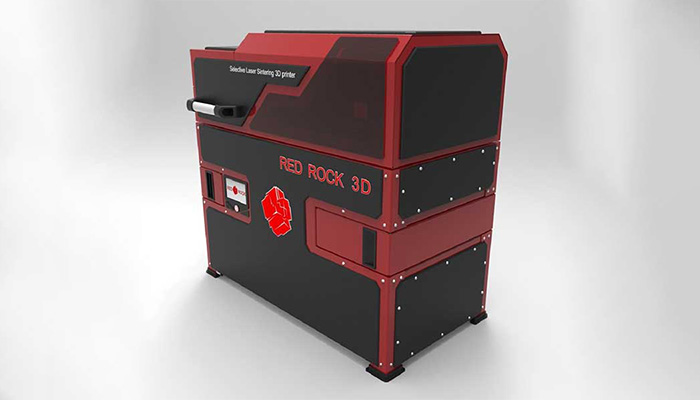 SnowWhite 2 from Sharebot
SnowWhite 2 is a professional 3D printer that uses laser sintering technology, aiming the laser automatically at points in space and binding the material together to create a high resistance solid structure. Released in summer 2020, this machine was developed by an Italian manufacturer Sharebot, and is a new and upgraded version of its SnowWhite 3D printer. Due to its CO₂ laser, SnowWhite 2 can use multiple thermoplastic powders, such as PA12 and TPU, and it also supports special powders loaded with other material particles, like aluminum, glass, or carbon. In addition, SnowWhite2 has an upgraded software interface that includes custom print profiles and open parameters. This SLS machine uses the Simplify3D slicer software, and can be connected via Ethernet.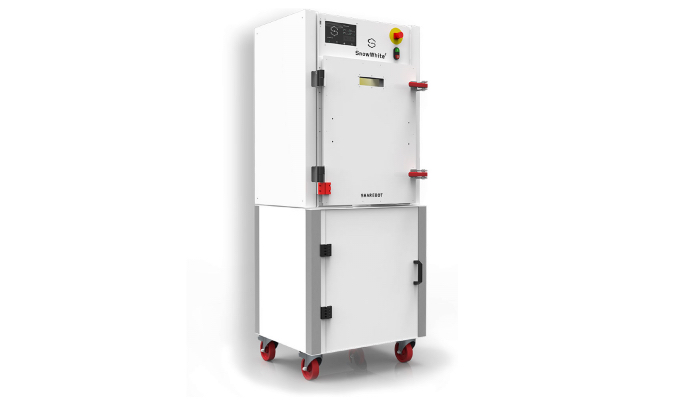 VIT SLS from Natural Robotics
VIT SLS is a professional desktop 3D printer developed by Natural Robotics, a manufacturer based in Barcelona, and was first released in 2017. This 3D printer is designed for different types of thermoplastics, including PC and nylon. The SLS machine enables 3D printing complex geometric shapes without the need for support structures. It prints at the speed of 20mm/h and has a minimum layer thickness of 0.05 mm. VIT SLS has a build volume of 250 x 250 x 300 mm and can be purchased for €11,000 or $12,900.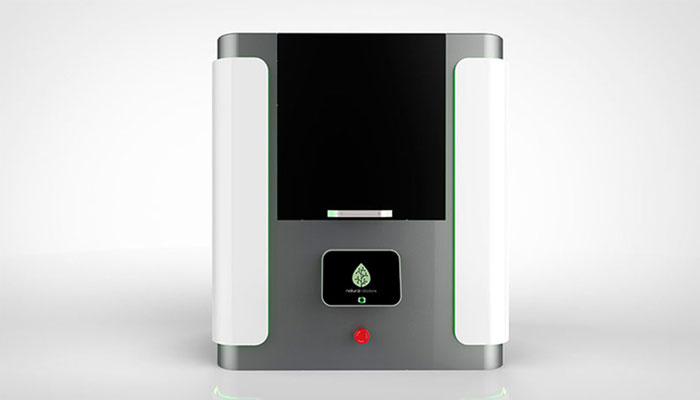 Industrial SLS 3D printers
403P series from Farsoon
The Farsoon 403P Series is an industrial SLS 3D printer made by Farsoon, a manufacturer based in China. The Farsoon 403P Series offers 4 different configurations: the FS403P, HS403P, SS403P and the HT403P. The four versions have certain different properties, such as the maximum chamber temperature and the 3D volume build rate. The Farsoon 403P Series 3D printers are equipped with an 8-zone heater intelligent temperature control system and high precision embedded 3D scanners for quality 3D prints. This industrial 3D printing solution combines scan speed of up to 15.2 m/s with a high efficiency roller system and convenient removable powder cartridge system, thus offering increased productivity and lower price per part.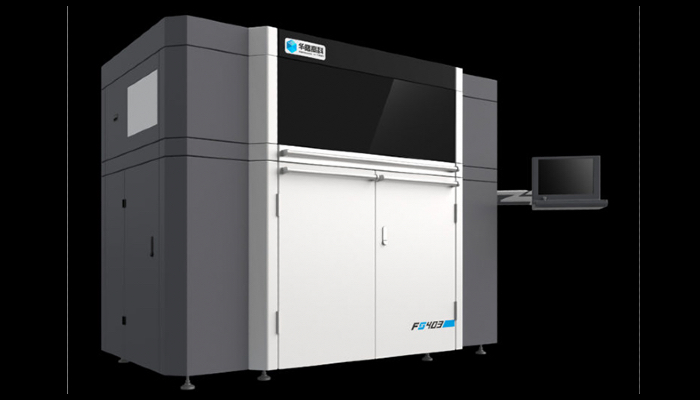 EP-P3850 from Shining 3D
The Chinese manufacturer Shining 3D is known for offering 3D scanning solutions around the world. However, it also develops industrial machines with different advanced technologies. One of its main SLS 3D printers is the EP-P3850, which is based on the use of a laser as a power source for sintering materials such as nylon, polypropylene or TPU, among others. It integrates a removable forming cylinder to increase manufacturing efficiency, while reducing waiting time. The machine is compatible with Windows 7 operating system; its maximum construction volume is 380x380x500 mm and it has a layer thickness between 0.08 and 0.3 mm. The EP-P3850 is a 3D printer very suitable for many applications, including the automotive industry.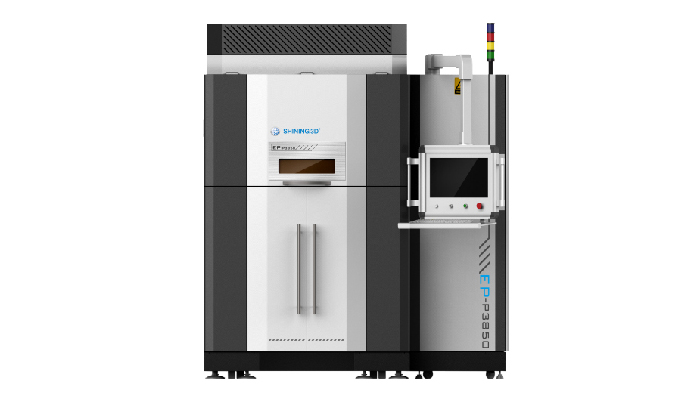 MfgPro230 xS from XYZPrinting
XYZPrinting is an Asian manufacturer that, until a few years ago, focused on the development of FDM/FFF machines. In 2017 it turned its activity around and decided to open up to the industrial additive manufacturing market, thus launching its MfgPro230 xS. This professional 3D printer is aimed at professionals in the aerospace and automotive industries, as well as those requiring advanced prototyping. It has a print volume of 230 × 230 × 230 mm and a layer thickness of 0.1 mm. It also works with materials such as nylon, polycarbonate and other similar thermoplastics. It is compatible with SLS Build and SLS Ware software. In short, it is ideal for those industries seeking to develop end-use parts with high mechanical performance.
P500 from EOS
The German company EOS has been involved in the 3D printing industry for almost 30 years and is a pioneer in SLS and DMLS technology. Over the years, EOS has developed a large line of industrial 3D printers that integrate this manufacturing method. Among them is the P500, an industrial 3D printer capable of printing at speeds of up to 0.6m/s. According to the company, its 70-watt lasers reduce the cost per action by more than 30%, while producing high-quality parts. In addition, it has a construction volume of 500 x 330 x 400 mm, allowing several parts to be printed at once inside the chamber. This solution is capable of 3D printing with more complex materials, such as white polyamide powder, PEKK, or nylon.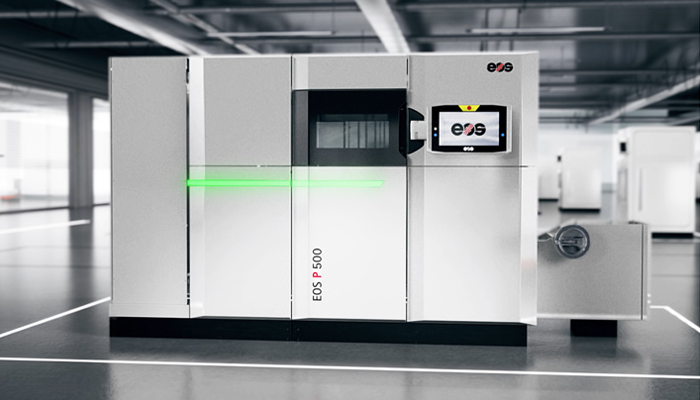 P1000 Series from Prodways
The P1000 is an industrial 3D printer that is part of the ProMaker series. This series has been developed by the French manufacturer PRODWAYS, specialized in industrial and professional 3D printing. Specifically, the P1000 3D printer uses SLS technology to create parts with a maximum size of 300x300x300 mm. It is equipped with a 30W CO² laser, with a beam size of 450 μm. In addition, the industrial solution works with materials such as polycarbonate, nylon and other thermoplastics. This series also features the 3D printers P2000 (HT and SD version) and P4500 (HT and X9 version), which offer faster manufacturing thanks to their lasers and higher construction rates to meet the needs of the industry.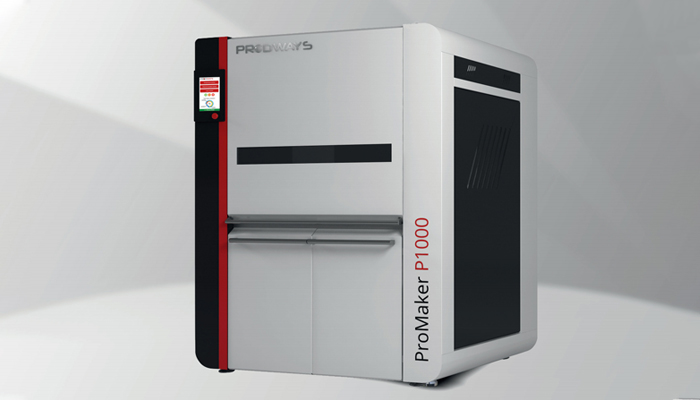 QLS 350 from NXT Factory
NXT Factory, based in the US, developed a new proprietary SLS 3D printing technology that they call Quantum Laser Sintering. This technology multiplexes a single laser beam into several million micro lasers without losing powder density. Their QLS 350 machine relies on this process to additively manufacture polymer parts very quickly. According to the manufacturer, this system is 4x faster than other SLS technologies, printing at a speed of 4200 cubic cm per hour, and offering a build volume of 350 x 350 x 400 mm. Additionally, the Z resolution on this system is 50-200 microns. Developed to compete with injection molding technologies, this system can work with engineering plastics such as nylon or PC and operate 24/7 thanks to its fully automated capabilities.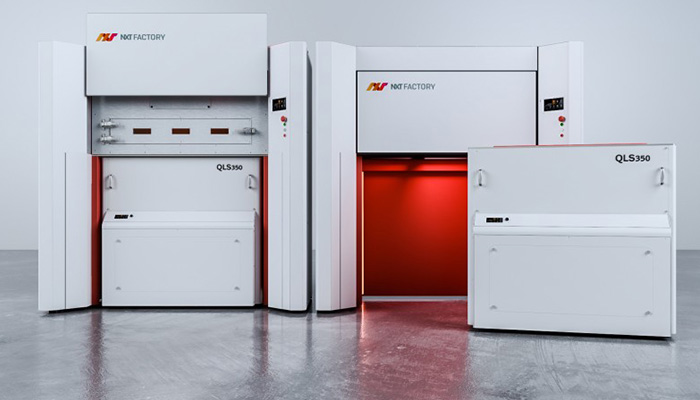 sPro 140 from 3D Systems
The American giant, 3D Systems, offers a range of SLS 3D printers through its ProX and sPro series. These two series enable the production of engineering thermoplastics, such as production-grade nylon. The sPro 140 provides high repeatability and throughput of SLS production parts. It can print parts up to 550 mm in length as it has a build volume of 550 x 550 x 460 mm. The manufacturer explains that this machine is perfect to produce housings, machinery components, complex end-use parts, functional assemblies, and jigs and fixtures.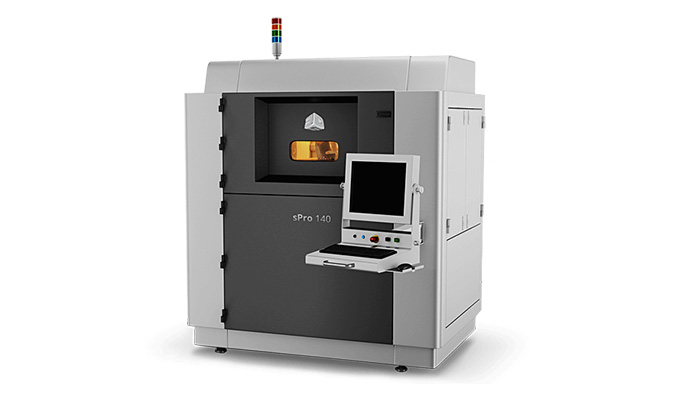 Did you find this article interesting? Let us know in a comment below or on our Facebook and Twitter pages! Sign up for our free weekly Newsletter, all the latest news in 3D printing straight to your inbox!