Top 10 Applications of 3D Printing in Art
Published on December 12, 2017 by
Jamie D.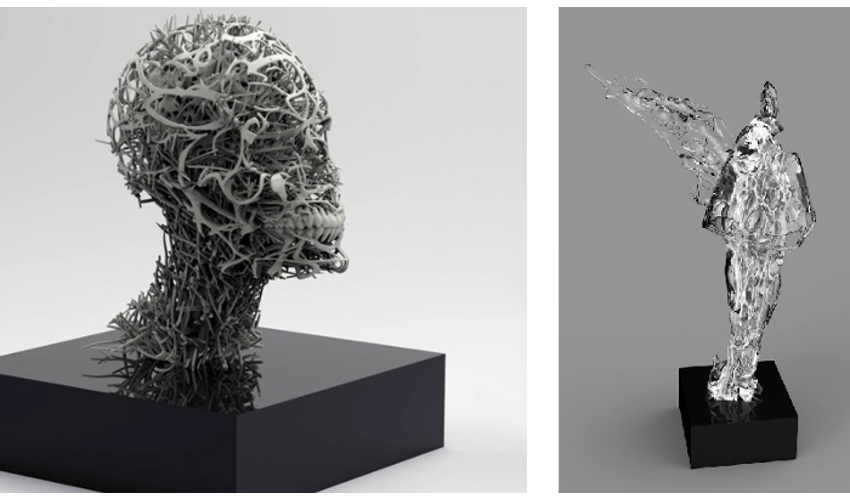 3D printing technology is a source of artistic inspiration for millions of artists across the world. Especially with the advent of 3D printing metal, artists can create beautiful, intricate pieces. This is through making art accessible to all, developing new forms, and materialising the invisible, is getting new people interested in art through 3D printing. So here is our Top 10 Applications of 3D Printing in Art. We have already made a Top 12 3D printing in fashion, which you can check out.
10. Banksy printed in 3D
This is the work of the render3dart company, who printed some of Banksy's famous works in 3D. This is more interesting as the works were only made in 2D, so the models had to be made from this 2D picture. To achieve this, the firm used powder binding 3D printers.
9. Oliver van Herpt's vases
Oliver van Herpt, a Dutch artist based in Eindhoven, uses 3D printing to design ceramic vase. These vases all have imperfections, drips, or other deformities. This is a way for him to present works that one would think were shaped by the hand of a man but which come from a machine.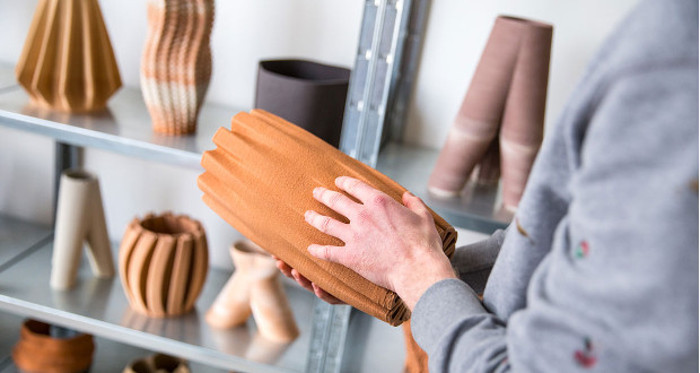 8. Millennia statuettes printed in 3D
These statuettes are the work of the Iranian artist Morehshin Allahyari, who wanted to preserve the heritage destroyed by Daesh by printing these ancient works in 3D. She also freely provides the 3D files of the statuettes online so that everyone can print them at home.
7. The Verus Art program
This initiative bringing together several organizations to use 2.5D printing to perfectly reproduce the paintings of great painters. Schools, museums, but also painting enthusiasts will have access to reproductions of Monet or Van Gogh paintings, educating and culturing the world.
6. The work of Linlin and Pierre-Yves Jacques
These two Parisian artists, experts in digital creation, use 3D printing to create many pieces with an artistic dimension. Using nature as a model, they have already participated in several exhibitions around the world. In February 2014, we went to meet the duo: interview to find HERE.
5. Lion sculptures at Parc OL
French start-up Lyon Drawn created four gigantic, 4m tall 3D printed lions weighing over a ton and a half surrounding the OL Park. This required hundreds of hours of printing time.
4. Voices printed in 3D
Gilles Azzaro is a digital artist who creates 3D images of voices, through the sound-waves created from the noise. His goal is to represent voice and represent its volume, as he is fascinated by the invisible.
3. The works of Danny van Ryswyk
Danny vsn Ryswyk is one of many young artists using digital tools to model and sculpt his work in 3D. Danny, from the Netherlands, is known for creating creepy sculptures, reminiscent of Tim Burton.
2. The next Rembrandt
This remarkable painting is not the work of the famous Flemish artist but a computer. After scanning more than three hundred works by the painter, this machine was able to capture all the specifics and order a 3D printer to produce a painting in the style of Rembrandt. This required an eighteen-month mission gathering historians and computer developers.
1. The 3D prints of the Prado Museum
In 2015, the most famous Spanish museum organized an exhibition for a few days featuring paintings by Greco, Gentileschi and also José de Ribera printed in 3D. This operation aims to allow visually impaired people to feel these works that were previously unaccessible. They were created by start-up Estudios Durero.
What do you think of these artistic applications? Let us know in a comment below or on our Facebook and Twitter pages! Don't forget to sign up for our free weekly Newsletter, with all the latest news in 3D printing delivered straight to your inbox!