The Complete Guide to Material Jetting (PolyJet) in 3D Printing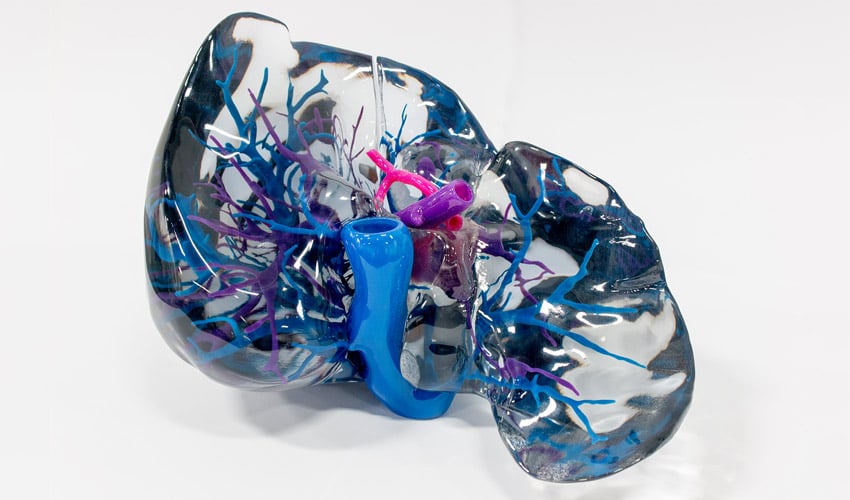 3D printing continues at a frantic pace, but the processes behind this technology are still unclear to some. After our articles on Selective Laser Sintering (SLS) and Fused Deposition Modeling (FDM) technologies, we now present Material Jetting. This process is known for enabling the creation of objects that combine several materials and colours. So how does it work exactly?
Material Jetting patented by Objet Ltd. in 1999 under the name of PolyJet (which merged with Stratasys in 2012), combines Inkjet technology and the use of photopolymers. Inkjet technology is used by conventional 2D printers on paper while photopolymers are materials that harden when exposed to ultraviolet rays. This technology has many benefits, including excellent resolution (up to 0.016 mm), smooth surfaces (no staircase effect unlike objects printed using FDM technology) and a wide choice of materials and colours for a relatively low cost and printing time.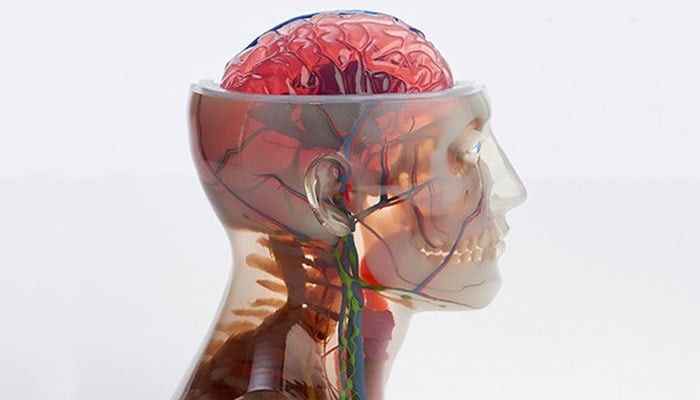 How does Material Jetting 3D printing work?
Like any 3D printing technique, the process begins with the creation of the desired object using CAD software; it is then cut into several digital images, each corresponding to a layer of the object, via slicing software, also called the slicer. The STL file is then sent to the 3D printer for printing.
Once the process starts, the liquid resin is heated to 30-60°C to obtain the appropriate viscosity for printing. The print head, very similar to that of an inkjet printer, then projects hundreds of micro-droplets of ultraviolet light-sensitive photopolymer resin. This is integrated into the print head and hardens the material to form the first layer. Like the stereolithography (SLA) process, this technology is based on the principle of photopolymerization. Multi-material and polychrome printing is possible because the printhead holder has many nozzles capable of simultaneously "spraying" various materials as well as a soluble carrier material for example.
The advantages and disadvantages of Material Jetting technology
The main advantage of Material Jetting technology is its ability to print multi-material and multi-colour parts. Thanks to its multiple print heads, each material can be stored in a separate head, allowing different materials and colours to be processed. The composite material obtained is called Digital Material and is suitable for creating detailed prototypes that are close to the final model (temperature resistance, biocompatibility, stiff or flexible, etc.).
Limitations include a smaller build volume – it is not possible (yet) to manufacture large-format parts. In addition, as with most other technologies, the process requires printing media and a post-processing step. During this step, the supports and resin residues must be removed with a special solution and the part must be completely cured in a UV chamber. It should be noted, like all pieces made from photopolymers, they are sensitive to light, which can change their properties over time.
Application areas for Material Jetting 3D printing
As explained above, the main application area for Material Jetting 3D printing is the production of detailed and functional prototypes. It allows to see, touch and feel visual models in a similar way to a finished final part. This method is of particular interest to the medical sector because it allows the creation of anatomical models to scale, in different colours, faithful to the human body. In this way, the doctor can explain a disease to a patient in a concrete way and surgeons can train for surgery in advance. This 3D printing technology is also used in artistic or jewelry fields.
The main market players
As previously mentioned, Stratasys is the pioneer of this technology and markets various machines using Material Jetting technology, that they call PolyJet. Perhaps the best known are the J750 and J350, both of which are compatible with Pantone colours and can print prototypes in more than 500,000 colours, textures, gradients, transparencies and material hardness. 3D Systems also offers a range of Material Jetting 3D printers, a technology they have named MultiJet, such as the ProJet MJP 5600, which is not as colourful as Stratasys, but can also be used to manufacture different prototypes, with elastic or hard materials.
Another company that uses the basic principle of material projection technology is the Israeli company XJet. However, they have developed a method of spraying nanoparticles, i.e. they do not print with plastic droplets, but with liquid droplets loaded with ceramic or metal nanoparticles.
Was this guide useful? You can leave a comment in the section below or on our Facebook and Twitter pages! Sign up for our free weekly Newsletter, all the latest news in 3D printing straight to your inbox!