The Top CAD Software for All Levels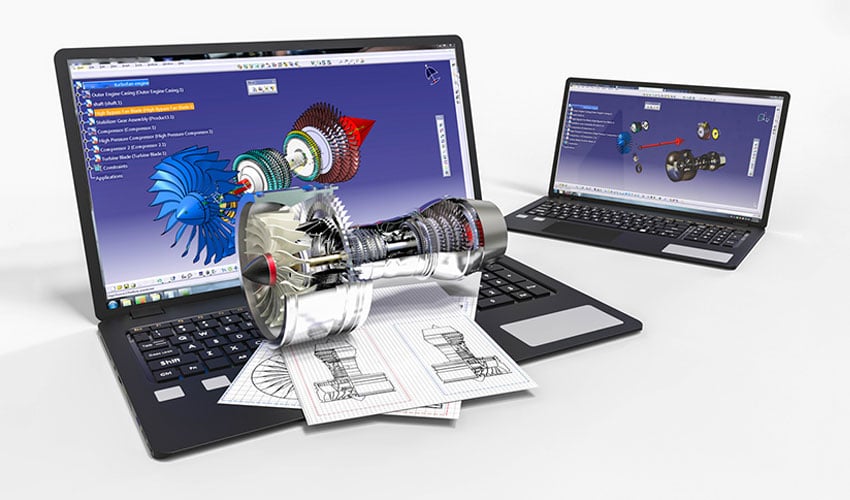 The software you should use when designing a 3D printed part depends entirely on what it is. Indeed, the complexity of your object will influence your final choice. In general, modeling software can be separated into two categories: CAD software and 3D modeling software. Most often, CAD software will be used to create industrial objects that incorporate more or less complex mechanisms. 3D modeling software is preferred when you want to have more artistic and conceptual freedom – historically, it is used in the video game and animation industry. Already we have introduced you to some 3D software for beginners. But what is CAD software? The acronym stands for Computer-Aided Design and suggests that it facilitates the generation, modification and optimization of a design for a part or a series of more or less complex parts. CAD software can be very specific, whether it is for industrial, mechanical, architectural or aeronautical engineering design. Today we will focus on CAD software that is used to model future 3D printed parts. Given the multiple features that software can have, we have separated them by level of expertise – beginner, intermediate, professional.
CAD Software for Beginners
TinkerCAD
Tinkercad is Autodesk's 100% free online 3D design application for beginners. Currently available in 16 languages, the software is based on a block construction, allowing you to develop models from a set of basic shapes – cylinders, triangles, circles, cones, etc. You can move, rotate and view any shape. Tinkercad also offers additional features like adding electronic circuits or writing programs. The 3D models can be saved in STL, OBJ or SVG format. It is a rather simplistic program that will have limitations for some designs. However, it is ideal for anyone who has no experience in 3D modeling.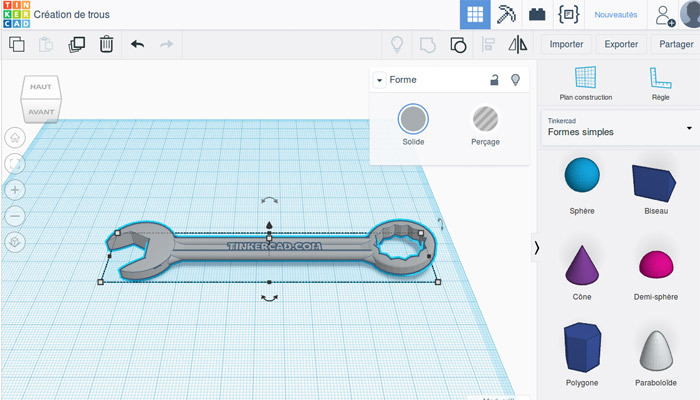 – Beginner level
– Free
FreeCAD
FreeCAD is a completely free parametric 3D modeling tool that is open-source and enables you to design real-life objects of any size. The parametric component makes editing easier. You can go to your model's history and change the parameters to get a different model. This software is not designed for professional purposes but could be a good training tool. Do however keep in mind that it integrates several features that a user will have to learn to master in order to be able to set up the tool correctly. So it's not the easiest software for a beginner to learn, but it has the merit of being free and open-source.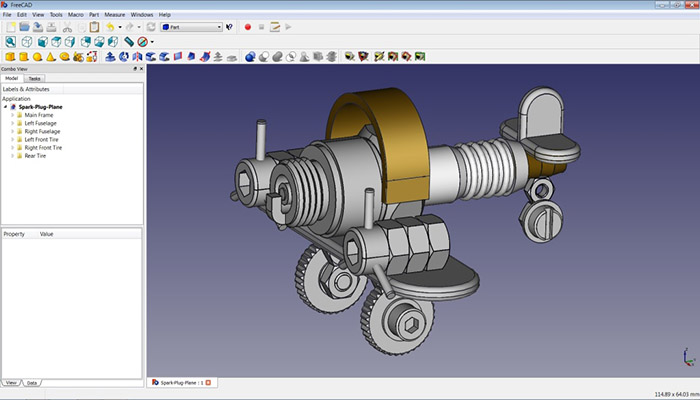 – Beginner Level
– Free
BlocksCAD
BlocksCAD was specifically created for educational purposes, notably for use in the classroom. It was developed in order to ensure that its users would later be able to easily use OpenSCAD, a more professional CAD software. Indeed, commands for the development of the objects and their transformations are represented by color blocks, reminiscent of LEGO to make it more kid-friendly. BlocksCAD's code is fully compatible with OpenSCAD's so you can give your models a last touch-up on there. Export formats can be either OpenSCAD or STL. To make sure that anyone can learn to use the software, BlocksCAD has a Youtube channel with different tutorials on 3D modeling.
– Beginner Level
– Free (with options to upgrade lessons)
CAD Software for Intermediate Users
CREO
Creo is a 3D CAD solution that focuses on rapid product innovation, which is supposed to allow better products to be realized faster. The CAD software is considered easy to learn and guides users from initial design to final product manufacture and beyond. By using Creo, powerful functionalities can be combined with new technologies such as generative design, augmented reality, and of course, additive manufacturing. This allows users to benefit not only from faster iterations but also from reduced costs and improved product quality. Thus, Creo represents an optimal CAD software that promises increased competitive advantages and market share.
Price: $2,310 for a standard license; a 30-day trial is available for free.
Solid Edge
Solid Edge is a CAD software that is easy to learn and has even simpler features, making it suitable for beginners as well as professionals. Originally released in 1996 by Intergraph and later sold to and distributed by Siemens, the software has been perfected over the years and is now a reliable choice for a variety of users in different sectors. Solid Edge uses its very own synchronous technology. This modeling technique mixes parametric and direct modeling, elevating the simplicity while offering a high-level control with the help of history-based modeling. In addition to that, regular parametric and direct modeling is still possible as well. Other highlights of the software include its AI-powered user interface, overall high processing speed, and cloud capabilities, that enable access to CAD from any device. For the latest 2022 version, developers added many extra enhancements, supporting modern product development processes allowing more use of resources and new ways of working.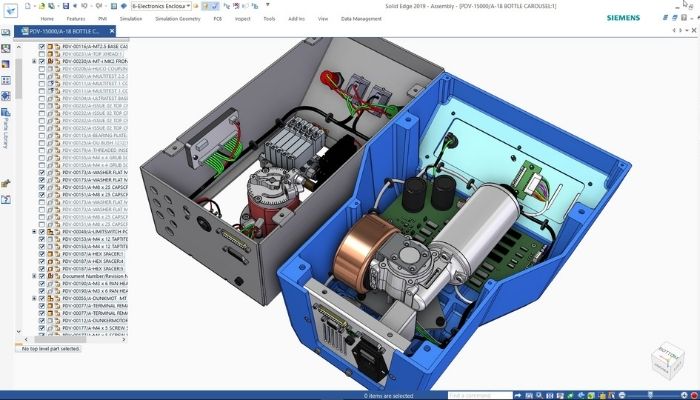 – Beginner to Professional
– Different prices depending on the version, starting at 75$/Month
Fusion 360
Developed by Autodesk, the Fusion 360 program consists of a cloud-based software platform. It is primarily used for product design and 3D modeling, CAD, CAM and PCB. The ability to work online allows design teams to come together and collaborate on complex projects at the same time. In addition to saving the entire process history, it offers different design options, including modeling of free-form, solid and lattice structures. It also ensures manufacturability with simulation and generative design tools. If you want to save your design for 3D printing, with Fusion 360 you can export it in formats such as STL or OBJ. To work with Fusion 360, you should know that a paid monthly subscription is required. It is one of the leading CAD software chosen by users because of its versatility and functionality. You can learn more about the new features included in 2022 of this program in the video below:
Price: $60/month or $495/year
4D_Additive
Developed by the French-German company CoreTechnologie, 4D_Additive is a software that offers its users the possibility of repairing all types of models and enables modelling in exact geometry. With its numerous functions for the optimized preparation of CAD models, 4D_Additive also offers, for example, analysis functions that can determine the best orientation of the part and fill the printing plate in an ideal way. With the ability to export models in .3mf, .amf, .obj and .stl formats, CoreTechnology's software also provides access to more than 5,000 surface textures and a wide variety of support structures that can be created manually or automatically. By being updated regularly, 4D_Additive evolves year after year.

CAD Software for Professionals
Solidworks
Published by Dassault Systèmes, it is often used by professional 3D designers. It is a parametric featured-based model. The software includes a wide range of features such as design validation tools, or reverse engineering. It tends to be used for industrial objects. It is quite practical and detailed. One of its special features is that, unlike much other software that mimic curves through gently inclining flat structures, Solidworks uses a system of NURBS. This system allows the creation of very detailed curvatures. Also, instead of polygonal modeling, it uses dimensional sketching so that resizing becomes far less of a hassle. One disadvantage that is often brought up by users of the software is the limited ability to import .STL files. If you wish to download and edit .STL files, a secondary program will most likely be necessary. The file fsormat is very much an output file format and not intended for post-design processing.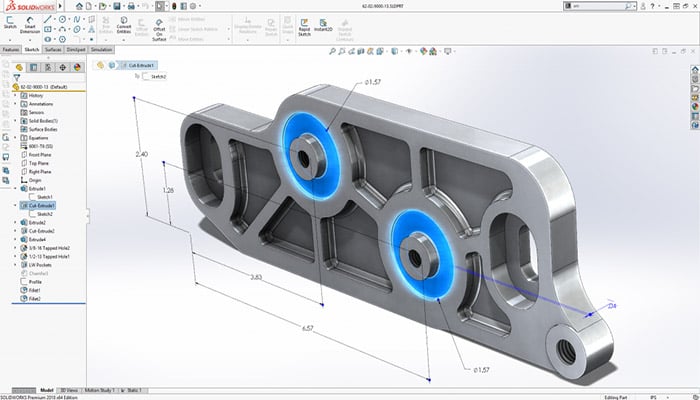 – Professional Level
– One license is $3,995
AutoCAD
AutoCAD software from Autodesk was one of the first CAD software to be released on the market in 1982, making it a very established CAD software across industries. Even though AutoCAD is popular and widely used, in the 3D printing community its popularity has decreased lately according to i.materialise's poll. Many users cite that although it is ideal for 2D drafting, it is not the easiest to use for 3D modeling. Indeed, the learning curve to master macros and scripts is steep for moving beyond simple parts. The software is aimed at professionals with experience in programming models algorithmically. If you have that skill, there is little you can't do with AutoCAD. The 3D models can readily be converted to STL files for 3D printing. Since 2010, AutoCAD was released on a mobile and web-app as well, called AutoCAD 360.
– Professional Level
– From $185/month or $1,470/year
– Free and fully-functional version to download for students and faculties.
CATIA
CATIA is one of the world's leading product design and experience solutions, used by the most prominent companies across industries to create the products we see and use every day. The CATIA CAD solution enables system architects, engineers, designers and construction professionals to create designs in a cloud, that removes the constraints imposed on them by traditional project delivery methods. The 3D EXPERIENCE solution includes a wide range of 3D modeling tools that cover all phases of design and construction. This paves the way for full digital continuity based on the cloud-based 3D EXPERIENCE platform.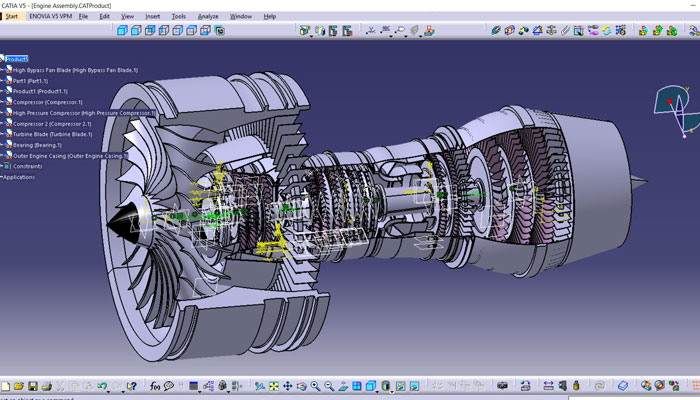 – Professional Level 
– Starting price around $10,000 
OpenSCAD
OpenSCAD is a software that is used for creating solid 3D CAD models. It is completely free and open source, and is available for GNU/Linux, Microsoft Windows and Mac OS. Unlike most free programs for creating 3D models (such as the well-known Blender), OpenSCAD does not focus on the artistic aspects of 3D modeling, but focuses on CAD aspects instead. Therefore, it is a good choice if you want to create 3D models of machine parts, but probably not the ideal software if you are interested in creating computer animated movies. OpenSCAD is completely description language based so the program is not easy for all users and we recommend its use to professionals.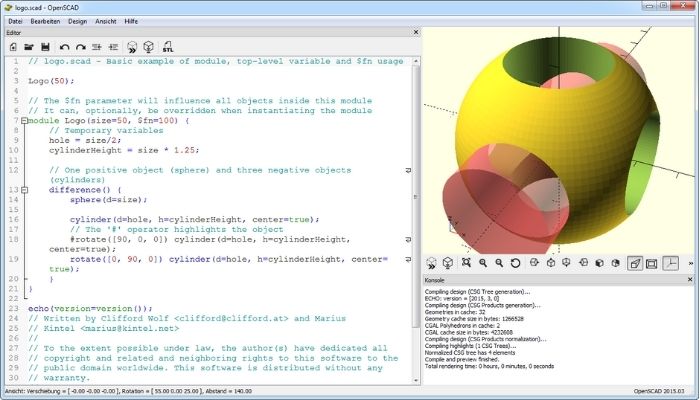 – Professional Level
– Free 
Rhino
Rhino is known for being an incredibly versatile 3D modeler. The commercial 3D computer graphics and CAD software uses a precise and mathematical model known as NURB, which allows users to manipulate points, curves, meshes, surfaces, solids, and much more. One of Rhino3D's strongest features is its wide range of design features. Since the upgrade to version 7, users are also able to create organic shapes with the newly added SubD tools. Those tools function nicely with another new version 7 called Quadmesh, which enables the users to make a quad mesh from existing surfaces, solids other meshes, and new Sub-Ds, a new geometry type, that can create shapes more accurately than before. The software is available for download in a variety of bundles on their website at various prices.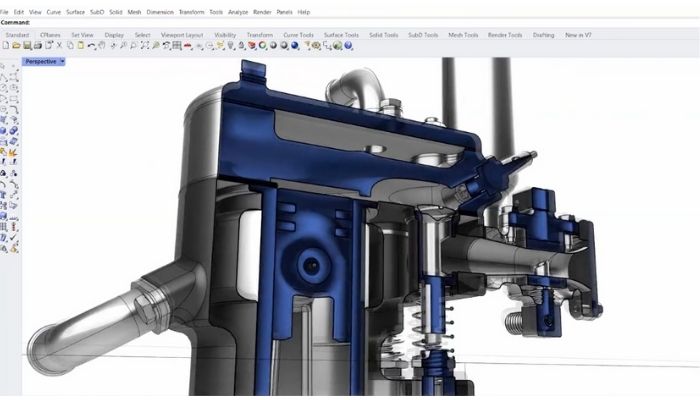 – Professional Level
– Includes different bundles; Rhino 7 starts at US$ 995/month for Windows and Mac
Siemens NX
Siemens is not just a multinational conglomerate corporation and one of the largest industrial manufacturing companies in the world, it is also well-known in the field of additive manufacturing. Therefore, it should come as no surprise that the company offers its own integrated CAD software. Actually, this professional offering combines CAD, CAM and CAE in one software with different features depending on the price. The company notes that it has been designed in order to support every aspect of product development from concept design (with CAD) through engineering and manufacturing thanks to an integrated toolset which streamlines the entire process.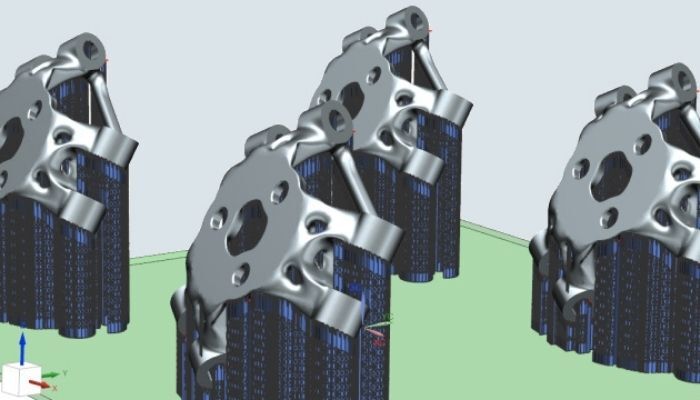 – Professional Level
– Starting from USD $3,444
Inventor by Autodesk
The Inventor CAD software, provided by Autodesk, is a particularly powerful software made for mechanical design and is, therefore, a professional tool for 3D design, documentation as well as product simulation. Inventor is a software that uses a combination of parametric, direct, free-form and rule-based design functions and provides the user with integrated tools for sheet metal, frame, tube and power design. Inventor allows to create efficient designs thanks to industry-specific toolsets as well as to make use of design automation thanks to iLogic. This CAD software also enables the connection of designs with incoming customer data, as well as the exchange of ideas in a secure cloud-based service.
Which software would you choose? Let us know in a comment below or on our Linkedin, Facebook, and Twitter pages! Don't forget to sign up for our free weekly Newsletter here, the latest 3D printing news straight to your inbox! You can also find all our videos on our YouTube channel.