The Best Slicer Software For All Levels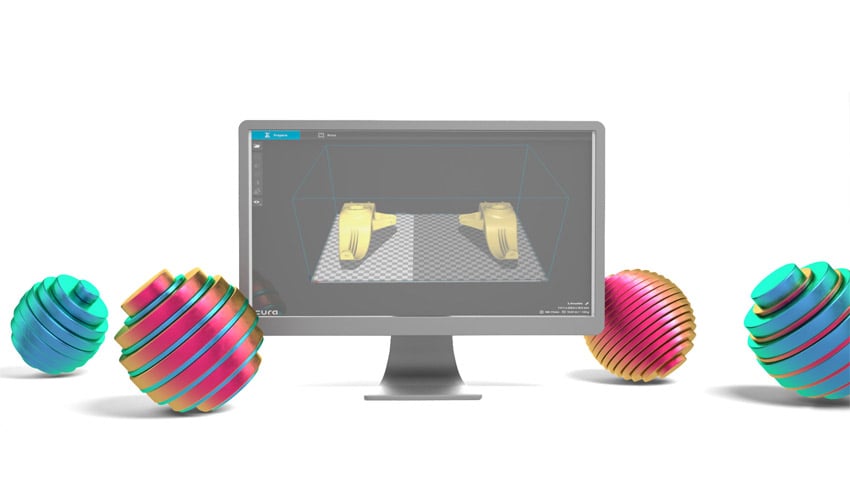 Slicer software or slicers act as the middleman between the 3D model and the 3D printer. Once you have modelled the object you would like to 3D print, you will have it in an STL file. The slicer converts the model into a series of thin layers and produces a G-code file containing instructions tailored to a specific type of printer. In other words, it is dividing the object into a stack of flat layers and describing these layers as linear movements of the 3D printer extruder, fixation laser or equivalent.
Top 10 From Beginner to Professional Level Slicer Software
Cura
It was developed by the 3D printer giant Ultimaker and used by the company's community of users. This slicer software is open-source and free. It is compatible with most desktop 3D printers and can work with most files in the most common 3D formats such as .STL, .OBJ, .X3D, .3MF (as well as image file formats such as BMP, GIF, JPG and PNG). It is suitable for beginners as well as for professionals. Some features include: showing a toolpath, estimating printing time and material usage. Experienced users can use third-party plugins.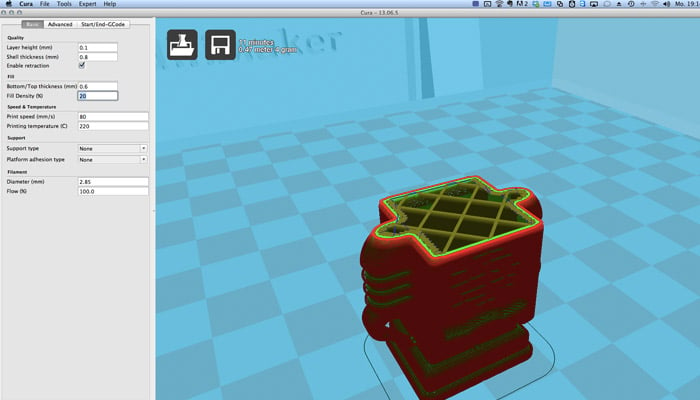 3DPrinterOS
3DPrinterOS is a cloud-based platform that integrates a slicing app but also other features essential for 3D printing such as a repair app. The platform is therefore an easy way of managing files machines and users across a business. There are three slicing apps within 3DPrinterOS: the 'Cloud Slicer', the 'Slicer 2' and a dedicated 'Makerbot Slicer'. The range of printers supported by this platform is very large.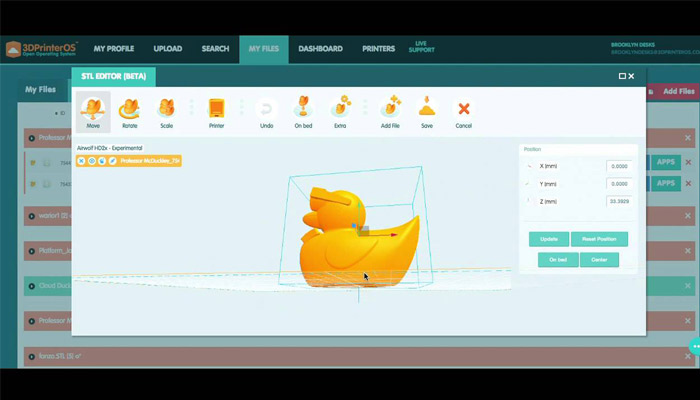 IdeaMaker
IdeaMaker slicing software was developed by the 3D printer manufacturer Raise3D. It was developed specifically for Raise3D 3D printers and is completely free. The slicer focuses on offering a user-friendly service: in as little as 4 clicks you can prepare your .STL, .OBJ and .3MF files to be printed. On the other hand, if you want some more advanced features, the software provides limitless customisation. IdeaMaker is now compatible with most FDM printers on the market and can also be used as a 3D printer management platform. For example, you can keep track of multiple printing profiles and seamlessly switch between different print settings, and also manage the ongoing print job remotely.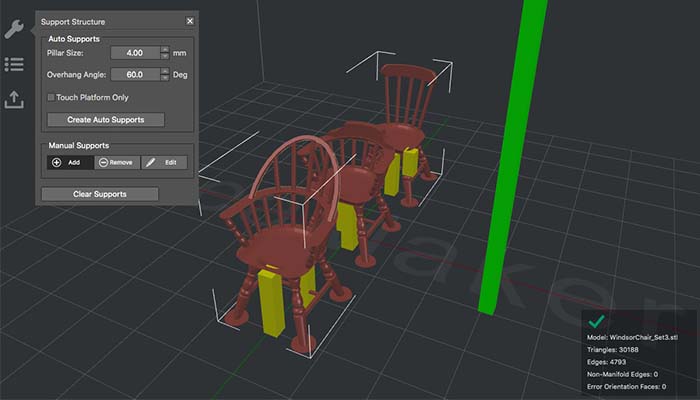 KISSlicer
Acronym for 'Keep it Simple Slicer', this slicer is a fast cross-platform app that can get quite sophisticated depending on the version you choose. There is a free version suitable for beginners; there is also a pro version you can purchase that enables multi-head printing. Even though it is easy to use, KISSlicer incorporates many advanced slicing features for a price of $35 (commercial) or $25 (educational).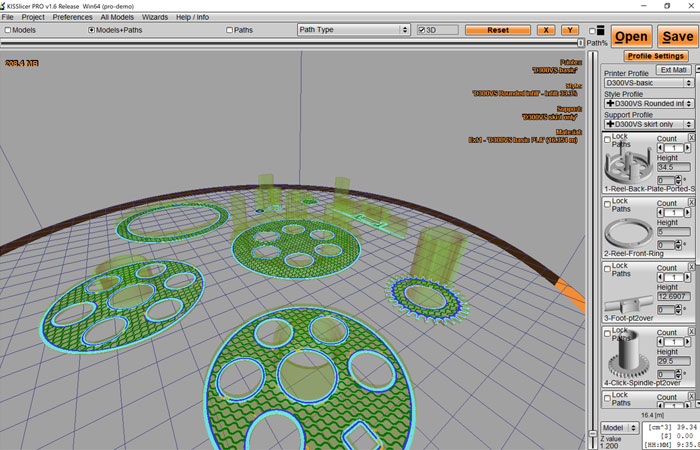 Intermediate or Professional Level 
Repetier-Host
 Repetier-Host is a slicer and control software is very popular within the RepRap community, it is also open-source and free. Repetier-Host is an all-in-one solution, for example offering multi-extruder support of up to 16 extruders – it can handle different filaments and colours simultaneously so that you can visualize the result before printing. Repetier-Host already includes 4 different slicers, Slice3r, Slic3r Prusa Edition, CuraEngine and Skeinforge but you can include any other slicer you want which means that this software works for almost any FDM 3D printer out there. Finally, one other interesting feature is that you can load or duplicate as many models that fit your build plate and print them simultaneously.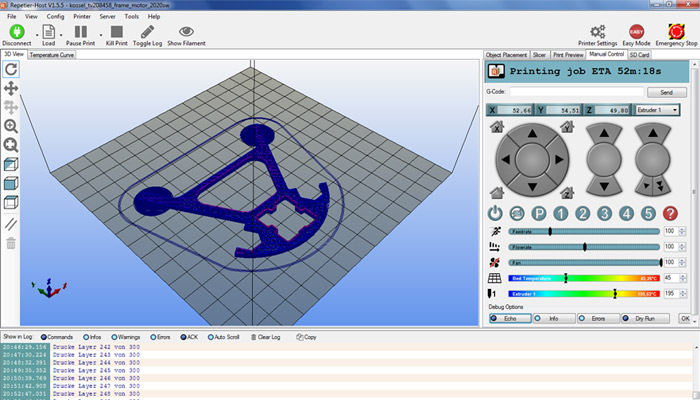 Intermediate to Professional Level
OctoPrint
OctoPrint is completely free and open-source. This is not only a slicer but also a web interface for your 3D printer – you can control and monitor all its activities from your web browser and handheld devices. OctoPrint has a built-in slicer based on the trusted CuraEngine so that you can slice your files directly within OctoPrint.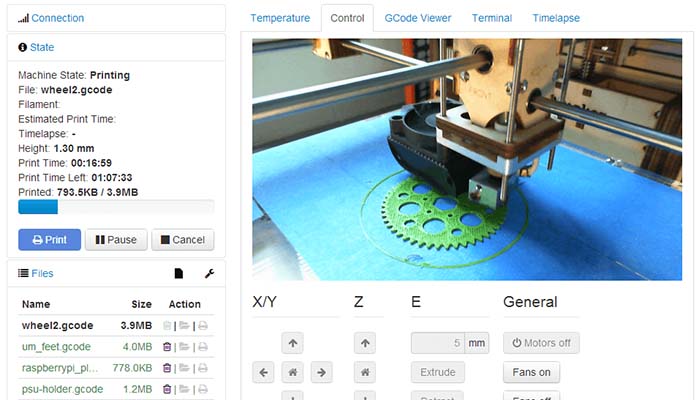 Slic3r
Slic3r is a free open-source slicer software. It works with 3D CAD files (.STL or .OBJ) to generate G-code for the 3D printer. It was born in 2011 within the RepRap community as an effort to provide the growing 3D printing technology with an open and flexible toolchain. Compared to other slicers, it is known for adding bleeding edge features discussed and tested by the community. One of its well-known features is the integration of OctoPrint – files are sliced on the user's desktop and can be directly uploaded to OctoPrint for printing at the click of a button.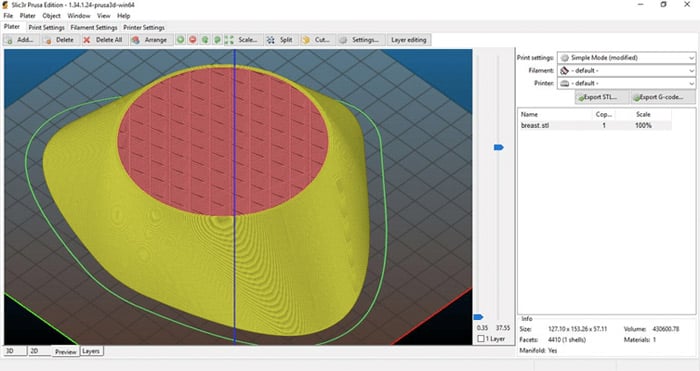 From Beginner to Professional Level
AstroPrint
Astroprint is a cloud-based platform built around the same concept as 3DPrinterOS and OctoPrint. The platform includes a slicer but also allows you to monitor and control your 3D printer from any device that has access to Internet – it is used by over 85K people in 130+ countries. The 3D slicer itself is very straightforward as you have two modes. In the simple mode, the only thing you can choose is material and the desired quality before sending to the 3D printer. In the advanced mode, you can get tweaking to achieve greater results. Recently, AstroPrint announced that users could choose Cura slicing engine as their base slicer for all their prints!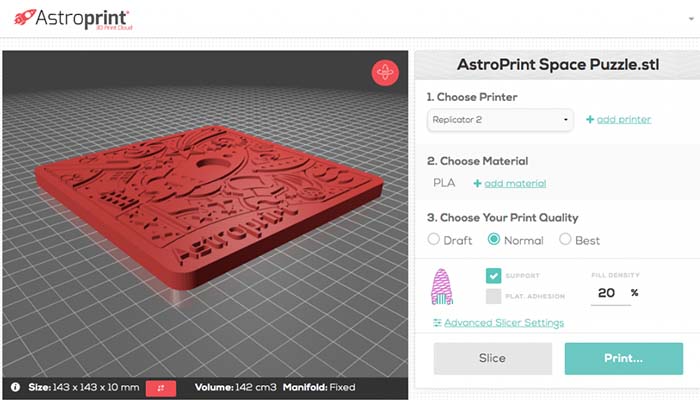 Beginner or Professional Level 
Simplify3D
This slicer software has been developed for pro users. It supports nearly all 3D printers – Simplify3D has partnered with 3D printing companies in over 30 countries in order to support more than 100 3D printer profiles. And if your model isn't on the list, it is fairly easy to add it, meaning you don't have to switch slicer program whenever you print with a new printer. You will be able to simulate your prints in advance with very realistic pre-print simulation to identify issues. The software automatically suggests where support material should be added, the supports break away easily without any special tools or post-processing. It is $150 for a license for up to 2 computers.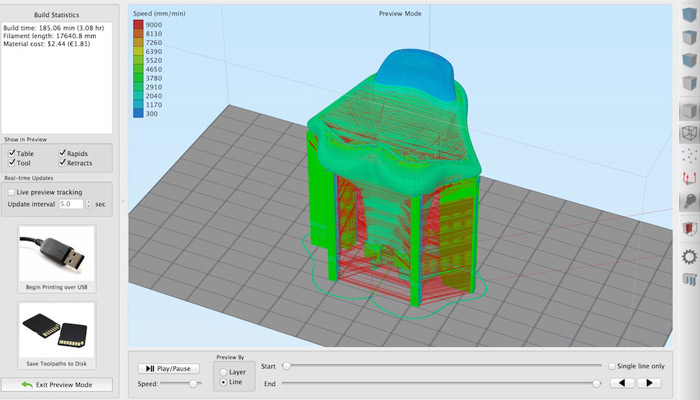 IceSL
Not just a simple slicing software, IceSL-forge includes a 3D modeling tool done through scripting with a Lua-based language. The same technology enables efficient slicing and generation of 3D printer instructions (by G-code), avoiding the expensive step of creating a mesh. You also have the option of downloading the IceSL-slicer that focuses exclusively on slicing. From the same company, SliceCrafter is an online version of IceSL-slicer but less powerful. They have a range of features explained in detail on their website.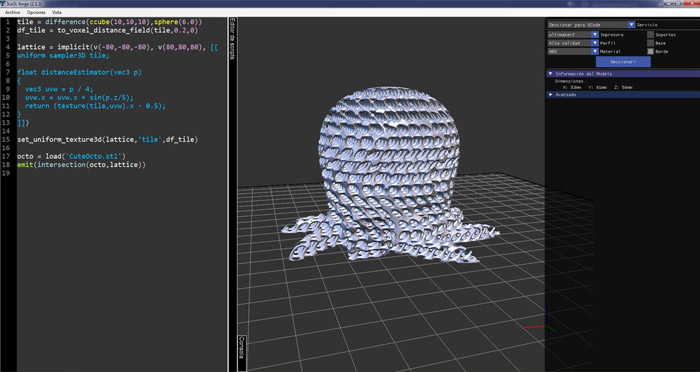 You can also find our ranking for CAD software HERE and our ranking for 3D software for beginners HERE.
Was this ranking useful? Let us know in a comment below or on our Facebook and Twitter pages! Don't forget to sign up for our free weekly Newsletter, with all the latest news in 3D printing delivered straight to your inbox!