3D Printed Houses: A Closer Look at Completed Projects from Around the World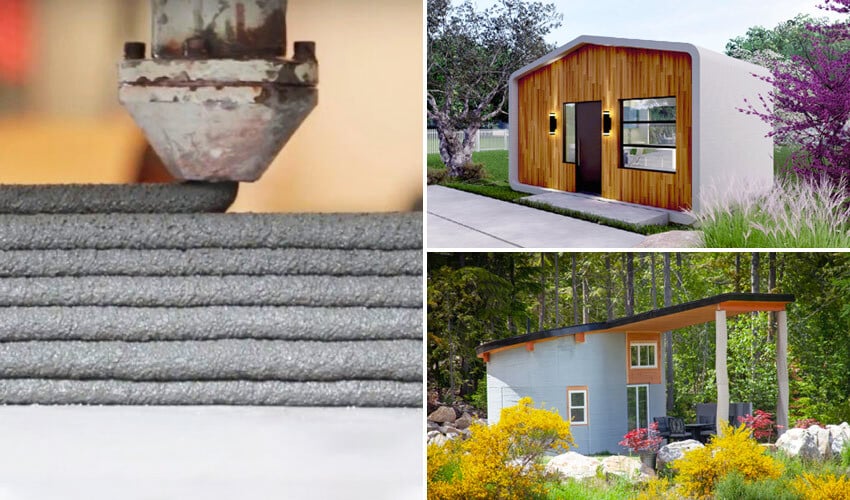 As you may know, additive manufacturing is becoming increasingly important in the construction market. The new technologies make it possible to create more complex shapes, build walls faster, and reduce labor costs. Many construction companies have already started to 3D print buildings or houses. Be careful, however, with the term 3D printed house: In most cases, only the walls are made by a 3D concrete printer, that prints them layer by layer. That in itself is already quite an innovation that has made it possible to build homes in hard-to-reach, disadvantaged, or conflicted areas. These days, we are starting to see more and more 3D-printed houses being inaugurated and the first families are starting to move in. Yet, at this point, it is still difficult to assess the sustainability of such a structure, and only time will show if this manufacturing method is more viable altogether. However, we can already share with you some 3D printed house-projects that have been completed around the world.
A 3D Printed House in Japan
In less than 24 hours and for less than $25,500, the company Serendix designed this small house with 3D printed walls. Even if it's hard to imagine that anyone could live in it, the project is still interesting and shows all the agility of 3D concrete printing. With a surface area of only 10 square meters, the structure has a honeycomb shape and no reinforcements. Serendix's objective is to create emergency housing in times of crisis, as earthquakes and typhoons regularly hit the country. It took three hours to assemble the different 3D printed parts and a total of 23 hours and 12 minutes to get the final result.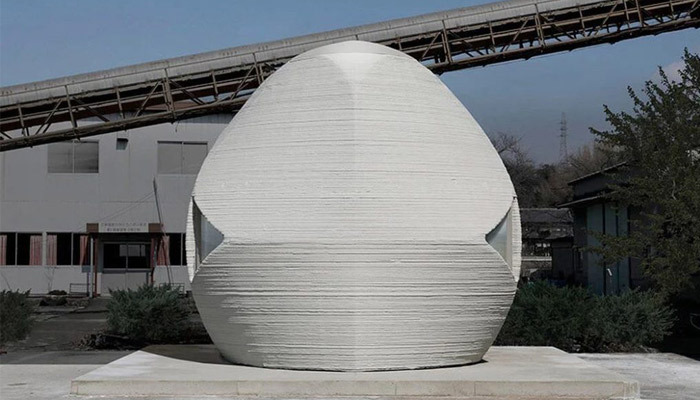 Alquist 3D and the Virginia Project
U.S.-based Alquist 3D recently announced the launch of one of its new projects for 3D printing homes. Located in the state of Virginia, the 200 homes that make up the project will be created through additive manufacturing with the aim of reducing the overall cost of infrastructure in communities with economic problems. According to the company, which specializes in 3D printing houses with concrete, this initiative is intended to be one of the largest housing construction projects, with Pulaski and Roanoke being the first cities to be chosen for it,  due to the growth in demand for housing that these areas have experienced in recent years. After completing the project for Habitat for Humanity, this new idea now aims to help the company expand further into the 3D construction market.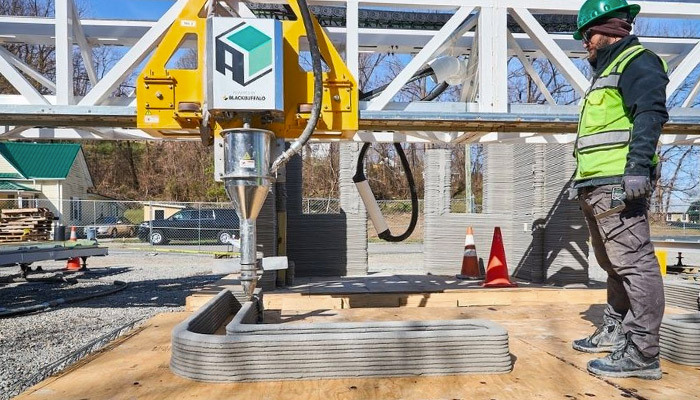 The Fibonacci House, the First 3D Printed House on Airbnb
The next house on our list is interesting not just for its design but because it holds the distinction of being the first fully 3D printed house to be listed on Airbnb. Twente Additive Manufacturing (TAM), one of the leading companies in concrete 3D printing, created this home in a spiral shape following the Fibonacci sequence, a famous mathematic sequence also known as the golden ratio that often occurs naturally, giving the home its name. The spiral allows for the progression of space from the wide-open exterior to the closed and warmer space in the tightest part of the spiral. The tiny home is available for rent for a minimum of two nights in Proctor, British Columbia, Canada on Airbnb for about $128 a night..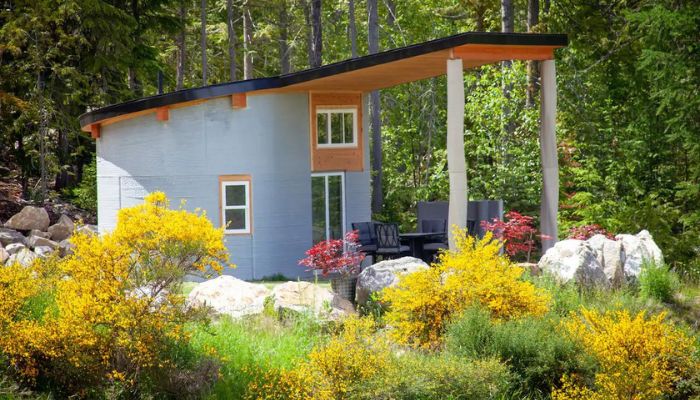 Mvule Gardens is Africa's Largest 3D Printed Housing Project
Continuing the trend of 3D printed houses being used for affordable housing, Mvule Gardens is a neighborhood consisting of 52 houses, it is Africa's largest 3D printed affordable housing project. Built by 14Trees, a joint venture between Holcim, a global leader in sustainable construction solutions, and CDC Group, the UK Government's impact investor, the project hopes to address the housing shortage in Kenya. The homes were built using the BOD2 printer from COBOD and a 3D printable dry mortar called TectorPrint from Holcim, ensuring that the houses are adequately strong and can be made with a reduced carbon footprint. Both two-bedroom and three-bedroom homes are available and 14Trees notes that they hope they will help to make green, low-income and affordable housing a reality for Africa.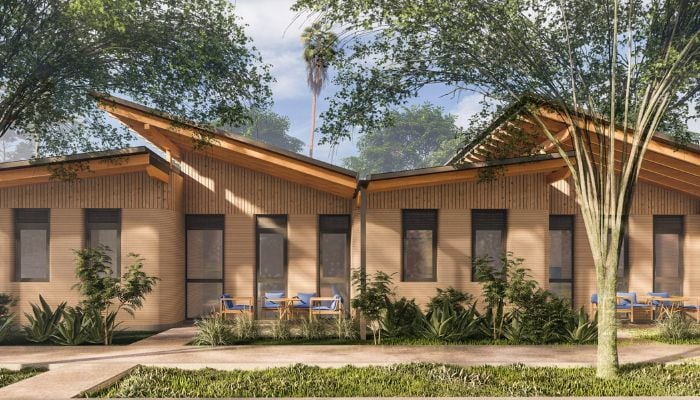 Azure 3D Printed Homes for Sustainable Construction
With the goal to develop homes faster, more economically, and with less environmental impact, Ross Maguire and Gene Eidelman brought Azure 3D Printed Homes to life in 2019. By combining years of experience in building and developing properties all over the world, the company has already been able to 3D print several environmentally friendly houses. The company uses recycled waste materials to create the structure of the houses, which are then produced with a large-scale 3D printer in only 24 hours. Azure 3D Printed Homes offers a variety of backyard offices and homes, one example is its Azure Marina Model. This 360 SQ/FT studio consists of a bedroom, kitchen, and bathroom, and can be customized and ordered on the company's website.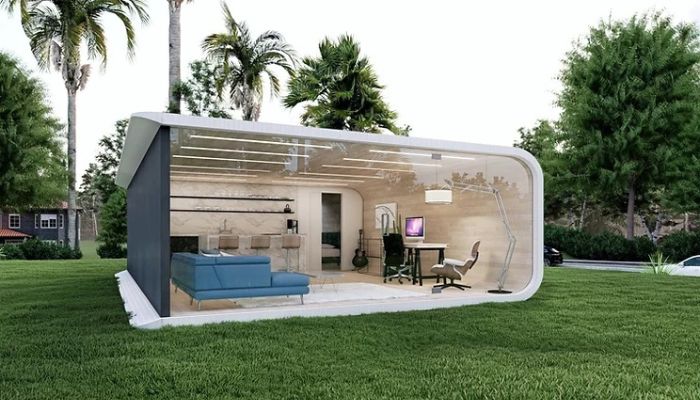 Habitat for Humanity Uses AM For Homes in Low-Income Areas
Atlanta-based nonprofit organization Habitat for Humanity has been able to support millions of people all over the world by helping to construct and preserve houses and shelters. Last year, in 2021, the organization finalized its first house using 3D printing technologies. The 1,200-square-feet house that is located in Williamsburg, Virginia, was the first 3D printed house to be owner-occupied in the United States. To create the house, Habitat for Humanity partnered with 3D printing home construction company Alquist 3D, which used a large-scale 3D concrete printer to produce the house in only 28 hours. The home features a kitchen, three bedrooms, and two full bathrooms. The nonprofit also has been working on building 3D printed houses in other states including Arizona.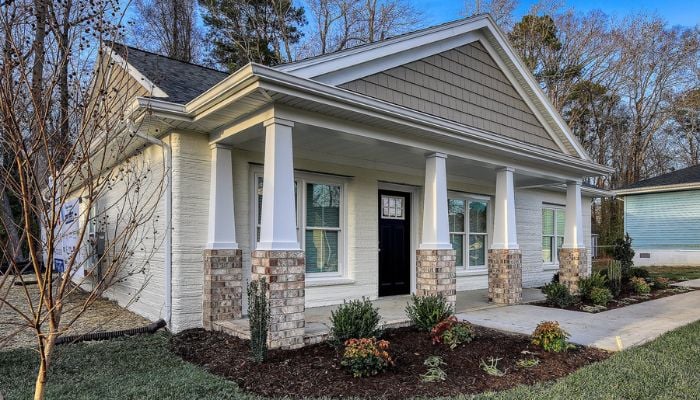 House 1.0, Europe's First 3D Printed Tiny House
The House 1.0 is the first 3D-printed Tiny House in Europe. It was made by Danish 3D printing startup 3DCP Group using concrete 3D printers. The company's goal with this house is to build better, faster, greener, and reduce the amount of effort required in the construction process. The Tiny House is designed to be as cost-effective as possible and to provide owners with all the necessary amenities despite its small size of only 37 m2.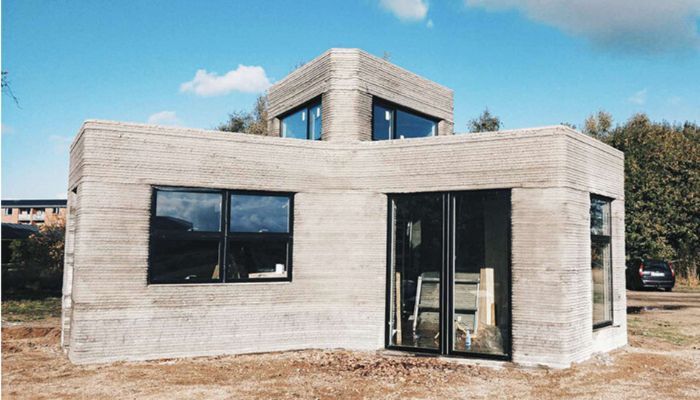 SQ4D Puts the First 3D Printed House on the Market
SQ4D is a company that has completed the construction of the world's largest known 3D printed house. The house, which was printed and built entirely on-site, is approximately 180 m2 in size and required only forty-eight hours of printing time, which was spread over a period of eight days. The materials used in the manufacturing process had a total value of less than $6000. The company continues to strive for innovation and plans to cut the printing time in half for subsequent projects in the future.
Prvok, the 3D Printed Houses in the Czech Republic
Whether in the countryside, in the city, or even on water, the 3D-printed house called Prvok was born in the Czech Republic and was created through the collaboration of Buřinka, a visionary company from the construction sector, and sculptor Michael Trpák. Built of concrete, the house can be printed in just 22 hours due to the printing speed of 15 cm per second – and with a size of 13.35 m x 3.5 m x 3.1 m. The robot arm thus produces a living area of 43 m2. With a total of three rooms – a bathroom with toilet, a living room with kitchen area, and a bedroom – the building can even be solidified on a floating hollow body, making it habitable on the water all year round.
Viliaprint, the Project Combining AM and Conventional Construction
This project combines additive manufacturing and conventional techniques for building houses. The project called Viliaprint was inaugurated in June of this year in the French city of Reims, more precisely in the eco-district there called Réma'Vert. A total of five houses, with each having living spaces ranging from 77 to 108 m2, were built thanks to the collaboration of stakeholders. The promising project aims at improvements in social, economic, and sustainable aspects. In the 3D printing process, which did not take place directly on site, the designers behind the 3D printed homes placed particular emphasis on concrete that dries as quickly as possible after each layer is applied so that it can hold its own weight.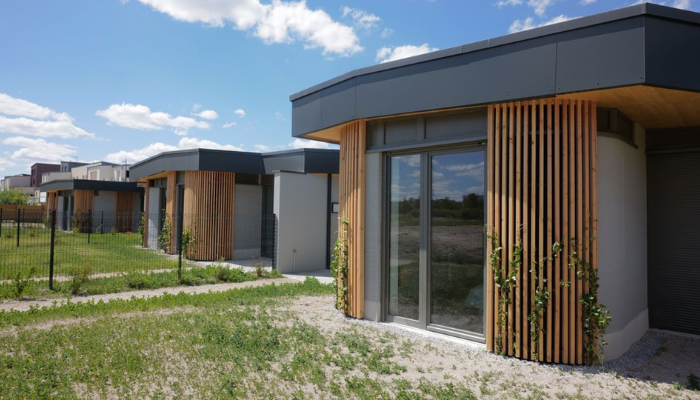 COBOD and PERI Partner for Incredible Houses Build Using AM
PERI is a company founded in 1969. In 2018, the group acquired a minority stake in COBOD, a leader in 3D design, and since then the two companies have been working together. In 2020, they built the first 3D-printed house in Germany and the largest apartment building in Europe. The house, printed in the Rhineland region of North Westphalia, is a 160-square-meter, two-story single-family home with three-layer insulated cavity walls. The COBOD BOD2 printer was used for the construction, which is characterized by its ability to extrude concrete at a speed of up to 100 cm per second, resulting in the desired project size, smooth and straight walls, and the highest quality requirements. With the CODOB printer, it is possible to build up to 300 square meters on 3 floors at an unprecedented speed. PERI firmly believes that 3D printing will one day, revolutionize the construction industry.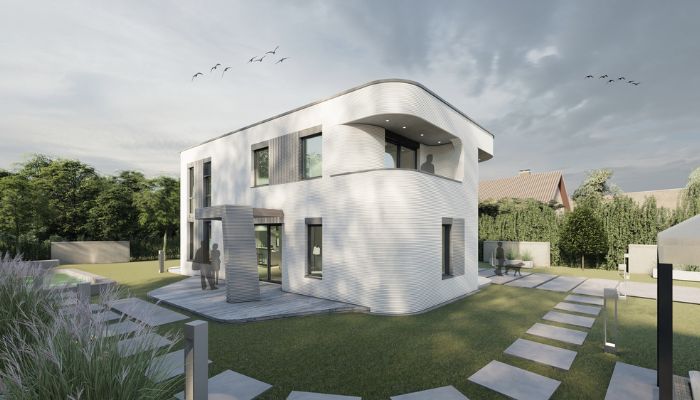 Project Milestone, the 5 3D Printed Homes in the Netherlands
This next housing project is located in the city of Eindhoven in the Netherlands. It consists of five 3D-printed concrete houses. Although the houses have already been sold,  you can rent them from a real estate company. Each of them is made of 24 individual concrete pieces that took 120 hours to print layer by layer. These 24 pieces were then moved to the location where the house is currently located and assembled, attached to the foundations, and fitted with a roof, windows, and doors. The buildings have a futuristic design, which makes the houses look like they are abandoned, reminiscent of rocks in an oasis surrounded by trees. The houses meet the ultimate comfort needs and were built in a sustainable and energy-efficient way. The surrounding area is bright, yet quiet, and provides a great place to relax.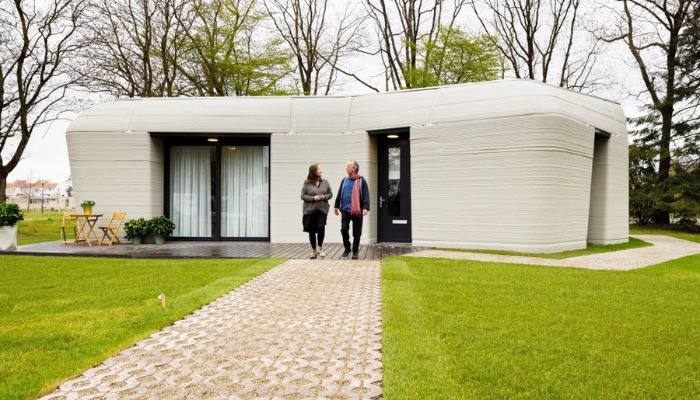 What do you think of these different projects? What is the impact of 3D printing in the construction sector? Let us know in a comment below or on our Facebook and Twitter pages! Sign up for our free weekly Newsletter, all the latest news in 3D printing straight to your inbox!