New Mimaki 3D printer combines color and large format 3D printing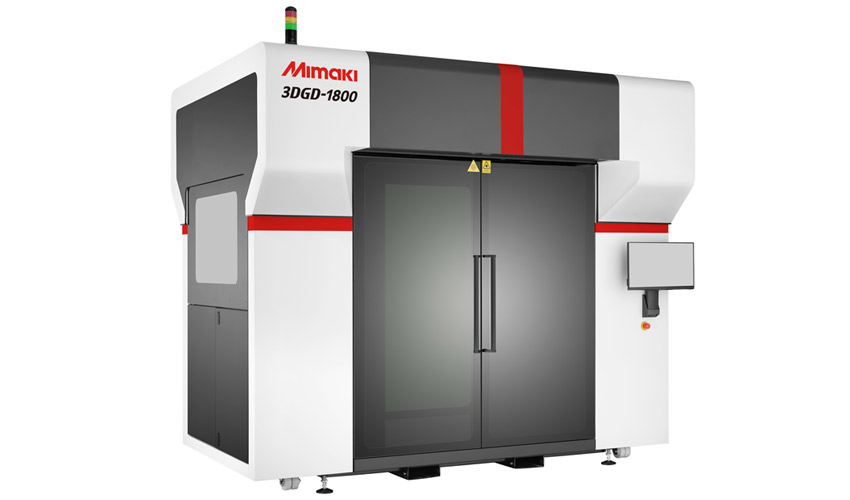 In September 2017, the Japanese manufacturer Mimaki, a specialist in 2D printing, revealed a 3D machine capable of creating parts with 10 million colours. The 3DUJ-553 met many professional requirements, especially in the design industry. Three years later, Mimaki has developed a new 3D printer, which offers a larger build volume: the new machine can print 1.8 meter high parts in just seven hours! Named Mimaki 3DGD-1800, the solution was developed in collaboration with Israeli manufacturer Massivit, an expert in large format additive manufacturing.
Combining color 2D printing and large format 3D printing is good news for sectors such as the audiovisual or advertising industries where you need to "show off": posters, panels, props, life-size displays, etc. 3D printing technologies make it possible to provide this realistic rendering. The Mimaki 3DGD-1800 is part of this dynamic, without forgetting applications such as the manufacture of XXL molds or other industrial production parts that can help companies reduce their lead times.
What are the features of the Mimaki 3DGD-1800 machine?
The Mimaki 3DGD-1800 3D printer is based on Massivit's Gel Dispensing Printing (GDP) technology, a process that cures a photosensitive gel with UV light. It could reach a speed of 350 mm (in height) per hour and design parts up to 1.8 meters high in only 7 hours. The company explains that you can achieve even more if you consider the assembly of several 3D printed components together. It is also equipped with two extruders, giving the user the ability to run two prints at the same time. Bert Benckhuysen, Product Manager at Mimaki Europe adds: "We have ensured that even beyond the 3D printing stage, our Mimaki inkjet printers can then be used to add color and decoration, making the created objects even more impressive and very versatile."
The new machine should be available from April 1, 2020 and should save a lot of time for all professionals who need to produce large parts with color. A higher accuracy can be expected than the large format machines available today: these are generally based on the FFF process that does not offer as much detail as GDP technology. In fact, the manufacturer claims that its new machine is three times faster than large format FDM 3D printers. More information can be found on the official Mimaki website.
What do you think of this new 3D printer from Mimaki? Let us know in a comment below or on our Facebook and Twitter pages! Don't forget to sign up for our free weekly Newsletter, with all the latest news in 3D printing delivered straight to your inbox!