How to adopt large format 3D printing: Experts give their advice!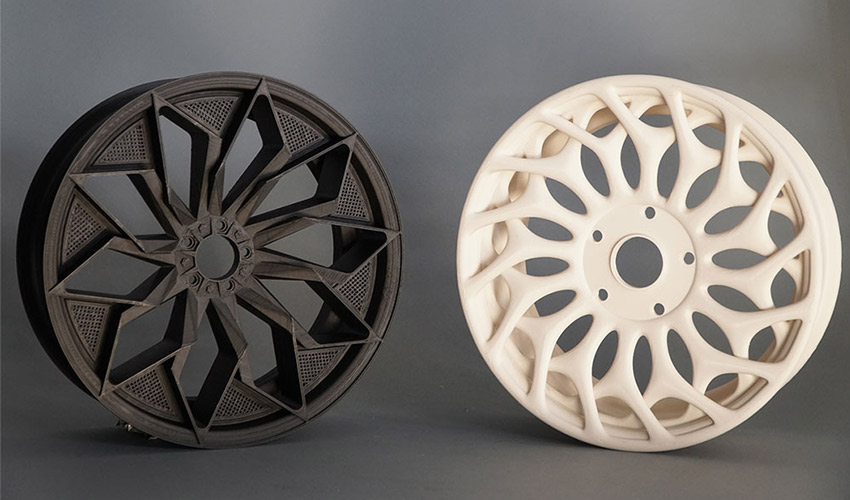 Large format 3D printing has found use in a wide range of applications. From making true to scale car panels, aerospace prototypes or billboards, many companies are interested in this type of 3D printing. Naturally, one of the key components of large scale 3D printing is the build volume of a 3D printer – even though it is possible to create large structures by assembling multiple 3D printed parts together. Today, you will find on the market 3D printers that can offer printing volumes of up to 1 m3. Most often, they are based on FFF technology, which means they extrude plastic onto a build plate layer by layer to create an object. However, some other technologies also enable the creation of large structures – for example the X Line 2000R from Concept Laser is a metal 3D printer based on LBPF that boasts a build volume of 800 x 400 x 500 mm. During the last few years, large format 3D printers have developed to suit the needs of manufacturers. So, what should you know about large format 3D printing? What are its benefits? How is it different from "conventional" 3D printing? We asked three experts some questions to gain clarity on the subject!
Our first expert is Martin Back, Managing Director at BigRep GmbH, responsible for corporate strategy and operations. The German company develops and sells some of the world's largest 3D printers in the FFF segment. Our second expert is Pierre-John Bernard, Prototype Assembly Workshop Supervisor at Volvo Construction Equipment. He is in charge of managing the teams that carry out the assembly part of the prototypes. Last but not least, we talked to Dr. Habib Dagher, who is the Executive Director of the Advanced Structures and Composites Center (ASCC) at the University of Maine. The ASCC is a world-leading center for research, education, and economic development focusing on material sciences, manufacturing, and the engineering of composites and structures.
Martin Back
Pierre-John Bernard
Dr. Habib Dagher
Technology and Materials for Large Format 3D Printing
As mentioned, most 3D printers with a large build volume are FFF machines. Other technologies such as stereolithography (SLA) or Multi Jet Fusion are available but are more expensive and more difficult to adopt. If we focus on FFF 3D printers first, one of the pioneers in the sector is German manufacturer BigRep, which has developed machines with a printing volume of up to 1 m3. The most commonly used materials in the FFF segment are PLA and PETG. Some 3D printer manufacturers are making machines capable of printing with high-performance materials, Martin Back from BigRep comments: "Together with BASF, we are continuously developing high-performance materials suitable for industrial use. PLX and PA6/66, by the way, are two new materials that we have now introduced, specially designed to take advantage of the speed, precision and quality of the large format 3D printers."
Other high-performance materials such as PEEK, PEKK or ULTEM can be difficult to use in large format 3D printing as they require a heated chamber, and the chamber is naturally much bigger than for desktop 3D printers. The bigger the build volume, the harder it is to control the parameters that enable printing with technical materials. Nevertheless some 3D printers, including BigRep machines can work with these materials. Tractus3D is another 3D printer manufacturer that has developed a range of machines for high-performance applications.
On the other hand, at the University of Maine, researchers claim to have created the world's largest thermoplastic 3D printer – it is capable of printing objects as long as 60 feet by 22 feet wide by 10 feet high (18 meters by 6 meters by 3 meters). The University has around two decades of experience in the extrusion-based processing of bio-based thermoplastics. In fact, its research has focused around developing 100% bio-based and 100% recyclable materials for large format 3D printing. Dr. Habib Dagher explains: "We are focused on developing new bio-based resins strengthened with bio based fibers, cellulose and nanocellulose. The material system of choice depends on the application. One tailors the strength and stiffness of the materials for the application. We produce our own material pellets in the lab, and can produce pellets at 500 pounds per hour. These pellets feed our 3D printer." As you can see, the choice is wide. Sometimes, it will make more sense to make pieces separately on a smaller machine, assembling them together to make a large piece.
What should you consider when choosing a large format 3D printer?
You will find in our listing on XXL machines a wide variety of large build volume FFF machines. However, if you are looking to print big parts, what should you look out for? Essentially, the difference between machines comes in quality of parts and the speed at which they are made. Largely, this is determined by the quality of the extruder and stepper motors. Of course, materials also play a role in print quality and speed. The speed is essential, as 3D printing a large piece can quickly become a very lengthy process. At the same time, accelerating the process too much could undermine the quality of the part. Post-processing steps for FFF are available to arrive at the desired finish. Martin Back adds: "There are three main techniques. Grinding, sandblasting and shot peening are among the most common subtractive processes for FFF. With different coatings such as electroplating (metal coating), liquid coating and foiling, functional properties such as strength, temperature resistance and adhesion can be optimized."
Although the technology remains the same on most machines, XXL manufacturing demands some precautions. Pierre-John told us: "There is a different compromise to be found between size, and therefore printing time and quality. It's important to have more control over the preparation because mistakes can quickly cost days of work." Indeed, printing a 1 cubic metre piece will take a few days – if there is a defect on the file, or a printing error, the printing process will have to be started all over again. "It is also important to do the parameter validations for the filaments (thread tension, nozzle distance, material flow, layer thickness, temperature). Finally, the supports are very important to have a stable part on the bed. In my opinion, the machine must be chosen carefully, because the mechanics must be precise."
The Applications
Large format 3D printing touches many sectors, whether to produce prototypes, tools, or even end-use parts such as lighting fixtures, table legs, car hoods, etc. In reality, large format additive manufacturing is not that different from 3D printing as we know it in terms of possible applications. In fact,  it offers just like conventional 3D printing many benefits over conventional manufacturing processes such as design freedom, shorter lead times, personalization and lower costs for product development. For example, Volvo Construction Equipment has needed it to validate its concepts more quickly. Pierre-John explains: "The aim was to avoid iterations, and therefore delays and ultimately possible rework costs. Today, we produce various parts such as electric motors, equipment flanges, cabin interiors, hoses, the possibilities are numerous."
For example, Massivit, one of the leading companies in this sector, creates parts for visual communication campaigns such as props, billboards and big parts for advertizing. Its technology is a bit different as it relies on Gel Dispensing Printing to achieve a higher speed of printing. Moreover, BigRep is a perfect example of how diverse projects can be: the company has collaborated on number of projects using its large format 3D printers, including the NERA fully 3D printed motorcycle prototype, or the more recent AMAZEA 75% 3D printed underwater scooters.
At the University of Maine, you probably heard about the 3D printed boat project, 3Dirigo. This is a 25-foot-long vessel designed by industry partner Navatek, a leader in ship design. The boat was 3D printed using ASCC's 3D printer in 72 hours. Dr. Habib Dagher explains: "The UMaine Composites Center received $500,000 from the Maine Technology Institute to form a technology cluster to help Maine boatbuilders explore how large scale 3D printing using economical, cellulose-filled plastics can provide the industry with a competitive advantage.  Current marine direct composite tool manufacture involves a multi-step construction technique utilizing steel framing, plywood sheathing, a machined polystyrene substrate covered with epoxy fiberglass and epoxy-based tooling paste for final machining and coating application. The use of large scale 3D printing to manufacture biobased recyclable marine tooling offers a more efficient process of manufacture and final machining and coating application which will reduce tooling creation lead times. The combination of additive manufacturing using cost-effective, bio-filled materials is a potential game-changer for sectors of the boatbuilding industry by reducing costs and lead times."
Do you have more questions on large format 3D printing? Let us know in a comment below or on our Facebook and Twitter pages! Don't forget to sign up for our free weekly Newsletter, with all the latest news in 3D printing delivered straight to your inbox!