The Top Cheap 3D Printers on the Market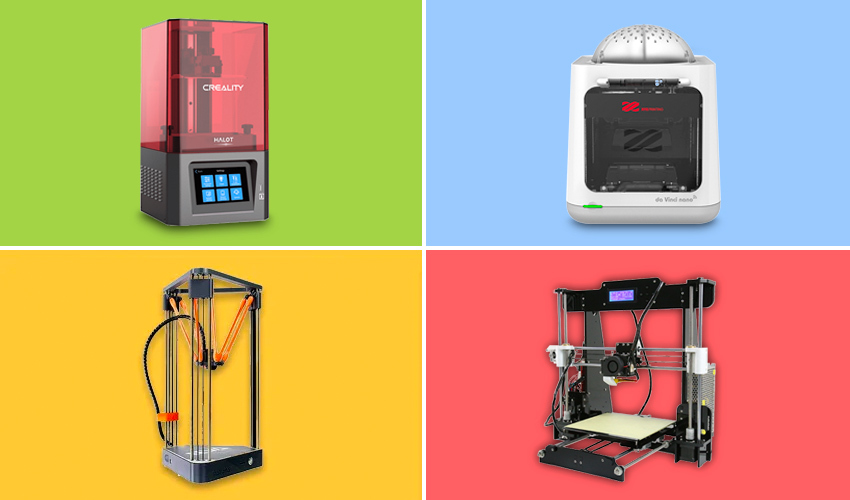 The democratization of 3D printing has led to a meteoric rise in the number of machines available on the market, but above all to a strong competitiveness when it comes to price. It is currently possible to buy a 3D printer for about $100, where even a few years ago it cost $2,000. Now more than ever, it is easier to get a desktop 3D printer and get started without spending a fortune. But with so many cheap 3D printers on the market, which one should you choose? We made a selection of machines, mainly FDM and SLA, at low prices (less than $500), ranked in order of increasing price. Do take note that there are many models: our list is not exhaustive!
The da Vinci Nano 3D Printer from XYZprinting
One of the brands that we could not fail to include in our list of cheap 3D printers is undoubtedly XYZprinting. With a range of more than 20 3D printers, we have chosen the da Vinci Nano, a desktop FDM solution that was launched in 2017. Based in Taiwan, XYZprinting has developed this 3D printer compatible with the company's proprietary PLA and PETG filaments. It features a limited print volume of 120 x 120 x 120mm, a weight of 4.7kg and an enclosed enclosure that offers enhanced security while preventing part deformation. The da Vinci Nano has a print speed of 70mm/s, is compatible with XYZmaker Suite software and accepts stl, 3w, obj, 3mf and many more formats. You can purchase this machine from $199.95 from the manufacturer's website.
Voxelab Aquila
Marketed by Chinese 3D printer manufacturer Voxelab, the Aquila 3D printer series is based on FDM technology. Delivered partially assembled, printers of the series should be easy to install. Compatible with standard thermoplastics, such as PLA, ABS or PETG, they offers a printing volume of 220 x 220 x 250 mm. Easy to use, the machine would be according to the manufacturer very quiet during the printing process, with a sound estimated at 50 decibels. The Aquila is particularly aimed at beginners in 3D printing and is intended to introduce them to the technology. The machine works with Cura, Simplify 3D and VoxelMaker software and like many 3D printers, supports STL and OBJ formats. For those who wish to go further, improved versions of the Aquila exist. On the manufacturer's website, the machine is sold at a price of 160 euros, not including shipping.
A Cheap 3D Printer Kit
Anet Technology is a Chinese company founded in 2015 that offers cheap 3D printers, both resin and FDM machines. Among its range, you've probably already heard of the Anet A8, a 3D printer in kit form that is easy to assemble and use. With a volume of 220 x 220 x 240 mm, it allows all beginners to quickly learn about 3D printing. We can also mention the Anet ET range, especially the Anet ET4 model that was launched in August 2019. It features an end-of-filament detection system, a touch screen and a more generous print volume (440 x 340 x 480 mm). The Anet ET4 machine starts at $189 on the manufacturer's website, or about €167.
The Mini Delta V2 3D Printer from Monoprice
A common favorite among many low-cost 3D printer connoisseurs, the Monoprice Mini Delta V2 3D Printer is available from $199.99. As you might have guessed, the V2 is an update to the already popular Mini Delta from the company, taking customer suggestions in mind. Some of the exciting features include an adaptive touchscreen and an updated and simplified user interface. The company also notes that it has updated the auto leveling system to make start-up faster. Of course, users can still expect the features that were so loved in the previous version, including USB Connections, slicing that is compatible with Cura or open-source software and a small and compact size. The build volume is 110 x 120mm, it is compatible with PLA, ABS, Wood Fill, Copper Fill, Steel Fill and Bronze Fill and can print at a sped of up to 170mm/sec.
Photon Mono, A Cheap Resin 3D Printer
Anycubic is one of the most popular cheap 3D printer manufacturers on the market. It has developed a wide range of products, from FDM models to small machines from the SLA office. The manufacturer recently introduced the Mega X, an FDM solution that can create 300 x 300 x 305 mm parts with a suggested print speed of 60 mm/s. The focus, however, will be on its Photon line, which relies on a light-curing process. One of the most affordable machines is the Photon Mono, which incorporates a monochrome LCD screen to design parts measuring 130 x 80 x 165 mm.  Exposure time is reduced to one second and the manufacturer claims its screen is 4 times more durable than a conventional LCD.  The Photon Mono is available from $199 on Anycubic's website or 175 euros.
Cheap 3D Printers From Creality
Creality is one of the most popular companies when it comes to offering cheap 3D printers. It has several lines of machines that work with different manufacturing technologies, and this time we wanted to highlight three of them. The first and most economical is the Halot ONE, a resin 3D printer based on LCD technology. With a print volume of 127 x 80 x 160 mm, the machine can be purchased for a price of $229. One of Creality's most popular solutions is the Ender 3 v2, capable of printing with a wide variety of materials, such as ABS, PLA and wood, with a print volume of 300 x 300 x 400 mm, a replaceable 0.4 mm nozzle, and a final price of$262. Also worth mentioning is the CR-10 Smart, one of the newest machines in the CR series launched by Creality, which has a higher price of $479.
The X-ONE2 from QIDI Tech
You may have already heard of QIDI Tech, a Chinese manufacturer of both FDM and LCD resin 3D printers, as its X-Pro 3D printer is often listed is one of the most popular cheap machines on the market. It is known for its Turbofan which blows on all four sides, removable plate, dual extruder and breakpoint printing. However, we also wanted to draw your attention to another FDM printer from the company that is gaining popularity on sites like Amazon, the X-ONE2 single extruder 3D printer, available from $249. In this machine, QIDI points to features like the full aluminum frame which provides more stability than plastic and the beautiful colorful appearance. Additionally, it shares features with its sibling the X-PRO, including a built-in turbofan that circulates air around the nozzle, a stable, heated print bed and user-friendly slicing software. The machine is compatible with PLA, TPU and ABS though QIDI notes that more filaments will be coming soon and the build volume is 11.8"x9.8"x11.8"(300x250x300mm)
The Tornado 3D Printer from Tevo
TEVO is also a Chinese manufacturer that develops affordable 3D printers for all makers and 3D printing enthusiasts. One of its most popular models is the TEVO Tornado, a desktop machine that offers a generous 300 x 300 x 400 mm print volume for its price (about 290€). It comes almost fully assembled and is compatible with most plastic filaments on the market, including ABS thanks to the presence of a heating plate. The TEVO Tornado has an aluminum frame that guarantees its stability and an E3D extruder that can reach 260°C.
The Mars 3 From Elegoo
The Mars 3 is the latest 4K LCD printer in the Mars series from Chinese manufacturer Elegoo. Compared to its predecessor, the Mars 2, the Mars 3 is said to have a 30% higher printing accuracy. With an installation space of 143 x 89.6 x 175 mm, the Elegoo Mars 3 has a larger print volume compared to other resin printers with 4K resolution. The device also scores with a chip-on-board (COB) light source and an improved cooling system. The sandblasted build plate ensures models stick and don't fall off prematurely. The Mars 3 is available on the market from $349. Plus point: The CHITUBOX Pro Slicer software is included in the purchase price.
The Sonic Mini 4k from Phrozen
Founded by a group of Taiwanese 3D printing enthusiasts in 2016, Phrozen offers professional and desktop 3D printers. After the success of their first LCD 3D printers, known as the "Phrozen Shuffle", they created a new generation of LCD 3D printers, the Sonic series. Within this line, the Sonic Mini 4k stands out. With a precision level of 35 microns, the 3D printer takes between one and two seconds to solidify a layer. Featuring a 6.1-inch monochrome LCD screen, the Sonic Mini 4k has a print volume of 134 x 75 x 130 mm. If you are interested in the machine, its price is about $349.99.
The Polaroid PlaySmart
Polaroid, the American camera company, has also developed a 3D printer called Polaroid PlaySmart. Launching in 2019, it offers a print volume of 120 x 120 x 120 mm and is based on extrusion technology. The PlaySmart can print with three different materials: PLA, P-Wood and PETG. Equipped with a Wi-Fi camera, the 3D printer allows its users to view the printing process live. The machine is very small, measuring 30 x 27 x 32 cm and weighing only 1 kg. Designed for beginners and 3D printing enthusiasts, the Polaroid PlaySmart costs € 375.
The Original Prusa Mini +
The Original Prusa Mini + 3D printer is the latest desktop machine from Czech manufacturer Prusa, known for the Prusa i3 mk2 and mk3s. With the Mini +, Prusa wants to provide users with a solution that offers the same features as the previous models, while being available at a lower price. Based on the FFF process, the Original Prusa Mini + has a printing volume of 180 × 180 × 180 mm and prints with a layer thickness between 0.05 and 0.25 mm. The machine, which incorporates interchangeable nozzles and a color LCD screen, can be purchased either as a plug & play (available from €419) or as a kit (from €379).
The Finder 2.0 from Flashforge
The Finder 2.0 from Chinese manufacturer FlashForge is designed for 3D printing novices and educators. The 3D printer was also designed for children, and includes a removable print tray for easy cleaning. This FDM printer creates objects with biodegradable PLA, and has a build volume of 140 x 140 x 140 mm. It also features WiFi connectivity and automatically detects when a roll is finished. The printer has 50 micron accuracy and automatic calibration. It is available on the manufacturer's website for a price of $349
The Sidewinder x2 from Artillery
An improved version of the Sidewinder x1, the Sidewinder x2 is a 3D printer from Chinese manufacturer Artillery based on the FFF process. The 3D printer, which comes pre-assembled, offers a print volume of 300 x 300 x 400 mm. With a speed of up to 150 mm/sec, the machine offers a layer thickness of between 0.1 and 0.35 mm. The temperature of the nozzle can go up to 240 degrees Celsius. Compatible with filaments from other manufacturers, the Sidewinder x2 is sold at a price of $469. The manufacturer also offers other budget-friendly 3D printers in its lineup, such as the Artillery Genius and Genius Pro.
Magis by Dagoma, a Cheap French 3D printer
The Magis is the latest version of the French manufacturer's delta 3D printer. It would be even easier to use than its big sister, still with this single button system that allows to start, stop and resume printing. It offers a printing volume of 180 x 200 x 200 mm and a precision of 100 microns. It still integrates its end of filament detection system as well as an automatic calibration of the printing plate. More than 50% of the parts of the small desktop machine are 3D printed. You will find it on the market from 499€.
The Bresser REX
Developed by Bresser, a German manufacturer of technological tools, the Bresser REX 3D printer is aimed at people already initiated to 3D printing but especially at beginners. With a printing volume of 150 x 150 x 150 mm, the machine is based on the FFF process. Equipped with a heated and flexible printing plate, the Bresser REX would be, according to the manufacturer, easy to use, especially thanks to its intuitive touch screen. Compatible with PLA and ABS, the 3D printer offers a printing accuracy of 0.1 mm. Moreover, Bresser specifies that thanks to its compact size, the dimensions of the machine are 400 x 380 x 405, and its relatively light weight, it weighs 9 kg precisely, it is possible to install it in various places. Finally, thanks to the HEPA filter integrated into the 3D printer, the ambient air is guaranteed to remain clean during the entire printing process. For those who would like to buy the Bresser REX, it is sold new for €489 by the manufacturer.
What is your favorite out of our chosen cheap 3D printers? Is there another one you would recommend? Let us know in a comment below or on our Linkedin, Facebook, and Twitter pages! Don't forget to sign up for our free weekly Newsletter here, the latest 3D printing news straight to your inbox! You can also find all our videos on our YouTube channel.