The Types Of FDM 3D Printer
Published on August 5, 2022 by
Alex M.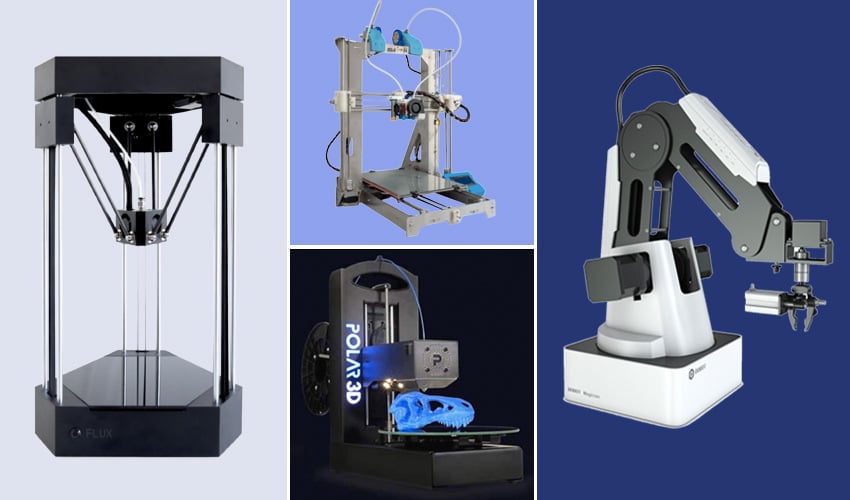 When we talk about 3D printers, a number of 3D technologies might come to mind. If we focus on FDM (fused deposition modeling), we can find different types of interesting machines that aim to achieve different results. As we know, FDM technology is based on the extrusion and deposition of molten material layer by layer on a printing plate. The most common filaments used with this process are PLA and ABS, although other more technical thermoplastics such as PETG, ASA, Nyon, Ultem, etc. can also be used. In this comprehensive guide, you can find out about the differences between Cartesian, polar, delta, hybrid printers, as well as printers which use robotic arms and the general operation of a 3D printer.
Types of FDM 3D Printer
1. Cartesian FDM 3D Printers
Cartesian 3D printers are the most common FDM 3D printer found on the market. Based on the Cartesian coordinate system in mathematics, this technology uses three orthogonal axes- X, Y, and Z- to determine the correct positions and direction of the print head. Depending on the model and manufacturer of the printer, the print platen of this machine will be in charge of the Z axis, allowing the extruder to be positioned on the X and Y axes, so that it can move in four directions.
Two well-known brands in the Fused Deposition Modeling market that use Cartesian technology for their FDM 3D printers are Ultimaker and MakerBot. The main advantage of these solutions is that they are generally inexpensive and are sold as kits to be assembled by the user.
2. Polar 3D FDM Printers
Polar 3D printers' positioning is not determined by the X, Y, and Z coordinates, but by an angle and length. The coordinate sets describe points on a circular grid instead of a square, not determined by X, Y and Z axes, but by angle and length. This means that the plate rotates and moves at the same time, with the extruder moving up and down. These printers are ideal for objects which follow a spiral, such as a plant vase or traffic cone.
The main advantage of Polar FDM 3D printers is they only two engines, whereas Cartesian printers need at least three. In the long term, the polar printer has greater energy efficiency and can make larger objects while using less space. However, polar printers have an inconsistent accuracy; as they rotate in a circle, there is much more accuracy in the centre than in the outer area.
3. Delta FDM Printers
These printers are being seen more and more on the FDM 3D printing market. They operate with Cartesian coordinates. This involves a circular printing plate that is combined with an extruder that is fixed at three triangular points (hence the name 'Delta'). Each of the three points then moves up and down and left and right, thereby determining the position and direction of the print head. Therefore, the manufacturing limits of these machines are defined solely by the diameter of the base and the height of the arms. Delta printers, with a fixed print tray, were designed to speed up the printing process. Another advantage of Delta printers is that they can be resized, without affecting quality. However, they can prove more difficult to calibrate.
4. FDM 3D Printing with Robotic Arms
Robotic arms are most commonly known for assembling components on industrial production lines, especially in large automotive plants. While 3D printing has begun to incorporate robotic arms into their production process, most notably seen in the 3D printing of homes and buildings, this technology still remains in the development stage. Robotic arms are primarily used for the assembly of parts.
Although not a commonly used printing process, this FDM printing method is beginning to see an increase in use. This is because the process is not fixed to a printing plate, making it much more mobile. In addition, thanks to the flexibility when positioning the FDM 3D printer head, it is easier to create complex structures, which are sometimes larger thanks to the length of the arms. It should be noted, however, that the final print quality is still far from that of conventional Cartesian printers, so many companies are working on developing it. Major manufacturers of robotic arms include Kuka and ABB, whose solutions are used by many companies including COBOD and Massive Dimension.
Hybrid 3D printers
Hybrid manufacturing is defined as a combination of additive (3D printing) and subtractive (CNC machining, milling) methods in a single solution. It is a machine that allows the exchange of tools for model creation. In the case of FDM 3D printers that incorporate subtractive heads, most tend to have a Cartesian structure. However, there are other cases, such as the Kraken project, which rely on a robotic arm capable of extruding material, but which also use subtractive methods, making it a hybrid manufacturing project. It should be remembered that any solution that incorporates both technologies will have a higher price tag, although the benefits can be far greater as it expands the capabilities of part creation.
Which type of FFF / FDM 3D printer do you use? Let us know in a comment below or on our Facebook and Twitter pages. Don't forget to sign up for our free weekly newsletter, with all the latest news in 3D printing delivered straight to your inbox!