The 4 Types of FFF / FDM 3D Printer Explained (Cartesian, Delta, Polar)
Published on December 15, 2017 by
Alex M.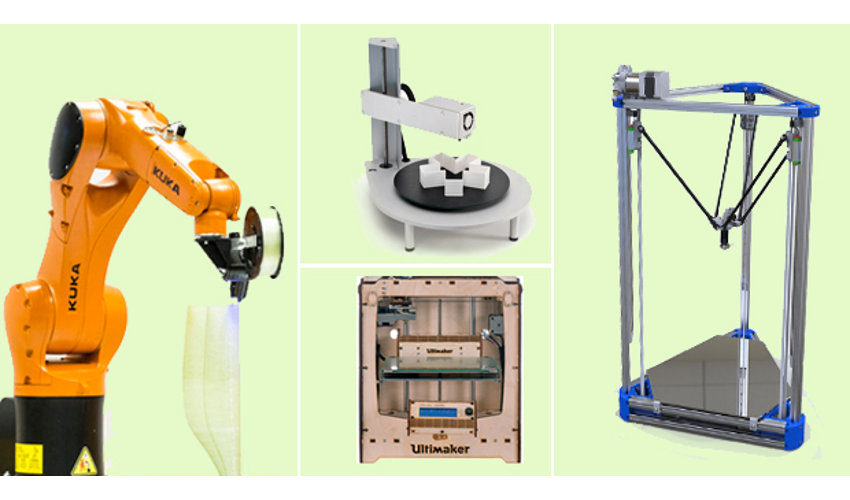 When we talk about the different types of 3D printers, it is usually about the technologies behind it, i.e. Stereolithography, Selective Laser Sintering, or Electron Beam Melting. While there are many technologies, there are also different types of Fused Deposition Modeling, or FDM 3D printer. The technology is also known as Fused Filament Fabrication, or FFF, so we will use both names in this article. Read on to find your best FFF 3D printer based on your current additive manufacturing needs.
Types of FDM 3D printer: Explained
Today, we are going to explore these 3D printers, by explaining the four different types of FDM 3D printer: Cartesian, Delta, Polar and robotic arm. We have also included videos showing how each type works within the Fused Deposition Modeling technology along with our description.
1. Cartesian FDM 3D Printers
Cartesian 3D printers are the most common FDM 3D printer found on the market. Based on the Cartesian coordinate system in mathematics, this technology uses three-axis: X, Y, and Z to determine the correct positions and direction of the print head. With this type of printer, the printing bed usually moves only on the Z-axis, with the print head, working two-dimensionally on the X-Y plane.
Two well-known brands in the Fused Deposition Modeling market that use Cartesian technology for their FDM 3D printers are Ultimaker and MakerBot. It should also be noted that there are some differences in how the printing bed moves; sometimes it moves along the Y-axis, such as seen in the gMax 3D printer.
This video below shows how Cartesian FDM 3D printers work in an Ultimaker 2:
2. Delta FDM Printers
These printers are being seen more and more on the FDM 3D printing market, with a recent addition that was developed by two Swiss students, which consisted of a six-axis 3D printer that was based on the Delta technology. These machines operate with Cartesian coordinates. This involves a round printing plate that is combined with an extruder that is fixed at three triangular points. Each of the three points then moves up and down, thereby determining the position and direction of the print head.
Delta printers were designed to speed up the printing process. However, many believe that this type of printer is not as accurate as a conventional Cartesian printer.
Cartesian and Delta 3D printers aren't hugely different. The difference is only in where each element can move in relation to the print bed. In Cartesian 3D printers, each element can only move in one direction, whereas in Delta 3D printers, the printer head can move in any direction but the print tray doesn't move.
3. Polar 3D FDM Printers
Polar 3D printers' positioning is not determined by the X, Y, and Z coordinates, but by an angle and length. This means that the plate rotates and moves at the same time, with the extruder moving up and down.
The main advantage of Polar FDM 3D printers is they only two engines, whereas Cartesian printers need at least three. In the long term, the polar printer has greater energy efficiency and can make larger objects while using less space.
4. FDM 3D Printing with Robotic Arms
Robotic arms are most commonly known for assembling components on industrial production lines, especially in large automotive plants. While 3D printing has begun to incorporate robotic arms into their production process, most notably seen in the 3D printing of homes and buildings, this technology still remains in the development stage.
Although not a commonly used printing process, this FDM printing method is beginning to see an increase in use. This is because the process is not fixed to a printing plate, making it much more mobile. In addition, thanks to the flexibility when positioning the FDM 3D printer head, it is easier to create complex structures. It should be noted, however, that the final print quality is not as good as conventional Cartesian printers.
Which type of FFF / FDM 3D printer do you use? Let us know in a comment below or on our Facebook and Twitter pages. Don't forget to sign up for our free weekly newsletter, with all the latest news in 3D printing delivered straight to your inbox!