Top 15 Best DIY 3D Printer Kits 2018
Posted On December 5, 2017
---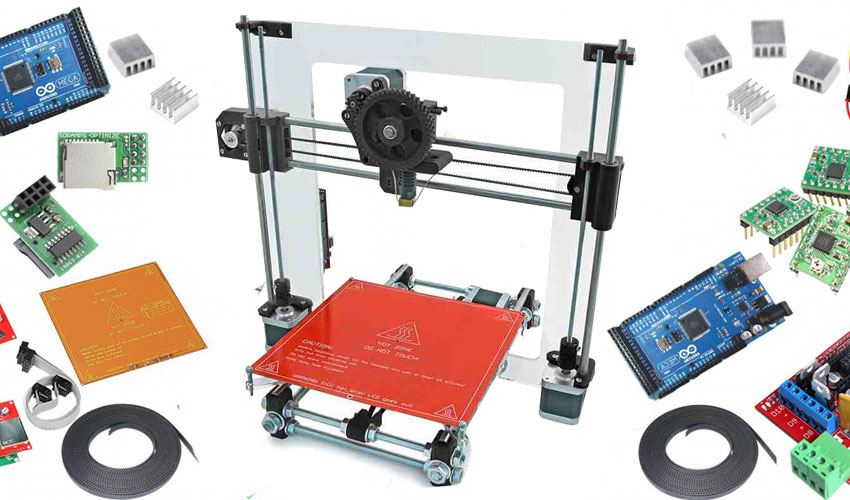 Most FDM 3D printers are now sold as Plug & Play models. However, this wasn't always the case. The origins of these 3D printers trace back to the RepRap project, started by Adrian Bowyer in 2005. This movement still continues today through some 3D printer kits and DIY 3D printer enthusiasts, most notably the Prusa kits. We have already listed the Top 10 Low Cost 3D Printers, but now we have searched for the best DIY and kit 3D printers out there.
1. Sintratec, affordable SLS technology
Based in Switzerland, the Sintratec startup has developed one of the first low-cost 3D printers based on laser sintering technology, a process typically found in the industry. Following a fundraising campaign on Indiegogo in 2014, the firm today markets its machine as a kit. This is the only 3D printer on this list that uses selective laser sintering technologies.
Available for €4,999 (SLS 3D printer are usually around €200,000), the Sintratec Kit is capable of producing PA12 nylon parts with a maximum volume of 110 x 110 x 110 mm. The startup specifies that it requires 4 days to assemble, but that is the price to pay to access laser sintering so cheaply! For more information, visit their site here.

2. Tobeca 3
The Tobeca 3 is the third version of the 3D printer made in France. It is a more ergonomic and more user-friendly version. It has a print volume of 200 x 200 x 250 mm and a print speed of up to 300 mm/s. It's adapted for professional use while remaining accessible to individuals who would like to assemble a 3D printer. Available from €1,920, it will allow the creation of complex pieces with technical materials. For more information click here.
3. Ultimaker Original
Ultimaker's first 3D printer, the Original 3D printer is a model kit that continues to excel, 8 years after its release. Available with or without a hot plate, the 3D printer offered by Ultimaker has a decidedly retro style with its wooden frame.On the performance side, the Ultimaker Original offers an accuracy of 20 microns on all 3 axes, a top speed of 300 mm/s and a generous volume of 210 x 210 x 205 mm. It benefits from the huge open-source community of the manufacturer and is a real option for 3D Plug & Play printers. The Ultimaker Original starts at a price of €1,195. You can compare the Ultimaker Original's specs in our Comparator here. In addition, you can compare all of Ultimaker's 3D printers here.
4. The Rostock Max v3 – and its extraordinary capacity
In 2015, American magazine Make the Rostock Max v2 ​​3D printer #1 in the "Best Value" category. The delta printer was born through a crowdfunding campaign on Indiegogo. According to its manufacturer, it requires twenty hours of assembly.
The American company has since unveiled a new version, the Rockstock Max 3. The new version assembles in 10 hours, twice as fast as the original. It has a very large print volume, 25 cm in diameter and 40 cm in height and reaches a printing speed of 300 mm/s. It is marketed by the firm SeeMeCNC from $924. You can compare the specs of the Rostock Max V3 in our Comparator here.
5. The Kiwi 3D
With its fairing and integrated LCD, we would tend to think that the Kiwi 3D is a pre-assembled 3D printer. However, it is a kit! Created by the manufacturer ShareBot, the 3D printer is available at a price of €899.
Despite a small manufacturing volume of 140 x 100 x 100 mm, the Kiwi 3D builds on the experience of the Italian firm and is a good candidate for budding makers. Capable of printing 100 micron layers, it is also available in assembled version. For more information, click here.
6. BQ Hephestos 2, assembled in less than an hour
After having developed many high-tech products (smartphones, tablets, etc), Spanish manufacturer BQ first entered the 3D printing market in 2013 with the Witbox. Recently, they unveiled the Hephestos 2, a 3D printer kit which is an improved version of the legendary Prusa i3.
With a production size of 210x297x220mm, the Hephestos 2  is capable of printing 50 micron layers at 200mm/s. It is east to assemble (less than two hours depending on the manufacturer) and at €929.90 make it the perfect kit to start 3D printing. A cheaper version, the Hephestos 1, is also available from €629.90. You can compare the Hephestos 2 in our Comparator here. In addition, you can compare all BQ 3D printers here.
7. Bukito Kit, the portable 3D printer
The Bukito 3D printer from Deezmaker originated on the Kickstarter crowdfunding platform and is based partly on the open-source Vhold System. Its handle and weight of just 2.6kg makes the Bukito Kit an easily transportable machine.
With its very particular structure, the Bukito Kit is able to print minimum layers of 50 microns and has a manufacturing volume of 125x150x125mm. It is currently priced at $749 but its assembled version is available starting at $699. For more information click here.
8. Creality CR-10
The CR-10 is a desktop 3D printer made by Chinese 3D printer manufacturer Creality. This popular, low-cost 3D printer can print in ABS, PLA, PETG, and a range of other materials such as wood. The Creality CR-10 prints at 80 mm/s, and has a heavy aluminium frame making the frame strong.
The CR-10 needs to be assembled when bought, though this is easy and only takes around 45 minutes. It is an FDM 3D printer with a max build volume of 300 x 300 x 400mm and is compatible with all major operating systems like Windows and Mac OS. The printer is fairly heavy, at approximately 13kg.
9. The Vertex
The Vertex 3D printer is produced in the workshops of the Velleman manufacturer, who are a reputable company in the electronics sector founded in the 1970s. It is one of the few printers to offer a transparent chassis, and includes a glass tray and double extruder option.
With printing dimensions of up to 180 x 200 x 190 mm for a layer thickness of between 50 and 200 microns, it's a solid option. The single-extruder version is available at €599. Compare the Vertex's specs in our Comparator here.
10. The Prusa i3 Rework 1.5
The Prusa i3 was created by Czech manufacturer Josef Prusa and according to 3D Hubs, is the world's most popular 3D printer. It is an open source RepRap printer, so anyone can rework it as they wish. It has also been the subject of several different versions in France, the best known being that of RepRap France. Their 3D printer, the Prusa i3 Rework 1.5, offers a thickness of 100 microns and a print volume of 195x192x185mm. It is available from €550 and requires between 8-10 hours of assembly. Compare the Prusa's specs in our Comparator here.
11. The Prusa i3 steel version
Another 3D printer inspired by the model of Josef Prusa is the version with a 3mm thick steel frame. The key to this 3D printer is that it is even more stable, sturdy and easy to install.
With its hot plate, the open-source 3D printer is able to print several types of filaments and objects with a maximum size of 200 x 200 x 180 mm with a resolution of 100 microns. It is available from €499. More information regarding Prusa i3 Steel is available HERE.
12. The Scalar S, the expandable 3D printer
The French 3D Modular Systems is the origin of the Scalar model, available in 3 different versions: small (S), the large (L) and very large (XL). The Scalar S already offers a print volume of 200x200x200mm with a layer thickness of 50 microns. It is available as a pre-assembled kit from €449.50. It is also possible to choose its heating head and a heating plate if necessary. The Scalar S has a modular chassis and robust mechanics, ideal and affordable solution for all prints. More information here.
13. The MicroDelta Rework
The MicroDelta Rework is the new version of the Micro Delta 3D printer designed by the Toulouse eMotion Tech. Equipped with a rigid structure with two steel blocks, the kit printer can be assembled in 3 hours according to the manufacturer, with around 200 pieces to assemble. Available with or without a heating plate, MicroDelta Rework offers a print volume of 150 mm in diameter and 200 mm in height.
If one looks at its performance, it has layer thickness of 100 to 350 microns and can reach a print speed of 200 mm/s. It is available from €400 with the possibility of adding options.
14. The DiscoEasy 200, one of the cheapest on the market
With a price of €299 (€399 for the assembled version), French manufacturer Dagoma's DiscoEasy 200 is one of the most affordable DIY printer kits. Supplied with an SD card, an inductive probe (for levelling the tray) and several components printed in 3D, it requires less than one day's assembly.
Despite its appearance, the DiscoEasy 200 offers decent print volume of 200 x 200 x 200 mm. In addition it offers 100 micron layer thickness, 50 micron XY positioning and a maximum print speed of 100 mm/s. More information here.
15. Printrbot Smalls
The Smalls 3D printer is as its name implies; small, versatile and portable. This is ideal for enthusiasts who are on a tight budget. It was manufactured by American company Printrbot and is fully customizable. For example, you can enlarge the print volume which is 100 x 100 x 130 mm by default. Available from $298, it is the cheapest 3D printer in our selection. Compare the Printrbot Small's specs in our Comparator here.
Did we include your favourite DIY 3D Printer? Let us know in a comment below or on our Facebook and Twitter pages! Don't forget to sign up for our free weekly Newsletter, with all the latest news in 3D printing delivered straight to your inbox!
---
You may also like