SHINING 3D on the Importance of Digital Dentistry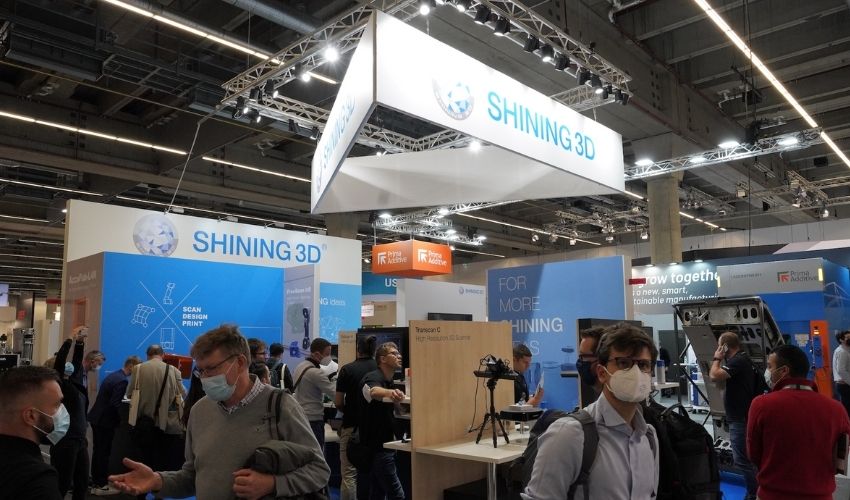 3D scanners have found their way into many different sectors. One industry that has especially embraced them is dentistry. Thanks to 3D scanning, dentists can create fully customizable retainers and prosthetics for their patients. This can be done with either intraoral 3D scanners, scanners which go directly in a patient's mouth to scan directly, or 3D dentist lab scanners which scan impressions. One of the leading companies in the arena of 3D digital manufacturing and digital dentistry is SHINING 3D. We spoke with Sunny Wong, the Managing Director of Overseas Business at SHINING 3D to learn more about their solutions, the impact of the COVID-19 crisis and how scanning can be used in the dental sector, especially after the pandemic.
3DN: Could you introduce yourself and SHINING 3D?
My name is Sunny Wong and I am the Managing Director of Overseas Business at SHINING 3D. Founded in 2004, SHINING 3D is a scientific and technological innovation enterprise focusing on high-precision 3D digitizing solutions with both hardware and software based on computer vision. SHINING 3D develops, manufactures and markets dental digitizing and professional 3D scanning equipment, software and 3D printers. SHINING 3D is committed to providing digital dental solutions, with intraoral 3D scanners and cloud service platform as the entrances, for dental visual consultation, restoration, orthodontics, implantation, and aesthetics, as well as high-precision 3D digitizing solutions of design and inspection in the fields of industrial manufacturing, cultural creativity, medical precision, education, scientific research and so on. SHINING 3D is dedicated to becoming an international influence enterprise, promoting the popularization of the high-precision 3D digital technology in diversified applications to all the users on a global scale.
3DN: Many industries were impacted by the COVID-19 crisis, was SHINING 3D? What changes did you make as a company?
One of SHINING 3D´s core missions is to create highly efficient and accessible digital manufacturing solutions. We develop our products by listening to our customer's needs while at the same time strictly monitoring cost in the development process. When everything shut down in 2020, we were able to deliver solutions to keep people working remotely and with less contact with other people. During COVID times, although there are lot of new challenges on the supply chain, we continued to develop and deliver several new models of our scanners and printers.
In terms of changes, especially in the development of AoralScan 3, we focused on how to develop the device for as little patient-doctor contact as possible. We create the solutions our customers are asking for and we develop solutions to meet their needs, not just random stuff. Versatility is crucial for us, we have multi-functional and hybrid light 3D scanners to meet different applications, combined with software bundles.
3DN: Could you tell us a bit more about your latest solutions, notably the Hybrid 3D scanner series and FreeScan UE?
First we have our hybrid 3D scanner series. Hybrid structure light source technology integrates LED structured light and invisible infrared light into one device. It also allowed us to add advanced smart pre-setting in different scan modes allows 3D scanning for a broad range of applications, therefore promoting the popularization of portable 3D scanning technology. The invisible infrared light source provides a reliable solution to the problem of scanning dark-coloured objects and enables an easy scan of human hair, human face scanning is also more comfortable without strong light. It can be used to help users in the development and generation process of orthotics and prosthetics as well as other applications. With a built-in color camera and large field of view, EinScan H provides high quality 3D data with full color that is ready-to-use in minutes. It was developed based on the feedback of medical customers. Meanwhile, the Einscan HX is the first hybrid scanner of its kind, it combines structured light and laser together in one handy device without any limitations in accuracy and precision. The hybrid scanners open up a new range of applications due to the combination of different light technologies.
FreeScan UE inherited the high accuracy and high precision from the metrology product line, its robust and lightweight design empowers our most professional users to scan objects accurately and comfortably due to its ergonomic design. Also, the unique temperature control in the scanner allows the user to scan in the most challenging environments, thus obtaining the most accurate 3D data for all kinds of different objects.
3DN: SHINING 3D is especially known for its contributions to digital dentistry, especially in intraoral scanning. Could you tell us a bit more about your solutions/work in this sector? How is scanning useful for the dental industry?
What SHINING 3D is able to provide for dental technicians and dentists all over the world is a complete and integrated digital solution. It's complete, because with our 3D scanners and 3D printers are connected to the best performing cad software on the market. With them, it is possible to go through the entire digital workflow, from the acquisition of the original clinical situation of the patient, to the planning and design of the restoration, till the creation of the prosthetic tool for the completion of the treatment. It's an integrated solution because all our hardware and software are connected to each other in a step-by-step workflow where both expert and non-expert users can find the most ideal solution to develop a clinical and technical case.
By using 3D scanners to acquire data and detailed information about clinical situation of the patient, dentists and technicians can have smoother and more effective communication. Moreover, the restoration's planning and design can be more accurate and more suitable for the specific needs of every single patient. As a result, the production of prosthetics can be done in a quicker and more accurate way and will bring to a higher satisfaction of the patient who is after all the final and most important ring of this chain.
The trend of the last few years shows a constant growth of digital dentistry solutions adopted in clinics and labs all over the world. And most of all now, in the Covid time, when the use of more accurate and safer solution is becoming a more and more urgent need, digital dentistry represents the key to reach higher standards and better results for the mutual satisfaction of professionals and patients.
We keep innovating and upgrading our technology based on the feedback from thousands of creative and friendly users from different countries, in return, we continuously offer software updates for free to all users.  Together with our customers, we experience the rapidly growing demands for high performance 3D digital technology, and explore the potential of real 3D model in more and more applications. The dental industry is a benchmark for such a digital application trend.
To date, we have more than 10,000 lab users, benefiting from the integration of SHINING 3D scanner in their everyday digital workflow. But also, we provide 3D scanning technology for dental clinics.  Our first intra-oral scanner was developed in 2015. However, we decided not to bring it to market due to the fact that, spray was still needed with that model to efficiently capture data. So, we decided to move to the second generation, 4 years later, we successfully launched the AoralScan 2 in the 4th Quarter of 2019.
Since then, over 4000 Aoralscan 2 scanners have been installed worldwide, proving its capability, to assist clinics' service in a digital manner. It has been applied in restoration, orthodontics, and implantology. However, on many clinic users' feedback and suggestions, we upgraded our technology and product to a new milestone. In September this year, during IDS Germany, we launched our third-generation intra-oral scanner—Aoralscan 3, which is lighter, faster and more accurate, it's the most powerful intra-oral scanner we ever made. Meanwhile, we have developed a bunch of new software features for it.   SHINING 3D also offers the self-developed high-precision stereolithography 3D printer AccuFab-L4K to provide a full solution for digital dentistry workflow. We believe the digital dental solution could bring more benefit for improving the workflow of the dentist, dental labs and patients.
3DN: Any last words for our readers?
Despite the difficult Covid period, which brought a lot of new challenges, SHINING 3D will keep up with technological innovations for high precision 3d digitizing solutions in both hardware and software. Additionally, thanks to all the feedback from our users, we will keep improving the user experience, offering more creative products, solutions, efficient support and service to all our users worldwide. You can find out more at our website HERE.
What do you think of the scanning and digital dentistry solutions proposed by SHINING 3D? Let us know in a comment below or on our Linkedin, Facebook, and Twitter pages! Don't forget to sign up for our free weekly Newsletter here, the latest 3D printing news straight to your inbox! You can also find all our videos on our YouTube channel.
*Cover Photo Credits: SHINING 3D