The Top Professional 3D Scanners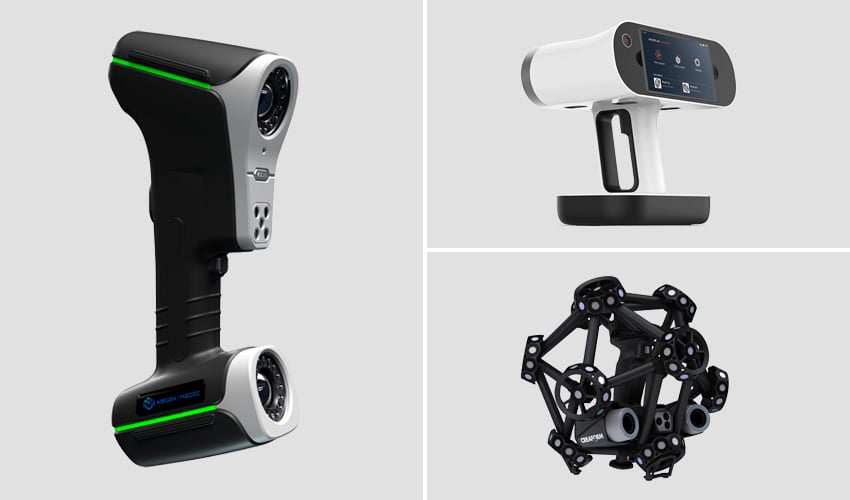 3D scanning technologies allow you to analyze a real-world object to collect data about its shape and appearance. This data is used to obtain 3D digital models. For the additive manufacturing industry, 3D scanners have become an important tool in the process of designing and modeling a part, which can be obtained from this method of scanning. In addition, there are different types of 3D scanners on the market that, depending on the integrated technology and the needs of each application, target different users. Previously we have seen several listings with low-cost 3D scanners, intraoral 3D scanners or 3D scanners for dental laboratories. However, many users and companies are looking for solutions with higher accuracy, resolution or capture speed for advanced applications. For this reason, today we bring you a compilation of the most outstanding professional 3D scanners on the market, sorted by manufacturer.
Artec 3D – Artec Leo
Artec 3D is a key player in the 3D scanner market, offering a wide range of scanning solutions for all kinds of needs. Included in their catalog is the Artec Leo professional 3D scanner, the first wireless device on the market. Equipped with a touch screen and battery, it is totally mobile and does not require the use of a laptop during the scanning process. Lightweight and practical, it offers 3D point accuracy down to 0.1 mm and a working distance of between 0.35 and 1.2 m. Whether for reverse engineering or quality control applications, or for use in the design, healthcare or industrial sectors, the Artec Leo professional 3D scanner offers many advantages. It is currently available from 34,800 euros.
Creaform – MetraSCAN 3D
Another professional 3D scanner we would like to highlight is the MetraSCAN 3D from Creaform. Creaform has made a name for itself in the sector for its portable scanning solutions and the MetraSCAN 3D is the culmination of that. It has been designed specifically for manufacturing and metrology professionals with a focus on speed, accuracy (around 0.025 mm) and versatility. And though the price may be a bit steep (starting around $93,000), it makes up for it with features including being able to withstand any production environment as well as be able to perform highly accurate and repeatable metrology-grade measurements and 3D geometrical surface inspections. It also has a large scanning area with 15 laser crosses and a high measurement rate of 1,800,000 measurements/second. The scanner is compatible with VXelements, a fully integrated 3D scanning software program and the company claims it is easy to set up, even for beginners.
EviXscan – 3D Optima+M
The EviXscan 3D Optima+M is the successor model of the Heavy Duty Optima. It differs from this previous model in an improved scan size and scan time. The scan time of the Optima+M is 1.2 seconds and the size is now 320 x 190 x 120mm, which is 43% larger than the Heavy Duty Optima. The EviXscan 3D Optima+M is suitable for creating CAD files based on the manufactured scans. It can also be used for non-contact quality control and rapid prototyping of medium-sized objects, and for reconstruction of damaged parts. Two powerful high-speed 7 Mpix cameras and the projector with improved light intensity make it possible to scan objects that are difficult to measure. The Optima+M guarantees high quality scans of details ranging in size from 7cm up to 100cm and with an accuracy of up to 0.009mm.
Faro – Freestyle 2
The Faro Freestyle 2 is a handheld 3D scanner that does not require bulky accessories and long cables. It can be operated with one hand only. Thus, the Faro Freestyle 2 enables scanning of complex objects and in difficult-to-access or confined spaces. In addition, handheld operation allows for great mobility. The scanner captures the scene quickly, accurately and completely. The scan results can also be read immediately in real time on the display. Although the Faro Freestyle 2 was designed for daylight scanning, it also delivers promising results in the dark. Within a distance range of 0.4m to 5m, the scans are very precise. The range can be up to 10m, although loss of detail is to be expected. The accuracy depends on the distance. At 1m distance the accuracy is 0.5mm at 5m it is 5mm and at 10m distance it is still 15mm. The scan volume is 39.5 m³ at 5m maximum range. The Faro Freestyle 2 weighs only 1.48kg and despite its small size and light weight, it is a versatile professional scanner for multiple uses.
Mantis Vision – F6 SMART
The F6 SMART from the Israel-based manufacturer, Mantis Vision is a laser 3D scanner, handheld and portable. The manufacturer claims that this 3D scanner is appropriate for a range of applications, from architecture, engineering, construction, automotive, virtual reality and more. It presents a resolution of 1 mm and can capture up to 640,000 points per second. It is meant to scan big objects and large areas from short to far ranges (between 0.5 meters and 4.5 meters). The starting price is around $15,000.
peel 3d – peel 3
The peel 3 handheld scanner from Canadian manufacturer peel 3d is an affordable, professional-level 3D scanning solution that promises high-level performance. The scanner features an ultra-ergonomic handle and a multifunctional, intuitive LCD touchscreen that can also be used as a remote meter to easily scan, without the aid of a computer. In addition, peel 3, through vibrations, can guide the user when scanning narrow and hard-to-reach places. The fields of use of peel 3 range from engineering, art and cultural heritage preservation, education, medical studies and beyond. The 3-D scanner comes with peel.OS, a highly simplified data acquisition software that enables processing and export of 3-D scan data. The launch price is $8,490.
Scantech – KSCAN-Magic
The KSCAN-Magic series from Scantech is a powerful handheld 3D scanner that can be used for a wide range of industrial and specialized applications. The scanner features both infrared and blue-light lasers which can be used across five different operating modes. The multispectral scanning capabilities only add to its performance as it can achieve accuracy up to 0.02 mm in a scanning area of 1440 mm × 860 mm up to a range of 925 mm (3'). The base model KSCAN-Magic is capable of scanning up to 2.7 million measurements per second, while the MagicII model brings that up to a staggering 4.15 million measurements per second. Despite the heavy-duty hardware inside, the device is still lightweight enough to be used in one hand and the connection doesn't require any specialized cables, as it comes equipped with a standard USB 3.0 jack. Rest assured, the contents are safe from the elements within an industrial-grade protection cover but for acquiring a device, price is only available upon request.
SHINING 3D – EinScan HX
The EinScan HX is a professional scanner from Chinese giant SHINING 3D. It is capable of capturing objects accurately and quickly with a processing speed of 1,200,000 points per second and combines structured light and blue light scanning technology to deliver accurate scanning results. In addition, the scanner is equipped with a hybrid laser and LED light source, allowing it to reliably digitize objects of all sizes, shapes and colors with a minimum dot pitch of 0.05 mm and accuracy of up to 0.04 mm in laser mode. According to the manufacturer, the EinScan HX is suitable for both beginners and experts and offers a particularly user-friendly application.
ZEISS – ATOS Q
The ATOS Q from the ZEISS Group is a flexible 3D scanner for complex industrial measurement and inspection tasks. It enables accurate scanning results even under harsh conditions in production and is dust and splash-proof. At the same time, the scanner works with a Blue Light Equalizer, enabling high-speed strip projection. This makes the ATOS Q an extremely powerful device for fast and precise measurement with 8 million measuring points per scan of small to medium-sized components. In addition, the scanner can also be used semi-automatically in combination with a tripod or table stand, making it versatile.
Which of these 3D scanners would you choose? Let us know in a comment below or on our LinkedIn, Facebook, and Twitter pages! Don't forget to sign up for our free weekly Newsletter here, the latest 3D printing news straight to your inbox! You can also find all our videos on our YouTube channel.