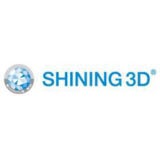 SHINING 3D, founded in 2004, is pioneering independent research and the development of 3D digitizing and additive manufacturing technologies. SHINING 3D is well-positioned in the market and has the capacity to manufacture 3D products at a large scale, offer powerful 3D digital technologies, and provide strong support service worldwide. SHINING 3D's mission is to improve the efficiency of high-quality 3D modeling, to enable flexible production of high performance, complex structure parts, and to make 3D digitizing and additive manufacturing technologies accessible to all; from large multi-national corporations worldwide to at home hobbyists.
SHINING 3D: providing solutions from 3D digitizing to AM
The company provides solutions covering "3D Digitizing – Intelligent Design –Additive Manufacturing" for industrial manufacturing, healthcare & life science, product customization and education, and many more. SHINING 3D promotes the 3D digital solution at a large scale by offering from end-to-end, easy-to-use and cost-effective products. SHINING 3D has demonstrated a strong international influence with customers in more than 70 countries in Asia Pacific, North America, South America, Europe, Middle East and Africa.