The Top Intraoral Dental 3D Scanners on the Market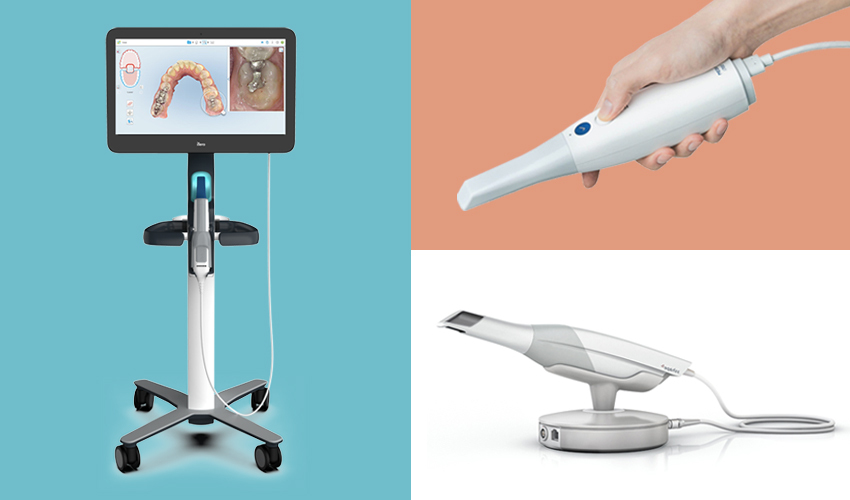 It is no secret that 3D technologies, and especially 3D scanners are becoming increasingly important in the dental sector. Recently, we covered the top dental lab 3D scanners, larger scanners that are used, as the name suggests, by dental labs to make the appliances from a premade impression. Though these are still probably the most popular scanners for 3D printing in the dental industry due to their greater accuracy, there is another type of dental scanner that we would be remiss to not cover: intraoral scanners. Intraoral dental 3D scanners are small handheld scanners that go directly into the patient's mouth to examine the inside as well as to scan the teeth directly. They are significantly faster than impressions as the scans can be processed immediately, meaning they can be used to skip the impression stage. To help understand the options available to users, we have compiled a list of the available intraoral 3D scanners on the market in alphabetical order.
AORALSCAN from Shining 3D
The AORALSCAN is the intraoral dental 3D scanner offering from well-known 3D digitizing and AM technologies company Shining 3D. According to the manufacturing, the AORALSCAN is notable for its easy operation as well as its intelligent scan (a self-developed scanning software that integrates rich data processing functions for higher-quality digital impression) and realistic color. Additionally, it is powderless, meaning that there is a simplified process and improved patience experience. Data optimization is the main draw for this intraoral scanner, with AI helping to identify and delete extraneous data. Scanning is video-based with a speed of 15fps. Ideal operation will occur between 50°F – 104°F (10°C – 40°C) with Shining 3D warning that accuracy will be affected outside of those ranges. The scans can be exported as both STL and OBJ files.
CERECT PRIMESCAN from Dentsply Sirona
Dentsply Sirona is the industry-leading manufacturer of dental products. The company's product range also includes the CEREC Primescan, which is one of the most innovative intraoral scanners on the market. The device is capable of processing more than 1 million 3D points per second – at depths of up to 20 mm. Dentists are said to be able to easily digitize hard-to-reach areas with the CEREC Primescan. The Primescan comes with a variety of sleeves, including autoclavable and disposable sleeves, which are said to ensure hygienic handling. An integrated touchscreen and touchpad guarantee easy operation. Thanks to the intelligent software, up to 50,000 images per second can be processed and, in combination with the CEREC software, an automated workflow is achieved, which makes it possible, for example, to produce full-zirconium restorations in just one session. According to the manufacturer, dentists will thus benefit from a complete chairside workflow.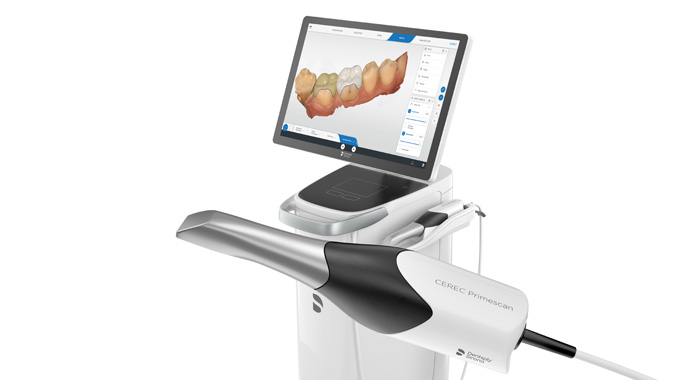 CS 3600 by Carestream Dental
American manufacturer Carestream Dental has developed a whole workflow around 3D scanning in the dental field, whether via desktop, intra-oral scanners or dedicated software. The model we are interested in is the CS 3600 intra-oral 3D scanner: on the market since 2016, it is a solution that can digitize all the data of a patient quickly and efficiently. Only weighing 325 grams (about 11.5oz), the scanner is very easy to handle. The CS 3600 uses an LED light and has a field of view of 13 x 13 mm. Two tips are offered with the scanner; depending on your needs, you can change them very easily.  Finally, the intraoral scanner works with the CS Model software that will allow you to create digital models, save your 3D scans and edit them.
Condor Intraoral Scanner
Founded in 2010, Belgian company Condor Technologies NV specializes in the development, production and distribution of its intraoral scanner called Condor. According to the manufacturer, the Condor stands out from other intraoral scanners on the market: it has a unique software-based technology that enables hyper-realistic colors and a small size. In fact, it is said to be the world's smallest intraoral scanner, which is also available at an affordable price. Last but not least, the continuously improved software is available free of charge.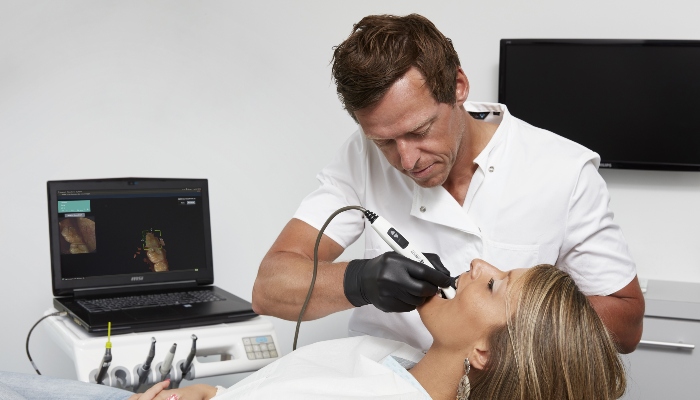 Emerald S from Planmeca
Founded in 1969, Planmeca is a Finnish dental equipment manufacturer that offers 3D scanners, CAD solutions and software. The model we are interested in today is the Planmeca Emerald S, an enhanced version of the Planmeca Emerald intraoral scanner. Compact and weighing only 229 g, the Planmeca Emerald S has been designed to be ergonomic and thus fit in users' hands. Equipped with red, green and blue lasers, the 3D scanner captures prints in realistic colors. According to the manufacturer, it can scan a full arch in less than a minute. Finally, the Planmeca Emerald S comes with additional tips: the SlimLine tip, which is thinner and designed to facilitate access to posterior teeth, while the Cariosity transillumination tip is designed to detect caries.
 iTero Element 2 from Align
The next intraoral dental 3D scanner on our list is the iTero® element™ from the global dental company Align. The iTero® element™is two formats are available: a mobile version, the iTero® element™ 2, and a stationary unit, the iTero® element™ Flex 2. Within just 60 seconds, Align's devices can produce a sharp, high-resolution 3D scan of a complete dental arch. Integrated side buttons and a touchpad for user interface control enhance handling and ease of use.
Medit i700 from Medit
The Medit i700 is one of the most recent intraoral dental 3D scanners to enter the market, in fact, it was just launched in April of this year, 2021. It stands out for making the scanning experience more comfortable for both the dentist and the patient. Compared to its predecessor, the Medit i500, the i700 is 25% smaller and 12% lighter (245g). In addition, the 3D scanning speed is up to twice as fast and features a deeper scanning depth as well as a quadrupled color expression quality. It also integrates full-arc accuracy of 11 microns, which is key to unlocking the full potential of a clinic. Its ease of use and ergonomics make it easy to incorporate the Medit i700 scanner into any dental workflow.
TRIOS 4 by 3Shape
3Shape is another well-known scanner manufacturer in the dental industry. Though they have lab options, their intraoral scanner line is often mentioned as one of the best in the sector. The TRIOS series is made up of 3 intraoral scanners: TRIOS 4; TRIOS 3; and TRIOS 3 Basic. TRIOS 4 is the most advanced offering from the company, using LED light and weighing only .8lbs (375g). Furthermore, it has a variety of interesting features, it is available in both wireless and wired forms, boasts improved Wi-Fi connection and has instant-heat smart tips and extended battery life. It also has Caries diagnostic aid, though note that this has not yet been cleared for clinical use by the FDA.

Virtuo Vivo from Dental Wings
Dental Wings was founded in 2007 in Canada and now markets its dental products in 70 countries for practitioners, clinicians and laboratories. Among its range of solutions is the Virtuo Vivo intraoral scanner, which is reminiscent of a pen – it is also lightweight at 4.6oz (130g). It is able to scan the data of the patient's mouth from all angles, both teeth and tissues. The scanner is equipped with a luminescent ring and a sound signal system to warn the practitioner that the data has been digitized. The data is then sent to the 3D software, which verifies its quality.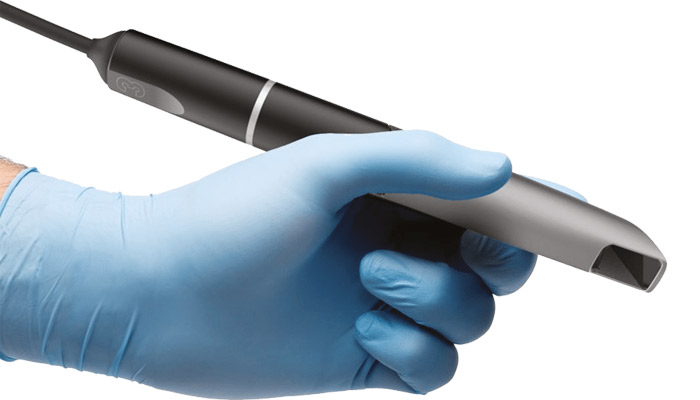 What do you think of our list of intraoral dental 3D scanners? Are we missing any? Let us know in a comment below or on our Facebook, Twitter and LinkedIn pages! Sign up for our free weekly Newsletter here, the latest 3D printing news straight to your inbox!