Desktop Metal goes public, becoming the only listed pure-play AM 2.0 company
Published on August 27, 2020 by
Aysha M.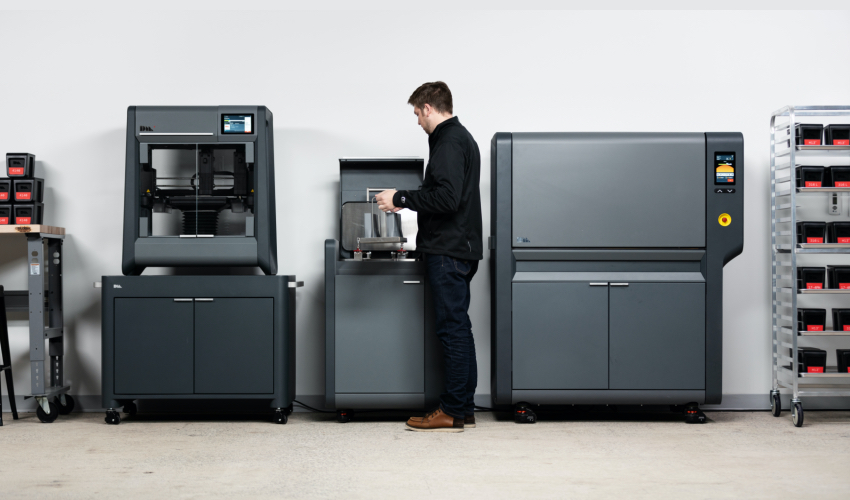 Desktop Metal is a leader in mass production additive manufacturing solutions, offering the fastest metal 3D printing technology on the market – up to 100x the speed of legacy technologies. Yesterday, Desktop Metal announced it will become a publicly listed company in order to accelerate its growth trajectory within the rapidly growing AM market. The company has signed a definitive agreement with Trine Acquisition Corp., a special purpose acquisition company, and HPS Investment Partners, a global credit investment firm with over $60 billion in assets under management.
The additive manufacturing industry grew at a 20% annual compound rate between 2006 and 2016 before accelerating to 25% compound annual growth over the last 3years, a rate that is expected to continue over the next decade as the market surges from $12 billion in 2019 to an estimated $146 billion in 2030. This market inflection is being driven by a shift in applications from design prototyping and tooling to mass production of end-use parts, enabled by the emergence of what Desktop Metal refers to as "Additive Manufacturing 2.0," a wave of next-generation additive manufacturing technologies that unlock throughput, repeatability, and competitive part costs.
Based in Burlington, Massachusetts, Desktop Metal is accelerating the transformation of manufacturing with an expansive portfolio of 3D printing solutions, from rapid prototyping to mass production. Founded in 2015, the company was selected as one of the world's 30 most promising Technology Pioneers by the World Economic Forum and named to MIT Technology Review's list of 50 Smartest Companies. Now, with cash on hand after giving effect to the recent transaction, Desktop Metal will capitalize on its position at the forefront of Additive Manufacturing 2.0 by accelerating the company's rapid growth and product development efforts.
Desktop Metal has distribution in more than 60 countries around the world and broad adoption from leading companies spanning array of industries, including automotive, consumer products, industrial automation, medical devices, and aerospace & defense. The company's broad product portfolio includes the Studio System™, an office-friendly metal 3D printing system for low volume production, the new Shop System™ for mid-volume manufacturing and its continuous fiber composite printer, Fiber™, both of which are expected to ship in the fourth quarter of 2020. The company's Production System™ is designed to be the fastest way to 3D print metal parts at-scale, achieving print speeds up to 100x faster than legacy technologies and delivering thousands of parts per day at costs competitive with traditional manufacturing.
Co-founder, Chairman & Chief Executive Officer of Desktop Metal, Ric Fulop, commented "Our solutions are designed for both massive throughput and ease of use, enabling organizations of all sizes to make parts faster, more cost effectively, and with higher levels of complexity and sustainability than ever before. We are energized to make our debut as a publicly traded company and begin our partnership with Trine, which will provide the resources to accelerate our go-to-market efforts and enhance our relentless efforts in R&D."
Leo Hindery, Jr., Chairman & Chief Executive Officer of Trine added, "After evaluating more than 100 companies, we identified Desktop Metal as the most unique and compelling opportunity, a company that we believe is primed to be the leader in a rapidly growing industry thanks to their substantial technology moat, deep customer relationships across diverse end-markets, and impressive, recurring unit economics. Ric has put together an exceptional team and board of directors with whom we are excited to partner to create the only publicly traded pure-play Additive Manufacturing 2.0 company."
What do you think about Desktop Metal going public? Let us know what you think in a comment below or on our Facebook and Twitter pages! Don't forget to sign up for our free weekly Newsletter, with all the latest news in 3D printing delivered straight to your inbox!