#TALK3D: Interview with Ric Fulop, CEO of Desktop Metal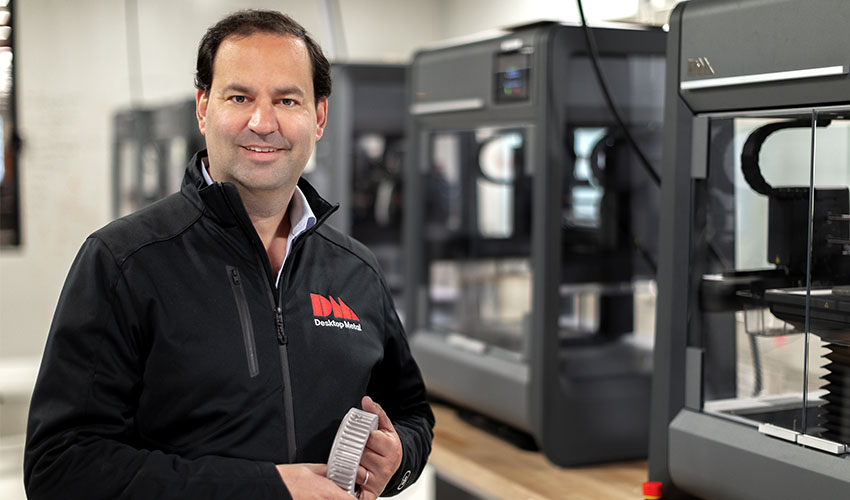 Since its beginnings, the company Desktop Metal has been making a lot of noise in the world of 3D printing and beyond. Founded in October 2015, the company designs, manufactures and markets metal additive manufacturing systems that are revolutionising metal fabrication. Desktop Metal has raised an impressive $438 million in equity funding from investors such as Google, BMW and Ford over the past four years. We thought it was only fitting to have our first #TALK3D interview with Ric Fulop, CEO and Co-Founder of Desktop Metal, to learn more about his disruptive company!
A Brief History of Desktop Metal
Desktop Metal was founded in 2015 with one mission: to make metal 3D printing accessible for engineering teams. In other words, the company's aim was to develop a process for metal 3D printing that would be fast and small enough for office settings. It all started back in 2013, when Ric Fulop began collaborating with world-leading experts in materials science, engineering, and 3D printing. Together, they drew multiple independent inventions over the course of two years to form the basis of Desktop Metal's technology today.
Seven founders participated to the creation of DM: Ric Fulop, Jonah Myerberg, Rick Chin, Yet-Ming Chiang, Ely Sachs, Chris Schuch and A. John Hart. When it was founded, the company raised $14 million in startup funding. A year later it was developing functioning prototypes of its products. After two years of research & development – in April 2017 – Desktop Metal was able to reveal to the public two distinct metal 3D printing systems: the Studio System and the Production System. DM began shipping the Studio System at the end of 2017 and the Production System in 2019.
How is Desktop Metal reinventing metal 3D printing?
The Studio System is designed for engineers and small production runs, it's perfectly adapted for an office environment. On the other hand, the Production System is intended for manufacturers and large-scale printing. The two systems include the 3D printer, that creates objects from metal powders (housed in cartridges) and a sintering furnace to densify these objects using thermal processes.
Unlike other metal 3D printing solutions, the Studio System doesn't use any lasers or loose powders, it does not require any third party equipment or special facilities – just power and an internet connection. As for the Production System, this is a mass production solution – it uses Single Pass Jetting technology, 100 times faster than other solutions on the market to allow the printing of metal parts at scale.
Let's #TALK3D with Ric Fulop!
What do you think of Desktop Metal? Let us know in a comment below or on our Facebook and Twitter pages! Don't forget to sign up for our free weekly Newsletter, with all the latest news in 3D printing delivered straight to your inbox!