Desktop Metal launches Fiber 3D printer for continuous fiber 3D printing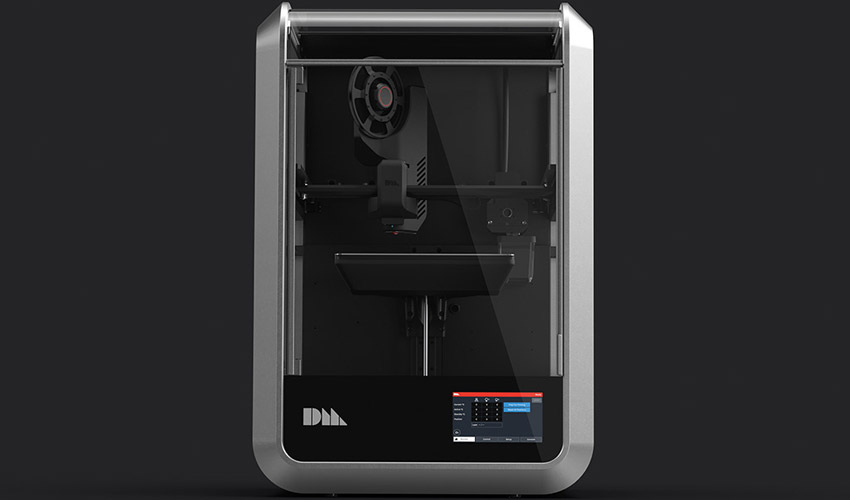 You all know Desktop Metal for its metal 3D printers, designed to fit into an office environment with the Studio System and to also enable mass manufacture with the Production System. The U.S. manufacturer has announced the launch of a new machine that has nothing to do with metal. In fact, Fiber is a desktop 3D printer capable of creating high-resolution parts with industrial-grade continuous fiber composites. It uses a new process called micro Automated Fiber Placement (μAFP) technology, a technique designed specifically for composite materials. This new technology will enable users to produce solid parts in a wide range of materials at a lower cost compared to other traditional AFP processes. 
Desktop Metal has raised $400 million in the last four years and continues to conquer the additive manufacturing market by turning to composite 3D printing, which are increasingly interesting for the sector because of their strength-to-weight ratio. In general, continuous fiber 3D printing is growing in the industry, companies such as 9T Labs, Anisoprint and moi composites are perfect examples of this. Desktop Metal has joined the race with its Fiber solution. 
Fiber, between FFF printing and AFP technology
Fiber is the first desktop printer that combines fused filament fabrication (FFF) with AFP technology. It uses a robotic tool changer, capable of storing up to 4 types of tools, including additional FFF print heads for different materials. According to Desktop Metal, the new machine can produce parts with materials twice as strong as steel, yet five times lighter. At the moment, two printer models are available via a subscription service with a minimum three-year commitment plan. 
The Fiber HT model, available from $5,495 per year, has been designed to produce parts with continuous composites with a porosity of less than 1% and continuous fibre loading of up to 60% with an advanced matrix, including PEEK and PEKK. The structures created can withstand temperatures reaching up to 250°C, and comply with ESD standards. The other machine, the Fiber LT, allows the printing of continuous fibres with a porosity of less than 5% with PA6 thermoplastics. It also complies with ESD standards and will be available from $3,495 per year. Both machines offer a printing volume of 310 x 240 x 270 mm.
Looking at compatible materials, Desktop Metal announces a wide range of choice, including high-performance thermoplastics. These include ESD compliant carbon fibre reinforced nylon (PA6), other glass-fibre reinforced nylon and carbon fibre reinforced PEEK and PEKK filaments. The manufacturer claims that the resulting parts are up to 60 times stiffer and 75 times stronger than ABS plastic parts, allowing a wide range of applications.
Fiber 3D printer, what are the applications? 
As you will have understood, the Fiber 3D printer will be particularly appreciated by industries looking for high-strength yet lightweight parts. We can name the aerospace and automotive industries, for which heat resistance and lightness are interesting properties. Desktop Metal specifies that composite parts can be useful from the prototyping stage but also for the creation of tools. The manufacturer targets many industrial sectors such as the automotive, consumer electronics, sports, medical, education and marine sectors. David Hauber, Technical Director of Trelleborg Sealing Solutions Albany, Inc, explains: "Despite all the advantages, polymer-based AM has been lacking in the strength needed for high performance applications, specifically a technology that bridges the gap between existing AM technology and automated fiber placement of high-performance composites as used in industry. After more than three decades of development, AM has finally reached a tipping point." 
What do you think of Desktop Metal's new desktop Fiber 3D printer? You can leave a comment in the section below or on our Facebook and Twitter pages! Sign up for our free weekly Newsletter, to receive all the latest news in 3D printing straight to your inbox!