3D printing of an office begins in Copenhagen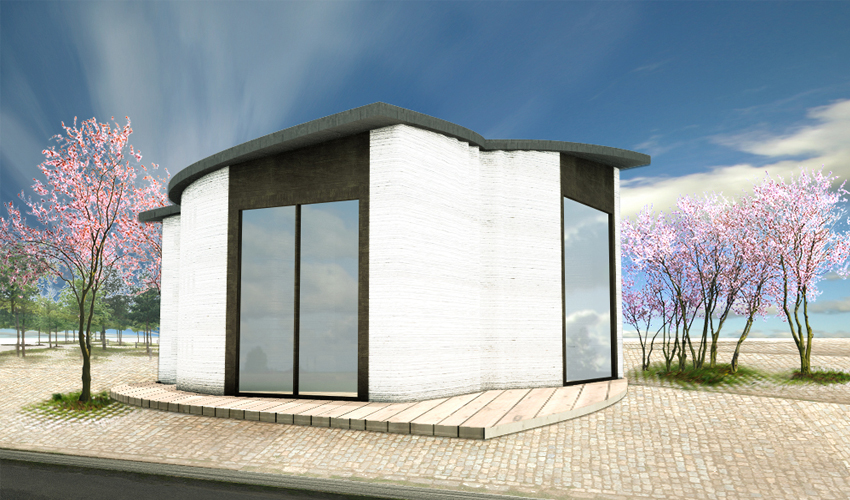 In Copenhagen, a new 3D-printed office will soon be adding itself into their cityscape. Created by Danish company Printhuset, they will be using a concrete 3D printer to create the 50 square meter office building.
There is no shortage of 3D printed construction in Europe, whether it be in the Netherlands or Spain. Initiatives are multiplying and reflecting the potential of additive manufacturing and the benefits that this technology can bring to this sector. But a difficulty still remains in terms of meeting  European standards and codes; the Danish project, on the other hand, has received an official permit and is perfectly in line with European requirements.
It is a project that has taken a long time to materialize, as CEO Henrik Lund Nielson explains, "Following our participation in the Danish government funded research project '3D Construction Printing' and our research into and visits to over 35 3D construction projects all over the world, we saw the need for proving that the 3D print technology successfully could be applied for buildings, also in Europe and in full compliance with the strict building regulations we have here. The BOD building that we have begun constructing using on-site 3D printing of concrete in Copenhagen Harbour is that proof."
3D Printhuset is not looking to expand on all technical aspects of its 3D printing system: the company explains that it is more interested in showing how 3D printing technologies can be used in the construction sector rather than to provide a printing solution. As for the 3D printer that they are using, there is not much known about it other than it is a gantry style 3D printer that has dimensions of 8 x 8 x 6 meters, with a printing speed of 2.5 meters per minute. It can also create layers of 20 mm high with a width of between 50 and 70 mm.
Architect Ana Goidea designed the desk with curved walls, inspired by organic structures. The technical director of the Danish company stated that with traditional techniques of building, it is more of a challenge if you want to create shapes that are not straight as it becomes more costly. But now, thanks to additive manufacturing, they are able to create buildings that don't focus solely on straight designs that are typically seen.
The base of the foundation of the office was laid, the construction tent was assembled and the printer was installed on site. It is currently printing the upper part of the foundation and the walls. 3D Printhuset hopes the building will be completed by this fall.
Do you think we could be seeing more 3D printed office buildings around Europe and the world in the near future? Let us know in a comment below or on our Facebook and Twitter pages! Don't forget to sign up for our free weekly Newsletter, with all the latest news in 3D printing delivered straight to your inbox!