3D Printed Architecture: Our Top Picks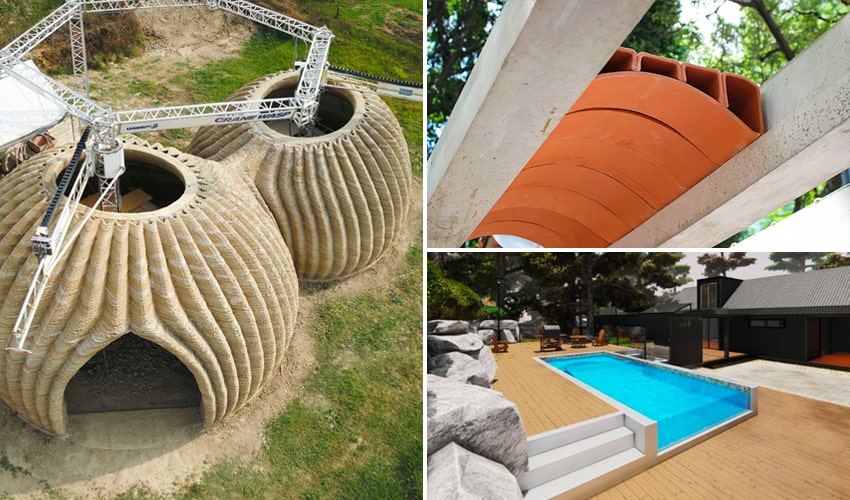 The Oxford English Dictionary defines architecture as "the art and study of designing buildings": whether it is houses, offices, bridges or schools, this art is greatly impacted by new technologies. Architects are looking for innovative structures, both in terms of design and energy efficiency – as we know, the latter has become a major issue in our society today. Among the new technologies used, we can mention additive manufacturing of course. It brings many benefits to the construction sector, which is expected to grow by 101.9% annually from 2023 to 2030 according to a study published by Grand View Research. Designs can be customized, significant resources can be saved by using less material, and complex shapes that were previously considered impossible can be created in record time. Let's take a look back at a few projects that blend architecture and 3D printing to see what is possible with the technology today!
MX3D's Metal Bridge
In 2015, Dutch 3D printing company MX3D unveiled the MX3D bridge in Amsterdam. This 12 meter fully functional stainless steel bridge was made by a 6-axis robot that extrudes metal rods and welds them layer by layer. It crosses the Oudezijds Achterburgwal, one of the most famous canals in the capital. The bridge has an integrated sensor network to measure structural elements and environmental factors to allow engineers to monitor the quality of the bridge. Furthermore, these factors are inputted into a 'digital twin' of the bridge so the workers can modify the bridge as needed, and to inform them for future 3D printing projects.
TECLA, the 100% green building from WASP
Italian company WASP is responsible for many projects that combine 3D printing and the construction industry. In 2016, it announced plans to build the houses of an experimental Italian village called Shambalha using additive manufacturing. Most recently, WASP 3D printed a 100% eco-friendly house from recyclable materials. Called TECLA (taking its name from Technology and Clay), the building was designed to address the climate crisis by providing low-carbon housing. The Italian company used their proprietary Crane WASP modular 3D printer to build it. The company also plans to build fully 3D-printed residential buildings. This will involve the use of new materials, among other things, and the project will serve as a case study in the future.
Thinking Huts' 3D Printed School in Madagascar
The example of an additively manufactured school building in Madagascar shows how 3D printing can be used to implement projects for a non-profit organization. Behind the project is the initiative of Maggie Grout, who launched Thinking Huts in 2015. 7 years later, the first 3D-printed school was built in Madagascar. In the project, the flora and fauna are protected as much as possible and the look of the building should be adapted to nature. Inspired by the honeycomb, the building was made of cement with a two-meter Hyperion Robotics robotic arm. It is a single-story building that can accommodate 137 students and can be expanded with additional "pods" if needed.
The World's First 3D-Printed Mosque
One of the most interesting projects of this year and one that has been making the rounds around the world was that of the world's first 3D-printed mosque. The project originated in Dubai, overseen by the UAE government's Department of Islamic Affairs and Charitable Activities (Iacad). Construction is scheduled to begin in October this year, and the mosque is expected to be ready by 2025. The mosque will have an extension of 2,000 square meters and will be able to accommodate 600 worshippers.
To construct the building, a robotic 3D printer will be used, capable of printing materials at the rate of two square meters per hour. In fact, it is expected to take only four months to build the structure, while it will take about a year to complete the set-up. It is not yet known who will provide the technology needed to build the mosque; while the material used, according to leaked information, will be a mixture of cement and metal. The design of the structure has been entrusted to the architectural firm JT & partners. The entire project is part of the Emirati government's plan to construct 25 percent of buildings with 3D printing by 2025.
A Refurbished Hotel Gets a 3D Printed Twist
Camp in style with this Sunday Homes project from Texas-based ICON: they will reimagine the Texas El Cosmico hotel on a 62-acre site, which will consist of two-, three-, and four bed homes from 1,200 sq. ft to 2,200 sq. ft, made with concrete 3D printing. In collaboration with architects BIG (Bjorke Ingels Group) and hospitality expert Liz Lambert, they will incorporate organic shapes and circular geometries married with a color palette inspired by the natural surroundings. The project, set in the deserts of the county, opens for reservations in Summer 2023.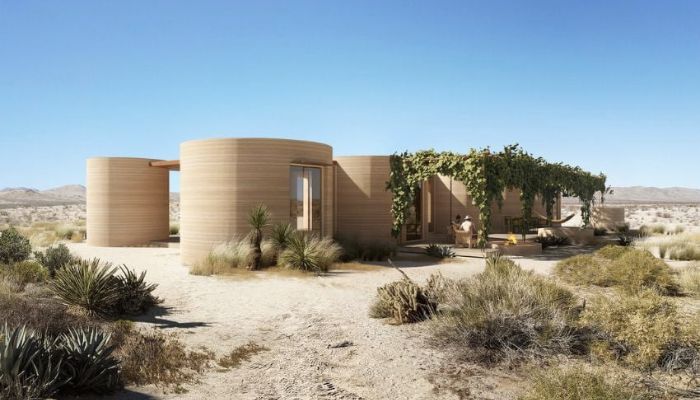 A Spherical House To Meet Housing Needs
Serendix, a 3D printing company, has managed to build a spherical house in Japan in just 23 hours and 12 minutes. The interior structure is only 10 square meters and has a 20-ton concrete structure; this small surface area means the building is not subject to Japanese building regulations. The house, according to the company, meets Japanese earthquake and European insulation standards with its reinforced walls. Although small in size, the architect behind the concept envisioned it to be transportable to meet emergency housing needs.
House Zero from ICON
2022 3D printing construction company ICON announced the construction of House Zero. The building was built in collaboration with Lake|Flato Architects and is characterized by its special design. Thus, the house has curved walls, which are not only structurally more efficient, but also give a more natural impression in the house. Since it was important to the architects to relate to nature, House Zero was built according to biophilic principles, which means that the design is connected to nature. Likewise, the theme of sustainability was brought to the fore. On the one hand, this was done through 3D printing itself, as the technology saves time, waste and cost in the building process. But the material used also contributed: the walls were made of Lavacrete, which ICON says slows heat transfer in the house.
The Viliaprint Project
Villaprint is a French project that saw the construction and inauguration of the first five fully certified 3D printed concrete houses in the city of Reims. The project launched in 2018, and wascompleted in June 2022, allowing the first tenants to move in! Thanks to 3D printing, which was used for part of the construction, these houses were completed in 12 months instead of 16. They present state-of-the-art architecture in a social housing context and are now for rent in the city's Réma'Vert eco-neighborhood.
Coste Architectures managed the construction operations, while XtreeE, a company that designs and manufactures 3D printing systems for the construction industry, and Demathieu Bard, a construction company, handled the construction.
Recording Studio With Intelligent LED
Philipp Aduatz, a designer from Vienna, has succeeded in creating the first 3D printed film recording studio with intelligent LED lighting. In his creative process, Philipp Aduatz combines traditional craft techniques and concepts with cutting-edge tools, such as 3D printing. For this project, Aduatz worked in collaboration with Dominik Freynschlag and concrete 3D printer manufacturer incremental3d, using concrete 3D printing to create a structure with complex and strong geometry. This production integrated a concrete wall with dimensions 630 cm wide, 330 cm deep and 230 cm high with a main lighting system consisting of 14 LED strips inserted horizontally into prefabricated joints. The lights are controlled in RGB color space, which allows changing colors and gradients in multiple combinations. The end result is a space with uniform lighting throughout.
Mexico's 3D Printed Pavilion
This 3D printed pavilion was created in Mexico with the aim of combining three fundamental ideas: new technologies, craftsmanship and recycling. The project was carried out thanks to the collaboration of an engineering team from Digital Structures MIT, the international organization New Story and Échale, a Mexican social enterprise that offers housing solutions through the integral development of communities. It features a horizontal roof structure that optimizes the existing joist-and-vault system to achieve greater sustainability by reducing material use in precast reinforced concrete beams. Clay 3D printed blocks are sandwiched between the beams as lost formwork to allow for the pouring of a top slab. The use of local materials extracted from the ground not only makes it more affordable, but also reduces its carbon footprint. Ultimately, this installation represents a collaboration between industry, social enterprise and academia as a model towards a more environmentally conscious built environment.
A 3D Printed Tram Shelter in Prague
Waiting for public transportation can be time consuming and being exposed to the elements is the last thing that any unlucky passengers want. The recourse for this is bus and tram shelters where passengers can be protected and sit comfortably. But did you know that 3D printing can be used to make these as well? Or at least that is the case in the Czech Republic where in 2022 a 3D printed tram shelter was unveiled for the first time. Robotic 3D printing and different types of concrete were used by So Concrete to make this 3D printed shelter, consisting of a bench and information panels, at the Výstaviště tram stop in Holešovice, Prague. According to the company, the use of 3D printing allowed for the saving of up to 60% of material and allowed it to be made faster, the bench in particular was printed in just 36 hours.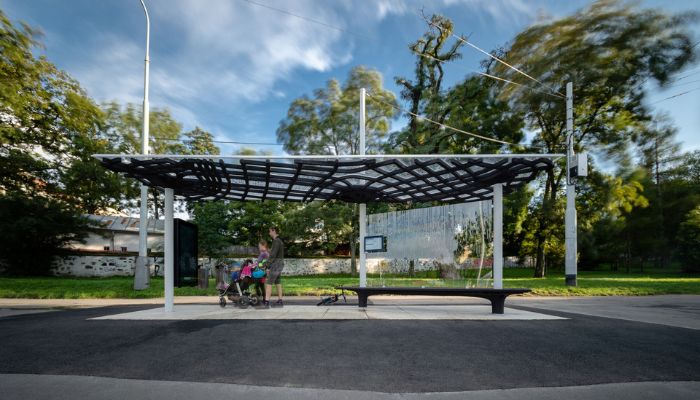 The First 3D Printed Pool
Of course, when we talk about architecture, that does not just include bridges and buildings, no matter how impressive they may be. Take this next example: the world's first 3D printed fiberglass pool. Built by San Juan Pools, the pool is located in Florida and was 3D printed out of recyclable material, making it eco-friendly.The company worked with Alpha Additive to create the pool, using a large-scale custom-made 3D printer and a special Vinyl Esther Resin and fiberglass to create it. The first version of the pool, named the Baja Beach Model, measures 12'x 25' and has a depth of 3'. Moreover, the facade has a 12' long acrylic glass window, and in the back part is a separate jacuzzi section. The company noted that 3D printing was useful not just for its ability to reduce labor, time and production costs but also to allow for greater customization for customers.
TOVA, a Prototype 3D printed with Local Soil
Another innovative architectural project that combines additive manufacturing and sustainability is TOVA. This 3D printed housing prototype has been created on the outskirts of Barcelona (Spain). Developed by a team from IAAC's 3dPA Research Graduate program, the structure was created from locally sourced clay, soil and water. All of these materials used in the printing process are sourced from a radius of no more than 500 m around the project area. In terms of construction time, TOVA was developed in just 2 months, demonstrating the advantages of 3D printing in terms of manufacturing times. With 9m2 of floor space, the closed interior of the house is habitable, weatherproof and adapted to the climate of the area. You can learn more about this project in the video below:
A Scandinavian 3D Printed House
Located in Denmark, the company 3DCP Group has carried out an architectural project consisting of a 3D printed house made of concrete. The small house of only 37 m2 has all the necessary amenities and is designed to be as affordable as possible. To carry out the project, they collaborated with modular 3D construction printer company COBOD and Saga Space Architects. The goal of using additive manufacturing to create this tiny house was to build the structure faster, greener and more optimally, while reducing the amount of material and labor. While the building's external design is made of concrete, its interior is characterized by warm wood, responding to Nordic traditions of architecture.
What do you think of these 3D printed architecture designs? Do you think we'll see even more 3D printing in architecture in the future?  Let us know in a comment below or on our Facebook, Twitter and LinkedIn pages! Sign up for our free weekly Newsletter here, the latest 3D printing news straight to your inbox!