3D Printed Architecture: Our Top Picks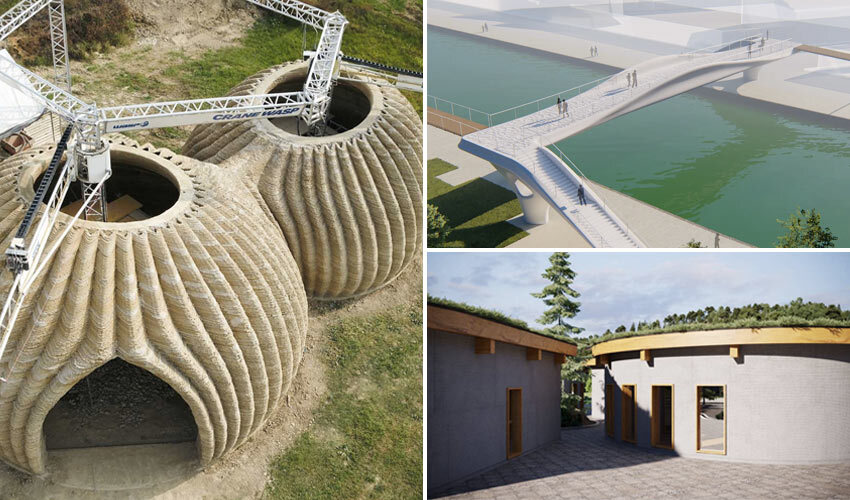 The largest 3D-printed house, the longest 3D-printed bridge, the first 3D-printed housing development – more and more often you hear about additively manufactured architecture in the news. And for good reason, because 3D printing brings many benefits to the construction industry. Designs can be customized at will, important resources can be saved by using less material, and complex shapes that were previously considered impossible can be produced in record time. To bring more attention to this impressive topic, we have gathered 12 additively manufactured buildings that stand out not only for their special structures, but also for their unique designs, in no particular order.
MX3D's Metallic Bridge
If you've been following 3D printing news for a while, you're probably familiar with the Dutch company's bridge. In 2015, MX3D, a specialist in the WAAM process, had revealed its project, MX3D Bridge. It is a 3D printed stainless steel bridge made by a 6-axis robot that extrudes metal rods and welds them layer by layer. The 12-meter pedestrian and bicycle bridge has since been completed and passed various tests in 2019. Another special feature is the smart sensor system that has been attached to the bridge: this collects data that provides information about the state of the architecture and can thus contribute to improvements.
TECLA, the 100% green building from WASP
Italian company WASP has invested in many projects related to 3D printing and the construction industry. In 2016, it announced plans to erect the homes of an experimental Italian village, named Shambalha, using additive manufacturing. More recently, WASP 3D printed a 100 percent eco-friendly home from recyclable materials. Called TECLA, the building was designed to address the climate crisis by providing low-carbon housing. To build it, the Italian company used the Crane WASP The Infinity modular 3D printing system.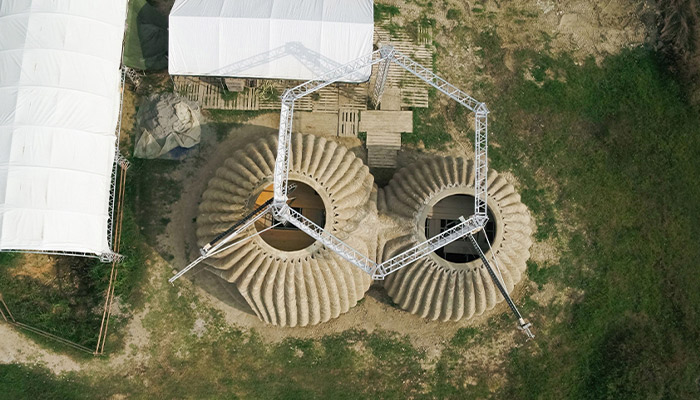 Flotsam & Jetsam Pavilion
With the Flotsam & Jetsam Pavilion, New York-based architecture firm SHoP Architects succeeded in making the entrance to Design Miami in 2016 a real eye-catcher. The name Flotsam & Jetsam is made up of nautical terms for salvage (floating at sea) and flotsam (intentionally thrown overboard to lighten a ship in a storm). The idea was that passersby should be able to drift through the object. The futuristic pavilion was made from a biodegradable bamboo material that was first used in Flotsam & Jetsam. A Kuka robotic arm from Branch Technology was used for the printing.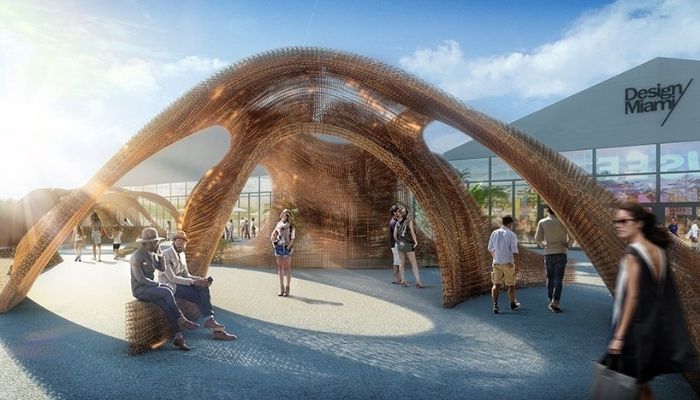 A Bridge for the Olympics
Last October, the Freyssinet/Lavigne & Cheron Architects/Quadric/XtreeE/LafargeHolcim consortium was awarded the design and construction of a 3D printed bridge in the Paris region. With a length of 40 meters, it should be ready for the 2024 Olympic Games and installed in the Pleyel district (93), where the Olympic and Paralympic Village will be held. The French start-up XtreeE will be in charge of the concrete 3D printing of this first Parisian bridge, more specifically its supporting structure.
Cabin of 3D Printed Curiosities
Emerging Objects first made a name for itself in the field of architecture in 2018, after it used 3D printing to develop structures able to withstand earthquakes. Shortly thereafter, the American company began to develop the now finished Cabin of Curiosities. The Cabin of Curiosities is a 3D printed hub constructed from 4,500 3D printed ceramic tiles made from a mixture of cement, sawdust, salt and even grape skins, designed so that the exterior is reminiscent of a garden. Though the Cabin of Curiosities may appear to be a diversion from Emerging Objects' previous work, the building itself incorporates many of the material, software, and hardware experiments conducted by the company over the years. Moreover, the Cabin of Curiosities, being weather tight and structurally sound, not only demonstrates Emerging Objects' abilities, but also the architectural potential of additive manufacturing in general.
The Bridge Project
Measuring 29 meters (around 31.7 yards), the Bridge Project has been dubbed the longest 3D printed concrete pedestrian bridge in the world. It started its installation earlier this year in the Dutch city of Nijmegen, an unsurprising choice given that the city was previously elected the Green Capital of Europe in 2018 and the bridge has been at least partly designed with sustainability in mind. Additionally, the bridge is unique as it uses parametric modeling in order to optimize the design and ensure that the structure will meet building regulations in the country. The the final bridge is currently in the process of being 3D printed in blocks and then assembled on site.
Twente Additive Manufacturing's Affordable Housing
Twente Additive manufacturing (TAM), based in the Netherlands, is dedicated to the development of 3D concrete printers. It recently launched an architectural project with the aim of providing affordable housing for the homeless. In collaboration with the World Housing organization, they aim to create a small community of houses in Canada that are more accessible to everyone. The houses have a surface area of 65 square meters (700 square fee), with two bedrooms and a roof covered in vegetation. The latter allows the village to blend seamlessly into the Canadian landscape. This project clearly shows the potential and benefits of combining architecture and 3D printing in one place, as it also speeds up working times while reducing production costs, making the houses affordable for everyone.
Winsun's 3D printed R&D center
You've probably already heard of Chinese manufacturer Winsun, which is behind the tiny isolation houses designed at the height of the health crisis. It has also built a 3D printed R&D center, which consists of seven large buildings, making it the largest 3D printed structure in the world. To build the center, which is located in Shanghai, only nine to twelve workers and three machines – including a large 3D printer – were needed. As for the construction method, Winsun emphasizes sustainability. The goal, it says, is to recycle resources, reduce environmental impact, minimize pollution, noise, and avoid waste.
Thinking Huts' 3D Printed School in Madagascar
The example of an additively manufactured school building in Madagascar shows how 3D printing can be used to implement projects for a non-profit organization. The project is the brainchild of Maggie Grout, who launched Thinking Huts in 2015. In the project, the young founders aims to spare flora and fauna as much as possible and adapt the building's appearance to nature. Inspired by the honeycomb, the building was made out of cement with a two-meter Hyperion Robotics robotic arm. It is a single-story building that can accommodate 137 students and can be expanded with additional "pods" if necessary.
BigRep and Forward AM's Concrete Formwork Filament
Recently, BigRep and Forward AM, a subsidiary of BASF, announced that they have designed a new filament called Concrete Formwork. Designed to 3D print concrete forms, Concrete Formwork is compatible with Big Rep's large format 3D printers. Using this new material, and in collaboration with other companies, ETH Zürich launched the "Bespoke Stair at Nest Step2" project. A project to build a concrete staircase using 3D printing, which will be installed in the EMPA in Zurich, a building built with digital manufacturing methods.
Studio RAP and its 3D printed tiles
Based in Delft, The Netherlands, RAP studio realizes various projects through additive manufacturing; we decided to focus on their facade, designed to decorate a residential building. For the facade, Studio RAP 3D printed more than 4,000 clay tiles using a robotic arm. Once the material dries, each tile is glazed, i.e. covered with a blue and white layer, providing a striking aesthetic. The 3D printed tiles will cover the arch of a 4 meter wide, 8 meter high and 12 meter long residential building.
Royal3D: R-iglo
Earlier this year, Dutch 3D printing service, Royal3D used additive manufacturing to create, R-iglo, a 3D printed, modular and customizable shelter. The R-iglo was manufactured with PET made from recycled plastic waste taken from the port of Rotterdam, using Royal3D's in house CFAM Prime 3D printer. The machine comes from manufacturer CEAD, which specialises in large format and continuous composite 3D printing and also developed the machine used to build Rotterdam's first 3D printed bridge. Using CEAD's CFAM Prime 3D printer, Royal3D hopes to soon be able to produce the R-iglo in four different sizes: small; medium; large; and very large.
What do you think of these 3D printed architecture designs? Do you think we'll see even more 3D printing in architecture in the future?  Let us know in a comment below or on our Facebook, Twitter and LinkedIn pages! Sign up for our free weekly Newsletter here, the latest 3D printing news straight to your inbox!