WASP 3D-Printed Dior Pop-up Store Using Eco-Friendly Materials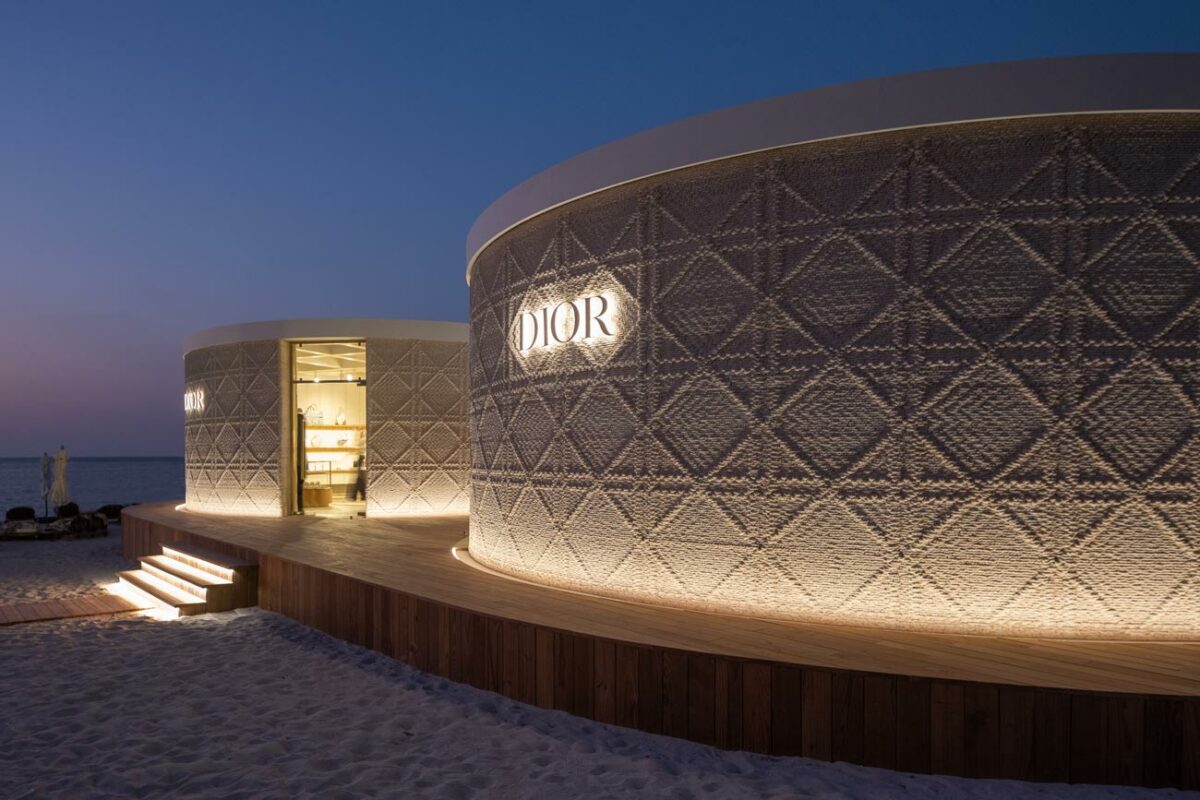 French luxury fashion brand Dior enlisted the construction expertise of Italian 3D printer manufacturer WASP (World's Advanced Saving Project) to showcase their latest collection. Dior's innovative new pop-up store is located on the Jumeirah beach in Dubai. The pop-up's two modular structures were 3D-printed using natural materials, which is WASP's material niche. The outer walls printed featuring Dior's signature cannage motif, notably from the brands popular line of 'Lady Dior' bags. The circular buildings were conceived by WASP and they house the 'Dioriviera' collection by Maria Grazia Chiuri, the Dior Maison beach essentials, and select pieces from the Dior Cruise 2022 collection. This endeavour from WASP further's the company's research mission to create 3D-printed eco-housing using natural materials. The concept store will be open from the 25th of October, 2021 through the 22nd of March, 2022.
For this project with Dior, the AM manufacturer employed their Crane WASP collaborative 3D printing system to create structures within a luxury aesthetic. Using advanced digital construction techniques, WASP was able to 3D print the circular building with minimal waste and reduce ecological impact when compared to traditional construction methods. The Dior concept store structures were created using 2 simultaneous Crane WASP printers—with this setup, the build required little human intervention to erect. The total surface area is 80 square meters and utilized 55 tons of printing material. The modular structures required 120 hours to print.
Crane WASP 3D-Printed Sustainable Architecture
In terms of creating eco-friendly architecture, WASP has been making significant headway in their corporate mission. Many 3D-printed architecture projects relay on concrete, which comes with a huge carbon footprint. Back in October 2019, WASP began collaborating with architecture specialists at the School of Sustainability in Italy for the planning of the TECLA eco-house project. The TECLA project was completed earlier this year, laying the foundation for future projects such as this Dior pop-up which allows the company to deploy their research in sustainable building materials.
The Crane WASP printer is capable of turning natural stones into usable building material. The printer also has the capability to reuse construction ruins to create new material. Additionally, the Crane WASP can mix geo-polymers together with clay to create construction material—though, according to the WASP website, this particular capability is still in the research and development phase. You can learn more about the Crane WASP and Dior project HERE.
What do you think of WASP's 3D-printed concept store? Let us know in a comment below or on our Linkedin, Facebook, and Twitter pages! Don't forget to sign up for our free weekly Newsletter here, the latest 3D printing news straight to your inbox! You can also find all our videos on our YouTube channel.
Cover Photo Credit: Mohamed Somji / WASP