Honda & WASP Work Together to Create More Sustainable Vehicles Using Clay 3D Printing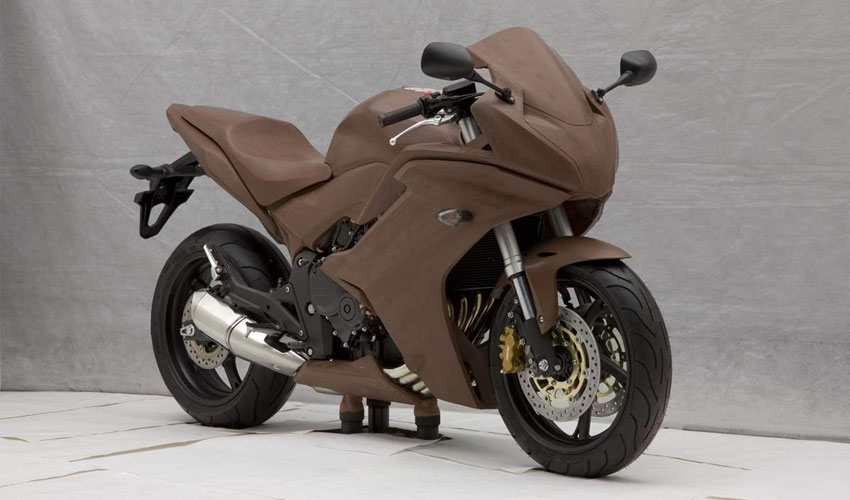 Car manufacturer Honda is working with Italian 3D printer manufacturer WASP to come up with the design of its future electric motorcycles. Using a clay extrusion process, the Japanese company has imagined futuristic vehicle designs with a reduced environmental footprint, a particularly important point for the brand. The goal for now is to design working prototypes and see if they meet Honda's and the market's requirements. If not, the material used for the 3D printing can be reused, in keeping with both Honda and WASP's commitments to economic and environmental sustainability. The printer that will be used for the project is the Delta WASP 40100 Clay, a print capable of extruding successive layers of industrial clay.
In the automotive sector, additive manufacturing is used for many purposes. Though originally used  mainly for rapid prototyping, it has become increasingly interesting in the production of finished parts because of its ability to lighten certain components while maintaining the same level of strength. This is particularly evident when it comes to the use of composite materials. It has also become a method of choice for the entire design process, where it allows users to imagine more complex parts or simply to test concepts. Iterations are both easier and less expensive thanks to additive manufacturing. For these reasons, among others, Honda chose WASP's technology developed by WASP. Furthermore, in addition to the advantages offered by 3D printing, their technology allows the use of a more durable clay-based material. You might remember that the Italian company is behind multiple sustainable constructions made from natural and local materials.
In concrete terms, Honda Europe's R&D department is looking to create innovative designs for its future motorcycles. And thanks to WASP's 3D printer, it can create clay parts to be superimposed directly on a motorcycle to evaluate the final rendering. In the end, we're on a process that's close to traditional modeling. You print a part, then Honda's teams come and rework it by hand to get the desired result. It's a kind of technological process of modeling clay, a process that does not tend to eliminate the intervention of modelers, quite the contrary.
Antonio Arcadu, design modeling coordinator for Honda R&D Europe, explained, "In order to preserve the creative process, we cannot rely on technology alone, but we need modelers not to interrupt their connection with matter in its most direct form: the hands. Although this is a newly introduced process it can be considered disruptive in the automotive sector because it introduces a new flow, mostly additive, able to optimize processing times and reduce the amount of material used in the traditional and subtractive processes." Indeed, the 3D printed clay could be reused for a future print.
It remains to be seen whether this new concept can be applied to future motorcycles or cars; in any case, it is a technique full of promise! What do you think of the new partnership between Honda and WASP? Let us know in a comment below or on our Linkedin, Facebook, and Twitter pages! Don't forget to sign up for our free weekly Newsletter here, the latest 3D printing news straight to your inbox! You can also find all our videos on our YouTube channel.