3Dnatives exclusive interview with ONO, the 3D printer that uses your smartphone
ONO was created by Pietro Gabriele and Filippo Moroni, two men who imagined a 3D printer that you could use with your smartphone! Unveiled at Maker Faire New York in 2015, the concept (then known as OLO) knew that it would be a game changer for 3D printing!
With a largely successful Kickstarter campaign, with more than $ 2,321,811 collected, the duo hopes to make the technology accessible to as many people as possible by facilitating its use. In order to learn more about ONO and their product, we sat down with the two founders themselves to do just that.
3DN: Can you introduce yourself and your connection to 3D printing?
I'm Pietro and I'm an entrepreneur. I've worked with a little bit of everything, and have even managed a jazz club. I learned how to turn an idea into a profitable business through my own positive and negative experiences. I tried to share this experience with those with technical knowledge and innovative ideas so that together we can bring innovations to the world. My relationship with 3D printing is relatively young.
My name is Filippo and I am a designer with training in engineering and prototyping. I started doing digital manufacturing 15 years ago at Solido3D. All this knowledge allowed me to develop my ideas and share them.
Pietro and I compliment each other well: I have rather technical training, which allows me to develop our ideas, whereas Pietro has the commercial ability to bring our ideas to the market. We have discovered the potential of 3D printing and we have seen with ONO an opportunity for everyone to discover this technology.
3DN: How did you come up with the idea of ONO?
First, we tried to understand why technology was not more widespread, and we found that the biggest barrier was accessibility to 3D printing technology in a wider market, as well as the learning phase that is required in order to 3D print. It is for this reason that we tried to turn a smartphone into a 3D printer
We designed our very first prototype in just 8 hours. It is quite similar to that of our final product. From this prototype, we had our starting point to create the system around the printer, from resins to software.

3DN: Can you explain the technology behind the 3D printer?
The technology is quite simple. The only moving part is a motor that raises and lowers the printing tray that is completely in the dark during printing. The selection of materials, design and precision components took a long time to develop, but the technology at the heart of the machine is very simple. Because we wanted ONO to be the most popular 3D printer in the world, we kept our consumers in mind and designed the package to make it very easy to use. The application was created so that you can print in a few simple steps. In addition, the printer as such is very easy to install, it consists of only a few parts that just need to be put together.
The real secret is the resin used. other printers work with a resin that is solidified by UV light (similar to the stereolithography process). As a result, they are forced to be more expensive in order to be profitable because they need to use lasers or UV light. Our patented Daylight resin hardens with a white light that is visible to the human eye, the same as the one that comes from your phone screen. This allows us to optimize a technology that everyone already has on their phone and therefore removes the most expensive part of the printer.
3DN: Where do you see ONO 3D in 10 years?
We already have a few projects we are working on in the short and medium term. Resin research will progress continuously, which will contribute to the development of new materials and applications. The first goal is to have a completely organic resin that would be safer to use, even for children as we really want to bring our printers into schools. To advance this technology, we need young eyes to go beyond the limits and bring them to another level. ONO's goal is not just to sell printers, but also to offer everyone the opportunity to unleash their creativity and advance technology.
The first project for the next two years is the ONOtab, which will be based on the same concept as ONO but for tablets. Then, we want to develop ONOpro, which will no longer depend on our customers' devices but will be equipped with an integrated high-resolution screen that is designed specifically for our resins. This will open up opportunities for us in professional markets such as jewelry, micromechanics, and dentistry.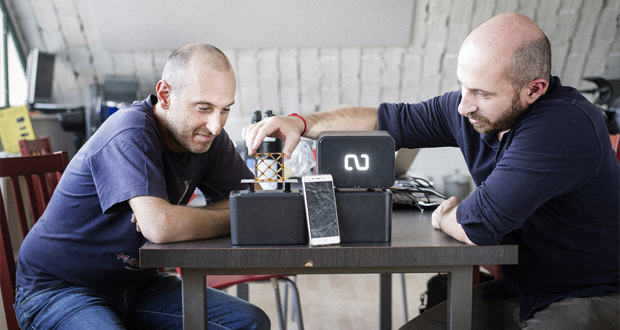 As ONO spreads around the world, we realize that it is not just a printer, but also a distribution platform. If everyone has an ONO, the application can be used to sell and deliver products from different distributors.
Our long-term goal over the next 3 to 5 years is to bring 3D printing to the industrial environment by using these resins on much wider screens.
3DN: Any last words for our readers?
ONO is not only a product but also a story: a new way of developing technology by making it simple and accessible. We hope that our idea will influence a new generation of creators and that our story will inspire the younger generations to believe in their potential through our technology!
Find out more about ONO in the video below!
To learn more about ONO, you can check out their website here.
Can ONO democratize 3D printing? Let us know in a comment below or on our Facebook and Twitter pages! Don't forget to sign up for our free weekly Newsletter, with all the latest news in 3D printing delivered straight to your inbox!