Nexa3D Launch Super Fast Stereolithography SLA 3D Printer
Published on January 11, 2018 by
Jamie D.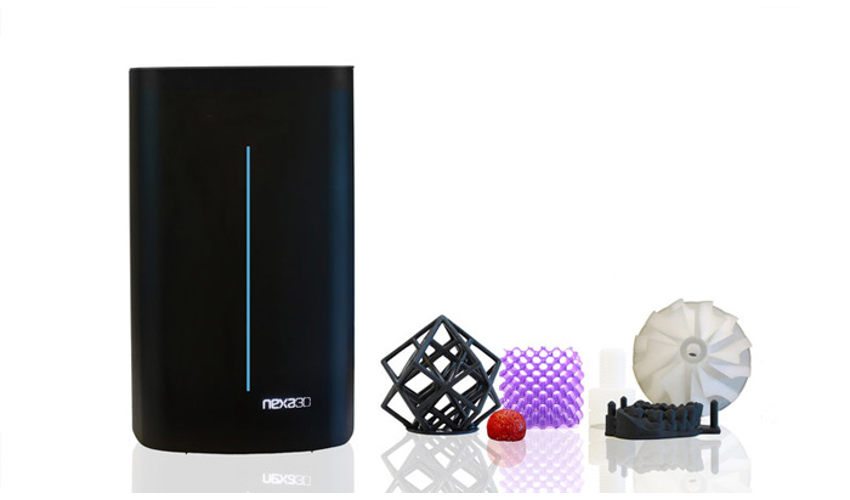 At CES2018 in Las Vegas (running from the 9-12th Jan 2018), a variety of innovative tech companies are showcasing their new releases. One of these companies is Nexa3D, who will be demonstrating their super-fast stereolithography NXV 3D printer. Due to its new innovative technology involving Lubricant Sublayer Photo-curing (LSPc) tecchnology, the NXV can 3D print up to 1cm per minute. To put this into perspective, this is approximately 40x faster than average current 3D printing speeds. The company also say that the NXV prints twice as accurately and is five times less expensive to run.
Nexa3D: Ex-CEO of 3D Systems
Nexa3D are not newcomers to the 3D printing industry however. The company is headed up by formed 3D Systems CEO Avi Reichental. In addition, Nexa3D recently signed a well-publicised partnership with XYZprinting to create professional 3D printers for the dental industry. With over $10M in investment so far, Nexa3D is a company on the rise.
Their SLA 3D printer, the NXV, is their first printer to achieve 30 micron accuracy. Due to this level of accuracy coupled with its claimed high speed, makes the Nexa3D ideal for rapid prototyping. In addition, the NXV is programmed to optimally slice 3D models to create complex pieces at high speeds. Moreover, it's scalable. It can be operated with on-printed controles, or remotely with software enabling factories of NXV's to be used concurrently.
Nexa3D CEO Avi Reichental stated, "After several years of bootstrapping through the early stages of proving and nailing our game-changing technology, we are gratified to be here at CES 2018 with some of our early access marquee users and resellers who are partnering with us to validate the scaling of our first product." He also said that "high-speed 3D printing is the next frontier in additive manufacturing," suggesting the company will focus on creating stereolithography 3D printers that are even faster in the future.
NXV 3D Printer Price
The NXV SLA 3D printer will retail at $19,950, and pre-orders are available now. Nexa3D believe their high-speed and high-quality 3D printer will be a success, and if they can prove these numbers, it's likely that it will. You can visit Nexa3D at CES 2018 at Techniplas booth #9100 located at the Las Vegas Convention Center. You can also visit the Nexa3D website here. In addition, you can check out the CES 2018 event on their site here.
What do you think of the NXV SLA 3D printer? Let us know in a comment below or on our Facebook and Twitter pages! Sign up for our free weekly Newsletter, all the latest news in 3D printing straight to your inbox!