Nanoscribe showcases its nano 3D printing capabilities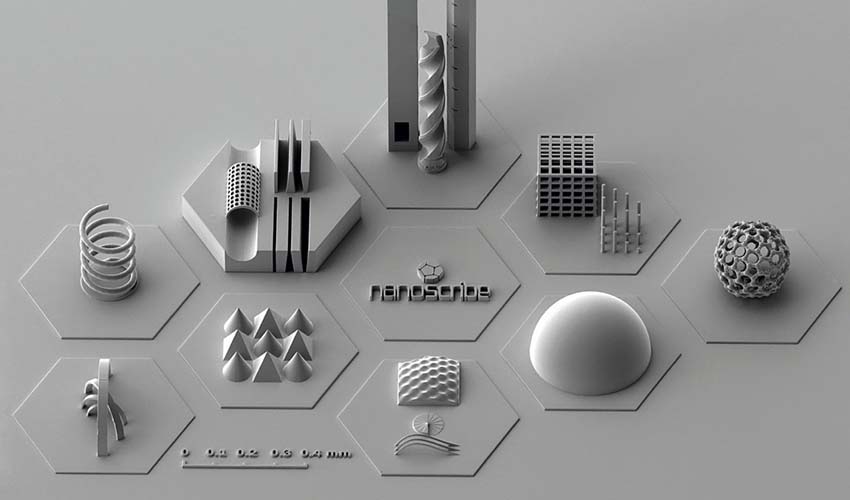 Nanoscribe set out to rethink microfabrication when it integrated its two-photon polymerization (2PP) technology in 3D printers to enable nano, micro and mesoscale fabrication back in 2007. Today, it counts customers in over 30 countries worldwide, in science and in industry. The company is the leader in supplying these advanced microfabrication solutions and is continuously pushing the limits of high-precision nanoscale additive manufacturing. A few days ago they showcased the power of their technology in a fly-over video sequence of scanning electron microscope (SEM) images.
Indeed, the video showcases extremely filigree structures fabricated with the Nanoscribe system – 18 different objects and complex structures were printed in little more than one hour. As seen in the video, the objects are of all shapes – there are undercuts, porous, curved, upright and smooth shapes. Previous design limitations can now be overcome with this state-of-the-art microfabrication tool according to the company. Nanoscribe explains that customisable topographies with continuous and discrete modulation alternate with complex, filigree 3D micro lattices. The surface roughness lies in the range of a few nanometers.
The Photonic Professional GT2 printer from Nanoscribe combines the precision of two-photon polymerization with a 3D printing workflow for nano, micro and mesoscale structures of up to millimeter dimensions. The material range you can use on this 3D printer is wide as it is an open materials system, you can use resins (including commercial resins), hydrogels, and custom-made materials. Applications range from micro-optics and photonics to bioengineering and MEMs. Moreover, Nanoscribe also provides its own range of liquid negative-tone resins specifically for 2PP-based 3D printing. Their newest material is called IP-Q and is the ideal printing material for fast mesoscale fabrication as it can be used for object volumes of up to cubic millimeters.
Finally, the company also provides software solutions for Photonic Professional systems. According to the company, with the standard 3D printing workflow, users can easily transform CAD models into physical 3D printed parts with submicron precision.
You can find more information HERE.
What do you think of these nano 3D printed structures? Let us know in a comment below or on our Facebook and Twitter pages! Don't forget to sign up for our free weekly Newsletter, with all the latest news in 3D printing delivered straight to your inbox!