Europe's Largest 3D Printed Building to be Built in Germany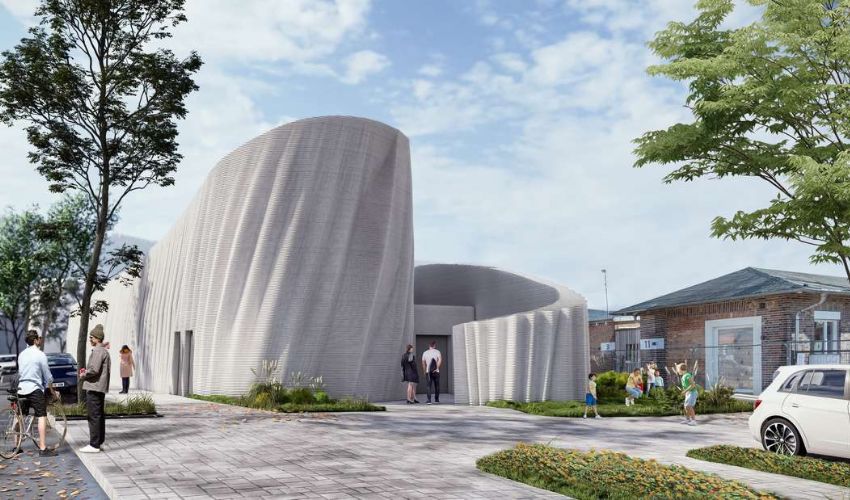 Additive manufacturing provides significant design flexibility across various industries, including construction. Moreover, 3D printing plays a crucial role in material conservation, leading to a more sustainable construction process with reduced carbon emissions. As a result, an increasing number of companies are opting for additive manufacturing to execute their projects. A notable example is the Kraus Group, which recently unveiled plans for Europe's largest 3D printed building. This groundbreaking project is a collaboration between Kraus Group, PERI 3D Construction, and Heidelberg Materials.
The building, measuring 54 meters in length, 11 meters in width, and 9 meters in height, will be situated in the Campbell Heidelberg area and serve as an IT server hotel for Heidelberg iT Management GmbH & Co, a prominent data center and cloud services provider. The printing process commenced in late March and is anticipated to be completed within approximately four months. Sustainability has been a key consideration in this venture. Heidelberg Materials, one of the project's partners, is supplying 3D printed mineral concrete that is fully recyclable. Furthermore, the material incorporates a binder with 55% less CO2 emissions compared to conventional Portland cement. Dr. Jörg Dietrich, Director of Engineering and Innovation at Heidelberg Materials Germany, elaborates, "The material exhibits excellent extrusion properties and is easily pumpable. Additionally, its specific strength development ensures precise dimensional accuracy in the printed structure."
3D Printing in the Construction Industry
PERI 3D Construction is utilizing COBOD's BOD2 concrete 3D printer to fabricate the structural and vertical components of the edifice. Dr. Fabian Meyer-Brötz, CEO of PERI 3D Construction, expressed his pride in undertaking this project, stating, "We are extremely proud to realize our largest building yet through this endeavor. The utilization of 3D printing showcases the immense design freedom afforded by this technology. With the upcoming construction of Germany's inaugural public 3D printed building in North Rhine-Westphalia, we are thrilled to witness the increasing momentum of 3D printing in the construction industry."
The Kraus Group, in collaboration with its two partners, has embraced 3D printing as a means to foster innovation within the construction sector in Heidelberg. Demonstrating their dedication to project sustainability, the company has employed two local workers. Nevertheless, similar to other manual trades, the construction industry grapples with a scarcity of skilled labor. In response to this inherent challenge, additive manufacturing presents a potential solution by mitigating the demand for personnel.
What do you think of the largest 3D printed building in Europe? Let us know in a comment below or on our LinkedIn, Facebook, and Twitter pages! Don't forget to sign up for our free weekly Newsletter here, the latest 3D printing news straight to your inbox! You can also find all our videos on our YouTube channel.
*Cover photo credits: Kraus Group