#3DStartup: Colossus on their large-scale yet easily transportable 3D printing system
---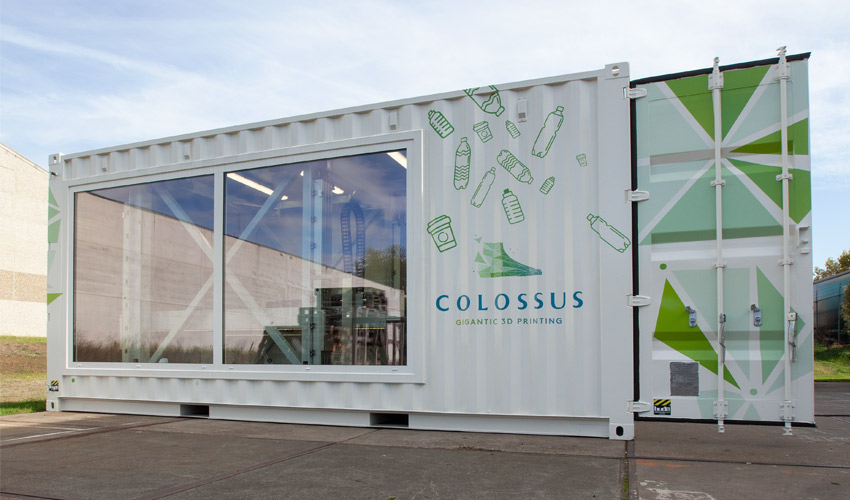 Colossus, a startup based in Genk Belgium, has created one of the world's largest and most advanced Fused Granular Fabrication (FGF) printers. It is also the first fully integrated transportable 3D printing system. The Colossus printer is the first system designed with a special accent on materials for furniture, construction applications and large size 3D objects. Special attention was placed on being able to work with recycled materials. Combining cutting-edge technology to give plastics a second life. Already large scale projects with recycled materials as well as festivals like like Tomorrowland, ABinbev, essencia and more. We had the opportunity to interview Philippe Daniel Mérillet, CEO and Founder of Colossus who told us a lot more about his company and how it is innovating in the 3D field.
3DN: Can you present yourself and tell us more about Colossus?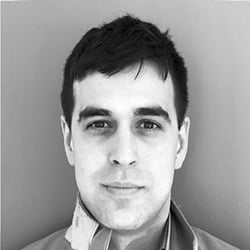 My Name is Philippe Daniel Mérillet born of French/Swiss origin. My parents were international so we were brought up all over the world. As for Colossus, the company is the combination of a great team and the goal of manufacturing a cost effective large-scale 3D printing FGF system. We wanted a printer made for materials, with a special accent on recycled materials; it's in our DNA. Especially through our Theoneproject.eu initiative that we co-own as well.
3DN: How did you come up with the idea of a 3D printer in a container?
Yannick Aerts (co-founder of Colossus) and myself were collecting and printing with plastic waste from "Pukklepop" a festival in Belgium. Yannick's lifelong dream was to build a giant FGF printer and we knew the festival wanted to print furniture from their waste. So the idea was first to build a printer that would be big enough to print a chair in less than 3 hours. And secondly, make it transportable. Most robot arms are very expensive to move, and most printers need a closed environment, so building the printer in a container essentially reduces the cost of transport enormously, which makes it perfect for printing on location, for example at festivals. We could literally show up before the festival/fair started and print all the furniture and than leave.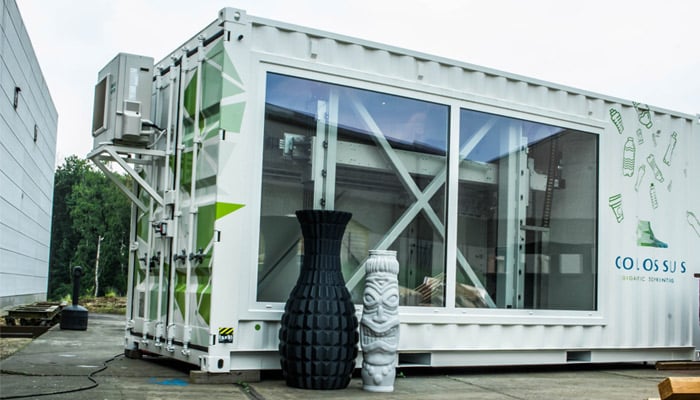 3DN: Can you tell us more about the technical specs of the machine?
Colossus has integrated drying – which is super important for high spec materials. We have a print volume of 5m2, a heated bed up to 90 degrees Celsius, full retraction and print speeds of up to 15kg per hour, depending on the material and design of the print. We can extrude up to 400 degrees Celsius so pretty much any material or compound.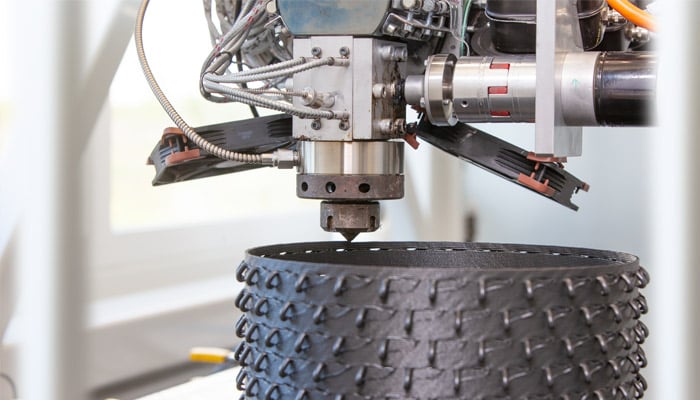 3DN: What materials do you use with the printer?
Thanks to our partnership with MCPP, a group company of Mitsubishi Chemical, we have been able to modify and test materials and perfect them for FGF printing. For example in PLA stone we can go up to 55% stone, something that would be impossible in FDM. We currently have 8 compounds and we will be releasing more in the spring. Currently we work with Carbon P, MABS, PLA STONE, PPL, RPP, RPET, PLA-wood PLA-bronze.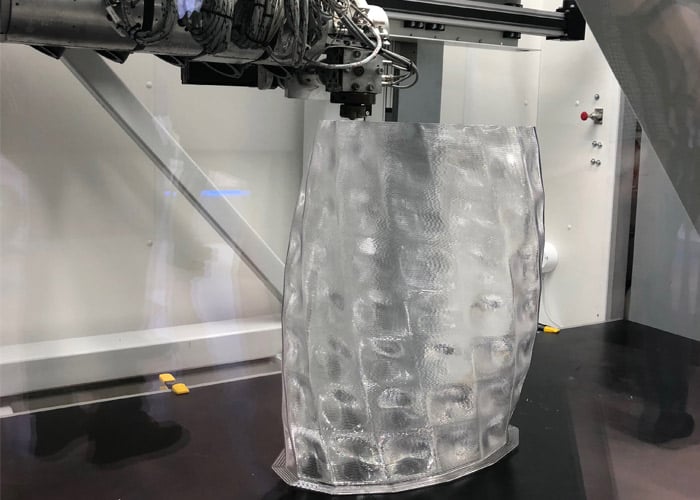 3DN: For what applications can we use it?
We specially develop materials for applications, so basically anything is possible. Currently we have been creating design pieces like lamps, chairs and Art pieces, but we are also working on applications for the automotive industry (automotive parts). Another example is a great project that will be launched in Belgium; a completely printed 2 story house. We will collaborate by printing all the furniture and separate parts including window- and door fixtures.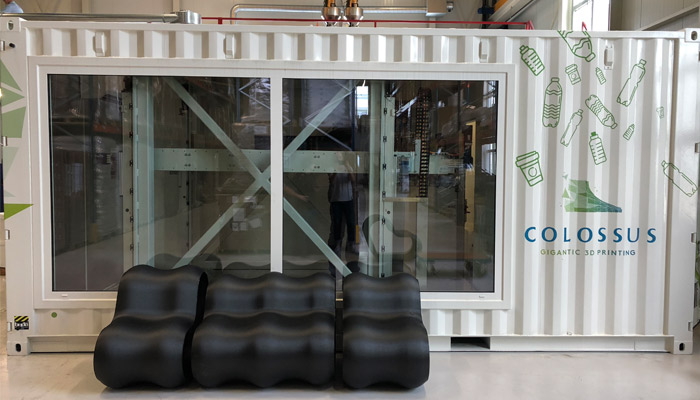 3DN: How do you see the future of FDM 3D Printing?
I believe that FGF printing is the most financially viable way to manufacture small series large objects. The consumables for the printer are cheaper than any other manufacturing process, we can print bigger sizes, there is a massive speed difference (therefore a big price difference in manufacturing too) and the quality and material assortment keeps getting better. I think that we will help break down the entry barrier for small series manufacturing and empower designers to change the way they produce and we consume.
3DN: Any last words for our readers?
We are always interested to hear from and work closely with designers and new exiting projects. So if you have great designs for large-scale objects or exiting new projects, get in touch! Together we can change the future of (sustainable) additive manufacturing.
What do you think of our startup of the month? Let us know in a comment below or on our Facebook and Twitter pages! Sign up for our free weekly Newsletter, all the latest news in 3D printing straight to your inbox!

---
You may also like