World's first 3D printed speakers from sand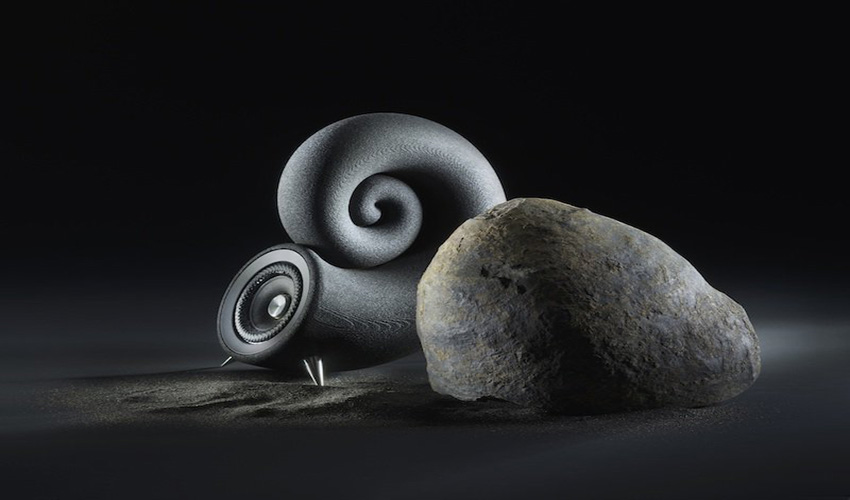 DEEPTIME Limited is a relatively new speakers' manufacturer based in the Czech Republic. They previously revealed the world's first speakers 3D printed from wooden composite. Still innovating in terms of design and technology, they have just revealed their new audio system that has been 3D printed from sand. They've named this limited edition product, the Ionic Sound System. However, they are not the first to 3D print speakers, we reported a few months back on the OWA Speaker unveiled at CES 2018.
The design and technology studio behind this sound system was set up in the Czech Republic by Martin Hreben and Andrej Chotovinsky. Both founders believe that their product will appeal not only to audiophiles but also design fanatics. In fact, Ionic Sound System combines organic design and innovative use of industrial 3D printing technology.
Apparently, DEEPTIME's technological process turns sand prints into airtight and resonance-free builds, using custom made hardeners and pigments. DEEPTIME says it mimics sandstone and is acoustic friendly. Also, every speaker is made from a single piece with no visible splits lines or bolts holding the organically shaped enclosures together.
All components of the sound system were custom manufactured, this included electronics, control rings and connectors. The company did not reveal the specifics but as many components as possible were 3D printed with binder jetting technology. The process is predominantly used for 3D printing moulds for metal casting.
Martin Hreben commented on the design of the speaker, "For us, the design means looking for the form that reflects the nature and function of the product and builds on the benefits of the newest available technologies. We don't want just to embellish existing standard solutions. That is the reason why our speakers do not use the standard cube or block shaped enclosures. Instead, we employ organic shapes designed to enhance the sound quality."
In future, the company revealed that there would be expansions made to the Ionic Sound System including speakers of different sizes, multiple colour variants, and surface finishes. You can learn more about the pIonic Sound System HERE.
Inspired by this innovative design and technology? Let us know in a comment below or on our Facebook and Twitter pages! Don't forget to sign up for our free weekly Newsletter, with all the latest news in 3D printing delivered straight to your inbox!