La Pâtisserie Numérique develops a slicer for food 3D printing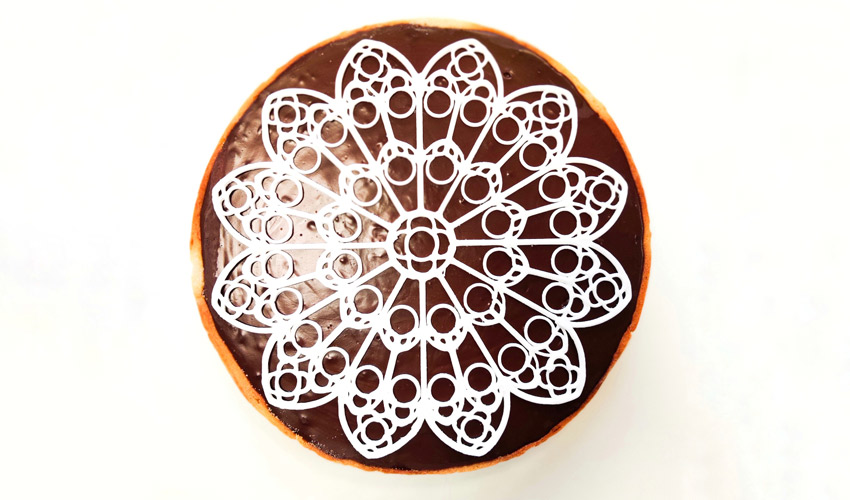 3D printing food presents a number of challenges even though it allows to create more complex shapes and geometries, adding originality to dishes. Marine Coré Baillais has set herself the goal of meeting these challenges by launching La Pâtisserie Numérique. After having spent more than 7 years at Sculpteo, a French 3D printing service, Marine decided to start 3D printing with food, having always had a passion for pastries. Today, she is developing a slicing software adapted to food. We met her to learn more about this particular project: she even made a short video to show us how to use the slicer to make a 3D printed cake decoration.
3DN: Why did you decide to create the Digital Pastry project?
When I left Sculpteo, I had several objectives: I wanted to continue making and I wanted to develop hand work, because I value the craftsmen's know-how, the precision and quality of their gesture. I had been working for 7 years on a great techno with a lot of clients in various industries but little with the food industry. It was very frustrating for me: 3D food printers exist but it had not become a common use.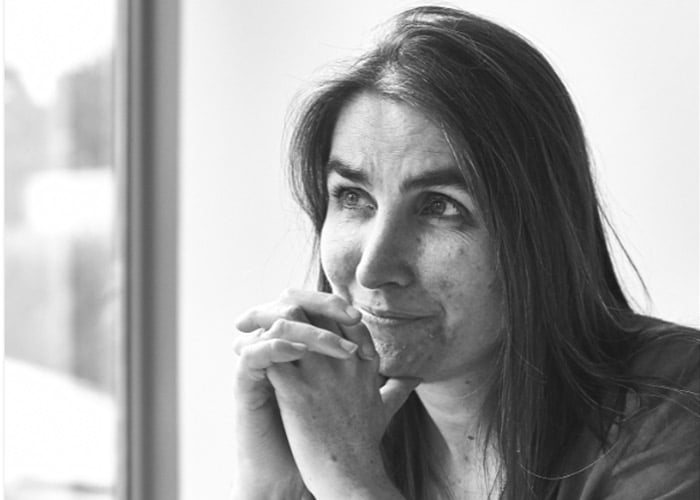 Making pastries is one of my passions so I chose to go back to school and pass my CAP to become a pastry craftsman. At 45 years old it was quite an experience! I became a clerk in restaurants, especially at Le Meurice, to learn the requirements of this profession and the way they produce (very different from the one we had established at Sculpteo). This allowed me to understand some of the obstacles to the adoption of additive manufacturing in this flagship sector of the French tradition!
Since graduating I have set up a new company, La Pâtisserie Numérique, to add value to our preferred production technique in the pastry sector. One of our first projects is to set up a slicer dedicated to food 3D printing.
3DN: What are the specific features of this slicer for food?
One of the difficulties of printing food is that it doesn't react like plastic, it's not a single material but a combination of several ingredients that react with each other depending on temperature and time. And when you extrude a viscous material from a syringe (the easiest way to start 3D printing food when you have an FDM at home), you quickly understand that shrink is not your best friend?
Like everyone else, I started testing a lot of parameter sets in Cura, in Slic3r and if the "vase" or "spiral" modes answer some of the problems, it takes expertise. Today it is impossible to take any good 3D file and print it directly into an edible material. Therefore, it becomes difficult to explain to a pastry chef that he will be able to do everything with this machine!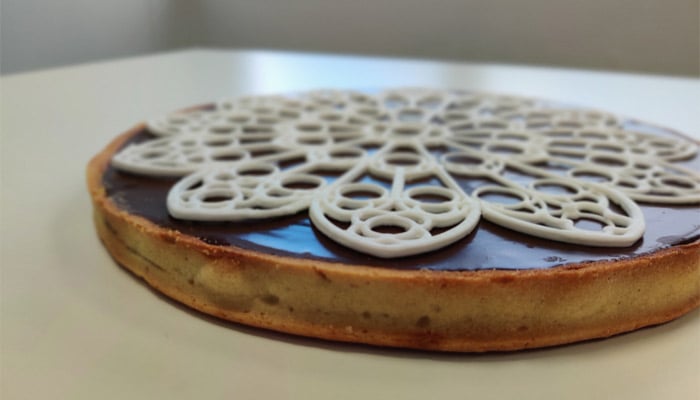 I had the opportunity to discuss these problems with Pierre-Antoine Adragna from the University of Technology of Troyes and we started the project to build a specific slicer whose main feature is to calculate a continuous trajectory for each layer. By eliminating shrinkage and non-printing movements, we gain in precision and manufacturing time.
We chose to make the demo on a shape impossible to make by hand, even for a very skilled pastry cook: the Notre-Dame rose, which has already been used by Nina Metayer to make a silicone mould. We wanted to meet the challenge of direct 3D printing, with walls 0.8 mm thick.
3DN: What should be taken into account and what should be paid attention to?
There are several aspects to manage in a slicer for food: the extruded material, we talked about that earlier, and the way it is extruded. Often a cartridge filled with the material is used. To get the material out of a syringe or cylinder connected to a pump, pressure is added. However, we usually only control the movement of this syringe in the slicer. This link between displacement and pressure is very hard to achieve. Indeed, we have to take into account the viscosity of the material and its compressibility; however, the material used is not like filament, always identical, but varies a little with each preparation. Moreover, these parameters also vary according to the proportion of material present in the cartridge, so the value of the extrusion flow must be adapted as consumption increases. Moreover, we have to manage that this cartridge has a finite, reduced quantity compared to a filament spool .
Once again, a lot of little things that can be solved by twisting the use of slicers developed for plastics but which discourage any neophyte. There is both a very mathematical part of the work for the generation of trajectories and an interface work to improve the use.
Our goal is to offer the tool online, probably in Saas. We are looking for beta testers and we are discussing with manufacturers of 3D food printers to work in partnership.
What do you think of this slicer for food? Let us know in a comment below or on our Facebook and Twitter pages! Don't forget to sign up for our free weekly Newsletter, with all the latest news in 3D printing delivered straight to your inbox!